Established at the Sydney Opera House's 40th Anniversary in 2013, MADE by the Opera House is an Australian-Danish exchange program that, in the lead up to the 50th Anniversary in 2023, has created an alumnus group of almost 100 students to continue the international and interdisciplinary links first forged by Jørn Utzon's masterpiece. Each year, between 2014-2023, five students from a NSW university and five students from a Danish tertiary institution participated in the program in Denmark and Australia respectively.
Also known as the Multidisciplinary Australian Danish Exchange, this extra-curricular program was offered to Australian and Danish students of architecture, engineering and design (in the built environment) in their second year of study or above.
Following the completion of the 10 year program, explore below the findings and learnings of the MADE partners and stakeholders.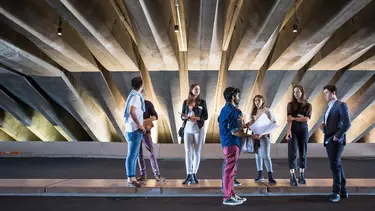 Part 1: Read more about the development of the MADE program including multidisciplinary collaboration within the context of Sydney Opera House. This section also maps student recrutiment and the inclusions within the 6 week programs and provides an overview of the outcomes.
Read Part 1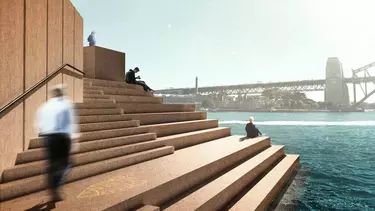 Part 2: Explore this snapshot into all 18 projects delivered by the MADE students, written in their own words. This section also details how the briefs were prepared and the approach of the students.
Read Part 2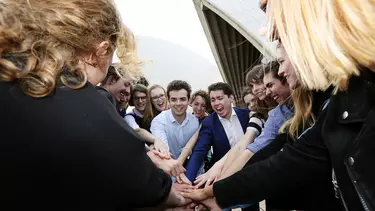 Part 3: Learn about the program outcomes such as the alumni group and hear reflections from the partners about the impacts of the program at both organisation and industry-level. This sections also details the legacy of the MADE program.
Read Part 3
Founding partners: 
Arup 
Bikuben Foundation
Dreyer Foundation
Henrik F. Obel Foundation
NSW Architects Registration Board
Royal Danish Academy – Architecture, Design and Conservation
Steensen Varming
Sydney Opera House
 
Host Firms
3XN (Denmark, 2016)
ADEPT Architects (Denmark, 2019)
Arup (Australia, 2015 & 2022)
BVN (Australia, 2017)
C.F. Møller (Denmark, 2018)
COBE  (Denmark, 2015)
COX Architecture (Australia, 2018)
ERIK Arkitekter (Denmark, 2021)
Grimshaw (Australia, 2016 & 2023)
Hassell (Australia, 2014)
Hayball (Australia, 2022)
Henning Larsen Architects (Denmark, 2014 & 2023)
Meld Studios (Australia, 2018)
PLH Arkitekter (Denmark, 2020)
PTW Architects (Australia, 2015 & 2022)
SJB Architects (Australia, 2019)
Spektrum Arkitekter (Denmark, 2017)
Steensen Varming (Denmark, 2017)
Utzon Center (Denmark, 2018)

Sponsors
AMP Capital & Quay Quarter Sydney (2015-2021)

MADE team
Alistair Morrison
Bo Rygaard
Caroline Choy
Caroline Grandjean-Thomsen
Chris Arkins
Christen Obel
Dan Mackenzie
Dr Kirsten Orr
Greg McTaggart
Ian Cashen
Jakob Brandtberg Knudsen
Jesper Eis Eriksen
Joni Taylor
Kate Doyle
Kate Murphy
Liann Limm
Louise Herron AM
Dr Marianne Foley
Mette Marcus
Patricia de Moor
Peter Thule Kristensen
Sidsel Nygård
Tamara Harrison
Tim Horton
 
Host Firms – Key representatives
Daniel Baumann, Henning Larsen Architects
Signe Kongebro, Henning Larsen Architects
Mette Kynne Frandsen, Henning Larsen Architects
Ken Maher, Hassell
Ken McBryde, (ex) Hassell
Mark Wolfe, Hassell
Matt Pullinger, (ex) Hassell
Nina Mathiasen, COBE
Caroline Nagel, COBE
Ole Storjohann, COBE
Dan Stubbegaard, COBE
Stine Lund Hansen, COBE
Jeanette Hansen, 3XN
Fred Holt, 3XN
Morten Normann Lund,3XN
Andrew Cortese, Grimshaw
Troy Donovan, Grimshaw
Mark Gilder, Grimshaw
Amalia Mayor, Grimshaw
Awkar Ruel, Grimshaw
Olivia Savio-Matev, Grimshaw
Joan Raun, Spektrum
Sofie Willems, Spektrum
James Grose, BVN
Brian Clohessy, BVN
Peter Titmuss, BVN
Lasse Andersson, Utzon Center
Klaus Toustrup, C.F. Møller
Søren Tortzen, C.F. Møller
Joe Agius, COX
Steve Baty, Meld Studio
Anders Lonka, ADEPT
Martin Krough, ADEPT
Martin Laursen, ADEPT
John Pradel, SJB
Adam Haddow, SJB
Elizabeth Metlikovec, SJB
Monica Edwards, SJB
Paulette Christophersen, PLH Architects
Steen Enrico Andersen, PLH Architects
Lars Toksvig Toksvig, PLH Architects
Pernille Britt, PKH Architects
Diane Jones, PTW
Lucy Moloney, PTW
Troy Uleman, PTW
Glenn Harper, PTW
Morten Ørsager, ERIK Arkitekter
Lars Henriksen, ERIK Arkitekter
Dr Fiona Young, Hayball
Kit Ku, Hayball
Mitchell Harris, Hayball
Natalia Krysiak, Hayball
Ricky Gagliardi, Hayball
Rob Chan, Hayball
Eilish Barry, Hayball

Supporters
Adrian Carter
Abbie Galvin
Adrian Bonnani
Adrian Reinhardt
Alan Croker
Alana Ambados
Alyssa Saltzgaber
Amy Browne 
Andrew Butler
Angela Chun
Anna Yanatchkova
Ashleigh Kennedy
Aimee Clarke
Alan Croker
Alex Rosenthal
Anders V. Sonnichsen
Andrew Frazer
Andrew Mackonis
Angela Bateman
Anne Gosskopf
Architecture Foundation Australia
Baptiste Cornillier
Başak Yılmaz
Beau James
Bernadette Hardy
Ben Moore
Besøgsudvalget in Romerhusene
Broger's End, Kangaroo Valley
Bundanon Trust
Byron Kinnaird
Camilla Froesig
Carlo Giannasca
Carsten Rosendahl, Consul General & Trade Commissioner of Denmark to Australia
Charlie Cummins
Charles Peters
Chelsea Baldwin-Haddon
Chris Mercer
Christian Garcia
Claus Jensen
Cristian Rojas
Connor Carey
CPP Wind Engineering & Air Quality Experts
Crown Prince Frederik of Denmark and Crown Princess Mary of Denmark
Dan Porter
Daniel Jimenez
Royal Danish Consulate General & Trade Council
Danish Ministry for Culture
Dean Jakubowski
Deborah Dearing
Di Snape
DR Byen (Danish Broadcasting)
Elliott More
Emily Wombwell
Emrah Baki Ulas
Emma Bombonato
Eoghan Lewis
Eric Rivers
Fiona Winning
Frederik Emil Nors
Frost Urbanite
Gerard Hunter
Glen Murcutt AO
Graeme Wood
Greg Appel
Heather Clark
Jan Utzon & Utzon Associates Architects
Janine Pickering
Jim Niesel
Jørgen Ellegaard Frederiksen (Bagsværd Church)
Jørgen Jørgensen
JPW
Karen Armstrong
Karen Lambert
Keith Cottier
Kerry Clare
Kerryn Coker
Korrin Logarzo
Helle Maria Christensen
Helena Sjoberg
Her Excellency, Kerin Ayyalaraju, Ambassador of Australia to Denmark
His Excellency  Damien Patrick Miller, Former Ambassador of Australia to Denmark
His Excellency, Tom Nørring, Former Ambassador of Denmark to Australia
His Excellency, Borge Peterson, Former Ambassador of Denmark to Australia
Ingrid Bowen
Jennifer Di Bartolomeo
Jennifer Cook
Joachim Halse
Kasper Esperhein
Kate Murphy
Kunsten Museum
Lara Evans
Lars Nørgaard
Lasse Andersson
Laura Matarese
Lina Bareikyte
Lindsay Johnson
Line Nørskov Davenport
Louise Christensen
Louise Mason
Lydia Parsons
Maria Briganti
Martin Craig
Matthew Walden
Michael Harrold
Her Excellency Mary Ellen Miller, Former Ambassador of Australia to Denmark
Megan Hart
Michael Do
Michelle Tabet
Mitchell Allen
Museum of Modern Art, Aalborg
Musikkens Hus, Aalborg
No Frontiers Media
Old Leura Dairy
Her Excellency, Ms Pernille Dahler Kardel, Ambassador of Denmark to Australia
Paul Najor
Peter Bailey
Peter Mould
Peter Poulet
Peter Stutchbury
Poul Henning Kirkegaard
Raphael Coulhon
Rebecca Lawson
Richard Johnson AO, MBE
Rick Leplastrier AO
Rikke Gamborg Scheel 
Roland Towning
Samantha Rich
Sandra Pamplona Gascon
Sarah Carrington
Sarah Chambers
Siobhan Adburahman
Sophie Lieberman
Sheridan Burke
Stefan Meissner
Stephanie Thomas
Steve Baty
Stine Skot Brønnum
Tiadra Simpson
Tim Elgood
Tom Brickhill
Tommi Haferbier
Utzon Foundation
Utzon Center
Utzon Museum Fredensborg
Victoria Judge
Victoria Wood
Vincent Frost
Wandi Cao
Xavier Nuttall
 
Alumni
Adriana Prasnicki 
Aislinn King 
Alasdair Mott 
Alex Crowe 
Amalie Dokkedal Jensen 
Anastasia Uricher 
Andreas Sommer Kjærgaard 
Andrew Weetman 
Anna Fogh 
Antonia Szabo 
Arissara Reed 
Arnþrúður Gísladóttir 
Asbjørn Eriknauer 
Astrid Bjoern Doennem 
Awkar Ruel 
Billie-Grace Dunk 
Birthe Wohlenberg 
Bobbie Bayley 
Callum Coombe 
Caroline Richardt Beck 
Cedric Danso-Boame 
Charlotte Ea Brandt 
Christina Kjær 
Christoffer Minor Brødsgaard 
Cuong Van Tran 
Daiming Zhu 
Daniel Miroslaw Krajewski 
Deirdre Mair 
Ditte Gyldendal Amby 
Eleanor Gibson 
Elise Aida Cappelen Schultz 
Emma Helene Rishoej Holm 
Filip Hede 
Henriette Friis 
Irene Clark 
Isac Lindberg 
Jack Jeffries 
Jack Perry 
Jacob Levy 
Jaime Painter 
Jakob Holmqvist-Larsen 
James Hansen 
Jatin Midha 
Jeffrey Tighe 
Jennifer McMaster 
Jonas Snedevind Nielsen 
Josephine Nicholas 
Julianne Lipman 
Karina Korsgaard Jensen 
Katherine Lewer 
Lachlan Finn 
Laura Craft 
Linh Nguyen 
Mads Kjaer 
Mads Primdahl Rokkjær 
Mai Alexandra Bogø 
Marie Jul Scharff 
Mathias Ørum Nørgård 
Matthew Burnett 
Matthew Wells 
Mia Evans-Liauw 
Michelle Kühl 
Morten Juhl Stistrup Nielsen 
Muthu Kumaran 
Nanna Rose Broch 
Natalia Nawrocka 
Nicholas Bucci 
Nicholas Werrett 
Nicola Shear 
Niklas Munk-Andersen 
Nina Tory-Henderson 
Olivia Savio-Matev 
Paris Perry 
Pernille Krieger 
Rachel Liang 
Rasmus Hansen 
Rhys Grant 
Robert Martin 
Rose Montgomery 
Rune Wriedt 
Sebastian Enevoldsen 
Signe Møller Rosendal 
Signe Skytte Madsen 
Sofie Angelie Bendtsen 
Stefan Ekelund Perriard 
Stephanie Palmer 
Tobias Skov Pedersen 
Tom Dufficy 
Viktor Lukas Müller Thomsen 
Upon completion of the project, students have become part of the MADE by the Opera House Alumni group. By the Opera House's 50th Anniversary in 2023, this almost one hundred-strong group now form a living legacy of MADE Alumni who have a deep understanding of international design practice across disciplines and hemispheres.

The MADE Alumni is a community and a professional network that collaborates, supports and mentors each other to become the next generation's best leaders. Beyond the professional context, the alumni group is naturally evolving on a social level – friendships for life are being formed across Australia and Denmark.
2014
Laura Craft
Robert Martin
Jennifer McMaster
Olivia Savio-Matev
Matthew Wells
Caroline Richardt Beck
Jakob Holmqvist-Larsen
Pernille Krieger
Jonas Snedevind Nielsen
Karina Korsgaard Jensen
2015
Alex Crowe
Julianne Lipman
Alasdair Mott
Nina Tory-Henderson
Nicholas Werrett
Arnþrúður Gísladóttir
Signe Møller Rosendal
Birthe Wohlenberg
Mai Alexandra Bogø
Mathias Ørum Nørgård
2016
Callum Coombe
Lachlan Finn
Deirdre Mair
Adriana Prasnicki
Andrew Weetman
Sofie Angelie Bendtsen
Nanna Rose Broch
Daniel Miroslaw Krajewski
Michelle Kühl
Jack Perry
2017
Eleanor Gibson
Jacob Levy
James Hansen
Awkar Ruel
Nicola Shear
Antonia Szabo
Charlotte Ea Brandt
Emma Helene Rishoej Holm
Mads Kjaer
Tobias Skov Pedersen
2018
Matthew Burnett
Rose Montgomery
Jaime Painter
Jeffrey Tighe
Daiming Zhu
Cuong Van Tran
Henriette Friis
Rune Wriedt
Sebastian Enevoldsen
Rasmus Hansen
2019
Billie-Grace Dunk
Jack Jeffries
Josephine Nicholas
Tom Dufficy
Nicholas Bucci
Andreas Sommer Kjærgaard
Asbjørn Eriknauer
Morten Juhl Stistrup Nielsen
Signe Skytte Madsen
Stefan Ekelund Perriard
2020
Bobbie Bayley
Irene Clark
Aislinn King
Muthu Kumaran
Stephanie Palmer
2021
Amalie Dokkedal Jensen
Elise Aida Cappelen Schultz
Niklas Munk-Andersen
Viktor Lukas Müller Thomsen
2022
Cedric Danso-Boame
Rhys Grant
Jatin Midha
Linh Nguyen
Arissara Reed
Mads Primdahl Rokkjær
Anna Fogh
Natalia Nawrocka
Christina Kjær
Filip Hede
2023
Anastasia Uricher
Katherine Lewer
Mia Evans-Liauw
Paris Perry
Rachel Liang

Astrid Bjoern Doennem
Christoffer MinorBrødsgaard
Ditte Gyldendal Amby
Isac Lindberg
Marie Jul Scharff