Celebrate World Hand Hygiene Day with Hygiene Quest
Dettol is a Sydney Opera House Global Goals Partner. Our Global Goals Partners support our commitment to the Goals and enable us to inspire positive change.
World Hand Hygiene Day is celebrated globally on May 5th as a "clean your hands" campaign to 'bring people together' in support of hand hygiene improvement around the world and to promote hand hygiene in health care.
It is a great educational opportunity for teachers and parents to celebrate with fun activities and build on children's understanding of cleanliness and hygiene.
This World Hand Hygiene Day, join in with the fun educational content of Hygiene Quest from Dettol. This engaging program is designed for teachers and parents so they can instill good hygiene habits in their students with the power of play.
By using animation, comic books, classroom worksheets, and interactive games like Bubble Frenzy, Hygiene Quest is a fun way for your students and kids to learn about preventing the spread of germs.

Hygiene Quest explores topics like:
What germs and microbes are?
How germs spread
How your students and kids can protect themselves from germs
Why handwashing is important
How and when to wash their hands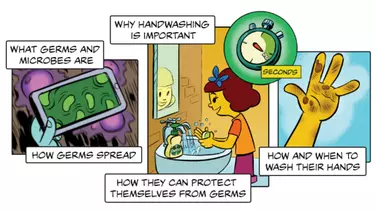 So, join the Hygiene Quest today, and together we can help prevent the spread of germs with good hygiene practices.