Livestream Lighting of the Sails Life Enlivened (2023) by John Olsen and Curiious
The Sydney Opera House farewells one of Australia's most admired artists, Dr John Olsen AO OBE. We proudly pay tribute to Olsen's extraordinary six-decade career in Lighting of the Sails: Life Enlivened when his works will be animated and projected on the Opera House sails for Vivid Sydney.
In your life you've got to have luck. To have this opportunity, I appreciate it very much. I can't wait for overseas people and all Australians to see Vivid. God, I'm a lucky dog.

Dr John Olsen
Australian artist John Olsen's vibrant paintings of life and energy within the natural world illuminates the Sydney Opera House's sails in 2023 as part of Vivid Sydney
Distilling the essence of Olsen's esteemed career, spanning over sixty years, the animated artwork Lighting of the Sails: Life Enlivened spotlights Olsen's enduring interest and fascination with Australian nature and landscape. Through images selected by curator Dr. Deborah Hart and animated by creative technologists Curiious, Life Enlivened (2023) celebrates the propulsive power of Olsen's painterly brush to envision the natural world anew.
Dr John Olsen
Dr John Olsen (1928 - 2023) was one of Australia's most celebrated artists. Central to his painting of the Australian landscape was his propulsive painted line that takes its cue from Paul Klee's idea of 'taking line for a walk', as well as the notion that making art is akin to forming, 'like a plant or a living organism'. Olsen received an Order of Australia (AO) in 2001. In 1977 he was awarded the OBE for services to the Arts and in 1993 he was awarded an Australian Creative Fellowship. He was awarded the Wynne Prize in 1969 and 1985, the Sulman Prize in 1989 and the Archibald Prize in 2005 amongst many other awards throughout his six-decade-long career.
"As an artist coming into his own in the early 1960s after time spent in Spain, Olsen was struck by the dynamism of Sydney Harbour intersecting with the metropolis – pulsing with light and life. From this point on luminosity and water are recurring sources of inspiration. In Sydney Sun (1965), rays of the sun reach out from the glowing circular orb encompassing all life, while in the Sydney Opera House commission Salute to Five Bells (1971-73), we are taken into a dream-like nocturnal space with emblematic images, inspired by Kenneth Slessor's poem Five bells (1939).
When he travelled over time with environmentalists and filmmakers to regional Australia, Olsen discovered fertile habitats such as lily ponds; the inspiration of birds and frogs invigorating his line which seems to leap and fly in tandem with these agile creatures. Subsequent flights that he took over vast areas of the country reveal rivers running, like those pulsing through the Channel Country to Kati Thanda–Lake Eyre, animating his drawn and painted lines afresh and opening into watery expanses.
Olsen's drawings are often as succinct as haiku poems, while his paintings at times inhabit space with swathes of luminous floating colour energised by myriad signs of life. His poetic vision seems made for the idea of Vivid Sydney, enlivening the way we see the world around us and reminding us that art, poetry and environment can coexist quite naturally."
Dr Deborah Hart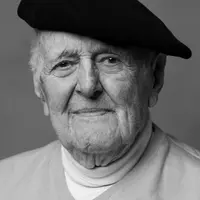 Dr Deborah Hart
Dr Deborah Hart is the Henry Dalrymple Head Curator of Australian Art at the National Gallery of Australia. She curated John Olsen's first retrospective in 1991 for the National Gallery of Victoria, also shown at the Art Gallery of New South Wales. She has written numerous acclaimed publications including the monograph John Olsen (first published in 1991 by Craftsman House, later by Thames and Hudson), shortlisted for a New South Wales Literary Award and reprinted several times.
Since commencing in 2000 as a senior curator at the National Gallery in Canberra she has curated numerous exhibitions including Joy Hester and friends, Grace Cossington Smith: a retrospective, Andy and Oz: parallel visions shown at the Andy Warhol Museum in Pittsburgh, Arthur Boyd: agony and ecstasy, Fred Williams: Infinite Horizons, Fiona Hall in context (to accompany Wrong Way Time from the Venice Biennale), and Hugh Ramsay. She also recently co-curated the exhibition Jeffrey Smart with Rebecca Edwards and Know My Name: Australian Women Artists 1900 to Now with Elspeth Pitt. She is currently working on a retrospective exhibition and publication on the widely travelled artist Ethel Carrick which will open in 2024.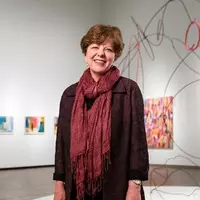 Curiious
Curiious create award-winning immersive experiences to engage, entertain and educate global audiences. The drive to improve communications and create memorable interactive experiences leads Curiious' work in creativity and technology. Yarrkalpa - Hunting Ground (2021) by the Martu Artists and (Inspired by Yarrkalpa – Always Walking Country 2014) was executed for Vivid by the team at Curiious.
"It is a privilege to create the jewel of the Vivid Sydney's crown and pay tribute to one of Australia's most loved and most enduring artists, John Olsen. He holds a special place in the hearts of art lovers, capturing the energy, warmth and dynamism of the Australian landscape. We simply cannot wait for him and Vivid Sydney's audiences to see his work come to life on such a meaningful canvas."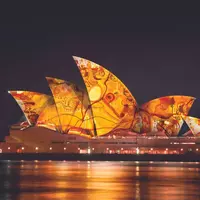 Edwin Montgomery
With a background in classical composition and a Masters Degree from AFTRS in composing for screen, Edwin Montgomery is a composer, sound designer and mixed media artist who works across film, games, immersive theatre, and installations. They are known for the epic orchestral soundtrack to Warhammer 40,000: Regicide (nominated for Best Audio at the Australian Game Developer Awards), the dystopian electronic soundtrack to Wasteland Remastered, and their live solo performances of original multi-instrumental film scores.

Their film scores include the Oscar nominated feature documentary Time, which won Best Documentary Directing at Sundance 2020. Edwin also creates sonic-driven interactive multimedia artworks and games, including Sisyphus Reborn, Neon Cyborg Cat Club (winner of the Freeplay Experimental Game Award), and Isolationist Nightclub Simulator, an online interactive music experience funded by Creative Victoria.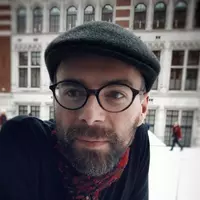 William Barton
William Barton is Australia's leading didgeridoo player as well as composer, instrumentalist and vocalist. William first learnt the instrument from his uncle, Arthur Peterson, an elder of the Wannyi, Lardil and Kalkadunga people and was working from an early age with traditional dance groups and fusion/rock jazz bands, orchestras, string quartets, and mixed ensembles.

Throughout his diverse career he has forged a path in the classical musical world, from the London, Berlin and Bremer Philharmonic Orchestras to historic events at Westminster Abbey for Commonwealth Day 2019, at Anzac Cove in Gallipoli and for the Beijing Olympics. William holds honorary doctorates from both Griffith University and the University of Sydney, has released five albums on the ABC Classics label including HEARTLAND, released in 2022, with Véronique Serret and the words of William's mother, Aunty Delmae Barton. William has been developing a new musical language, which is epitomised in this record.

William was named Queensland Australian of the Year for 2023, putting him in the running for Australian of the Year 2023. In 2022 he was recognised for his work with the Australian Chamber Orchestra for the soundtrack from the film "River", winning two Screen Music Awards, an ARIA award and AACTA award.His other awards include the prestigious Don Banks Music Award from the Australia Council in 2021, Winner of Best Original Score for a Mainstage Production at the 2018 Sydney Theatre Awards and Winner of Best Classical Album with an ARIA for Birdsong At Dusk in 2012. With his prodigious musicality and building on his Kalkadunga heritage, William has vastly expanded the horizons of the didgeridoo.

Photo credit: Tanja Bruckner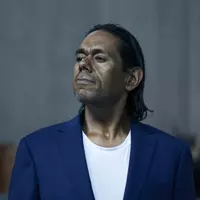 CEO
Michelle Schuberg
Director of Operations
Karen Arkell
Executive Creative Director
Fabio Nardo
Senior Producer
Jo Yates
Creative Director
Christian J Heinrich
Lead Artist
Christian J Heinrich
CG | Unreal Engine Artist
Brad Allen
Animator
Jelena Sinik
Animator
Jonathan Nix
Animator
Nicolette Axiak
Animator
Amy Bell
Chief Technology Office
Phil Sullivan
Touchdesigner Dev
Boris Bagattini
Soundtrack Composition
Edwin Montgomery
Soundtrack Composition
William Barton
Trumpet
Simon Ferenci
Drums
Glenn Wilson
with special thanks to
Tim Olsen
Kylie Norton
Watch previous Lighting of the Sails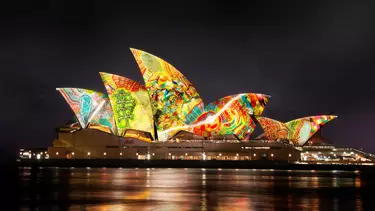 Lighting of the Sails 2022: Yarrkalpa - Hunting Ground
Two years in the making, this digital artwork projected onto the sails was created by Martumili Artists and Sydney-based creative technologists Curiious, bringing to life the Parnngurr community and its surrounding landscape, with a soundtrack by Electric Fields featuring the vocals of the Martu Artists.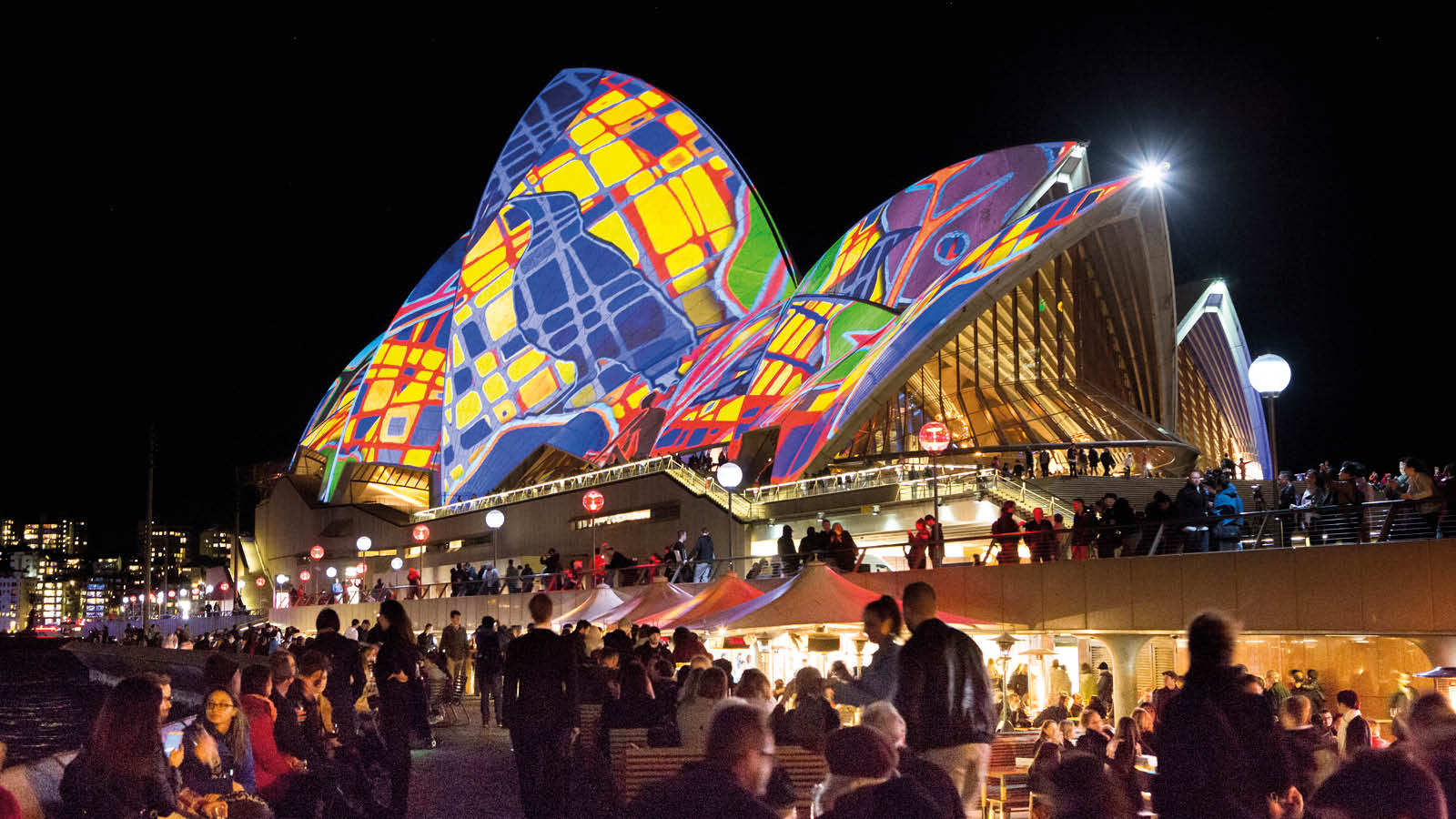 The Sails have been lit with stunning artwork from the past decade, from groundbreaking visual studios to the sacred art of our First Nations people. Journey back and watch all of these artworks and learn about the creators behind them.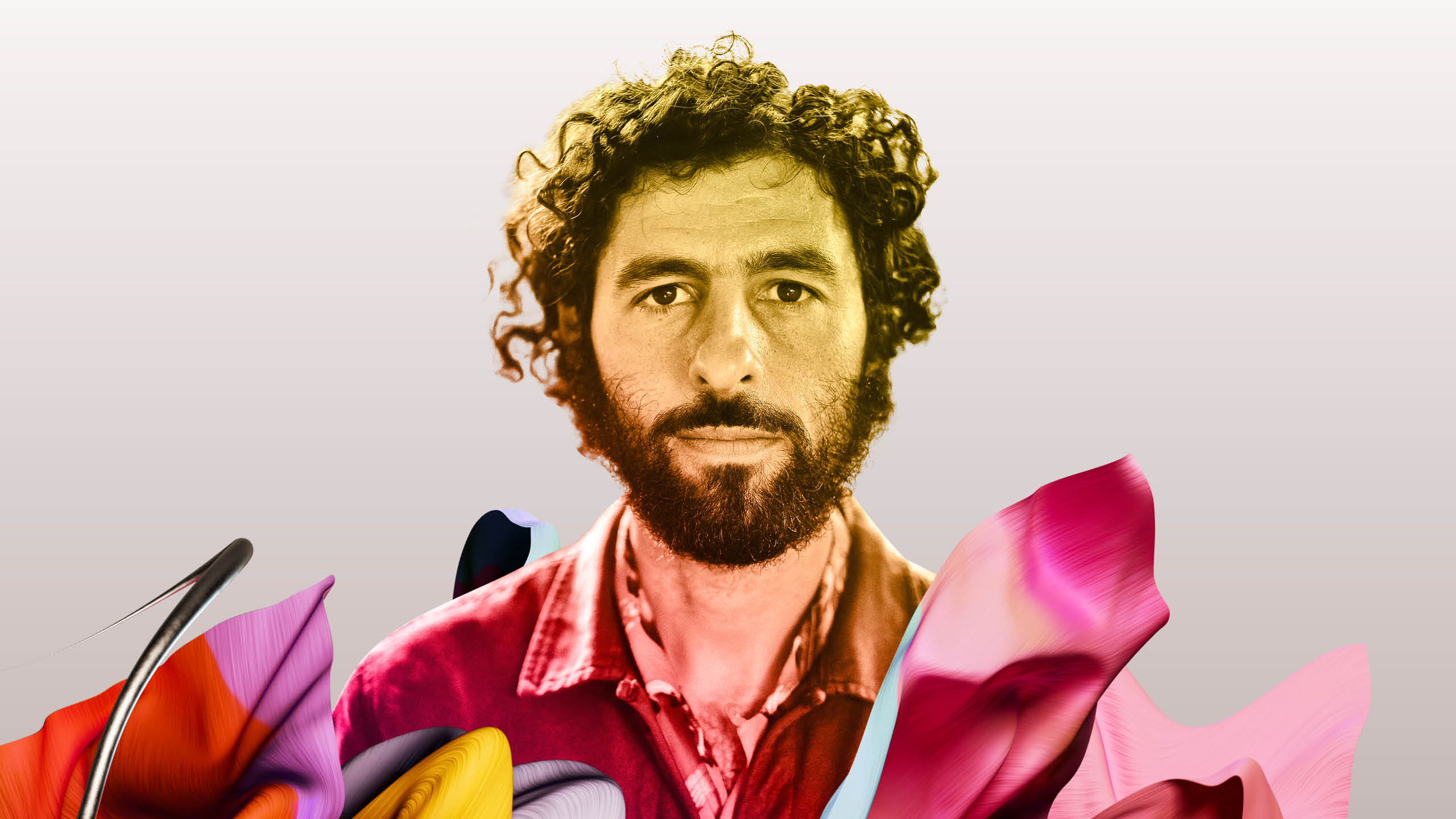 Returning to Australia for the first time since his sold-out 2018 Sydney Opera house show, master singer-songwriter José González celebrates the 20th anniversary of the album that launched him, 2003's indie folk classic, Veneer.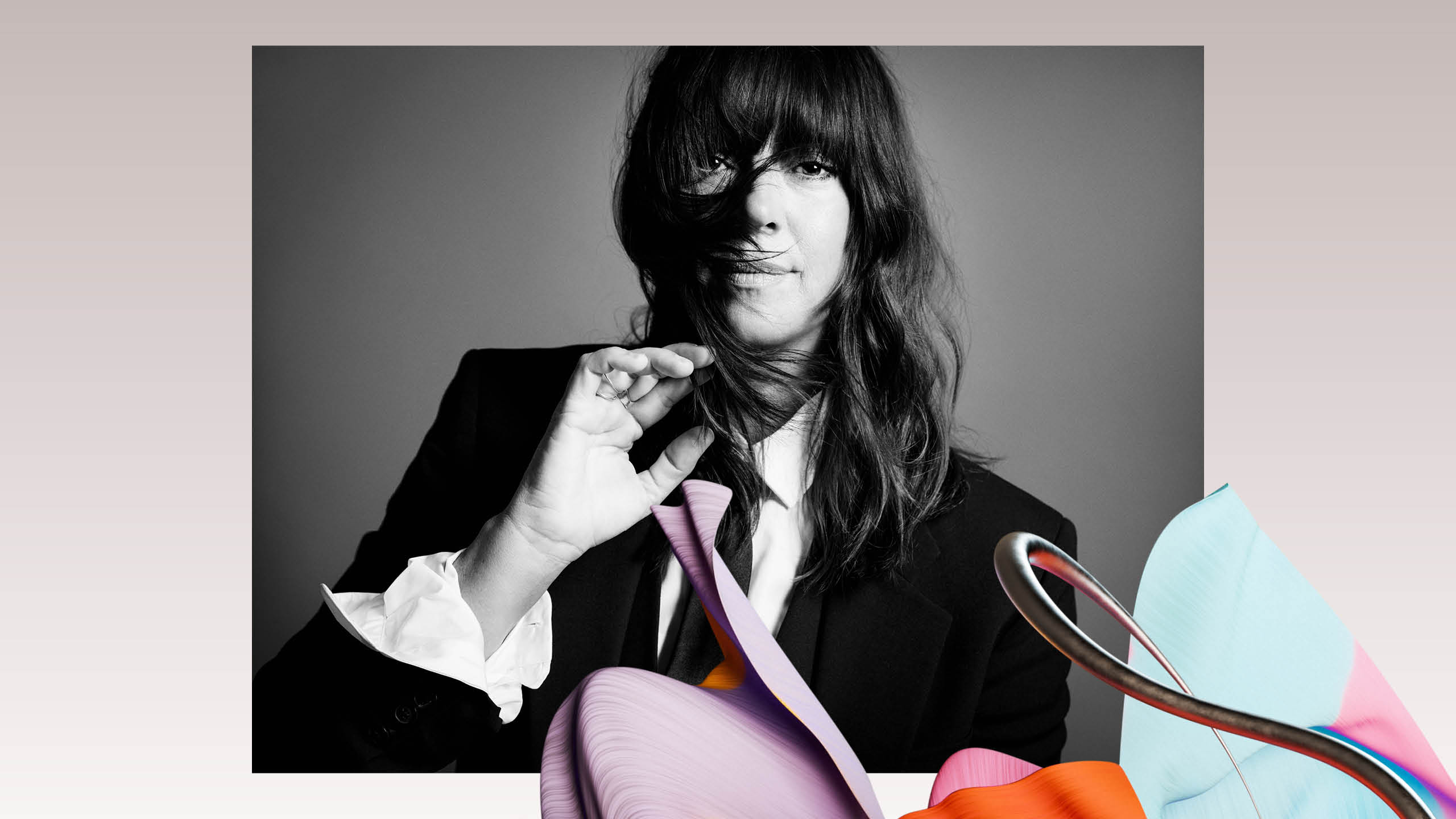 Indie rock royalty Cat Power returns to the Sydney Opera House for one very special night, as she recreates Bob Dylan's legendary 1966 'Royal Albert Hall' performance in her stunning, uniquely interpretive style.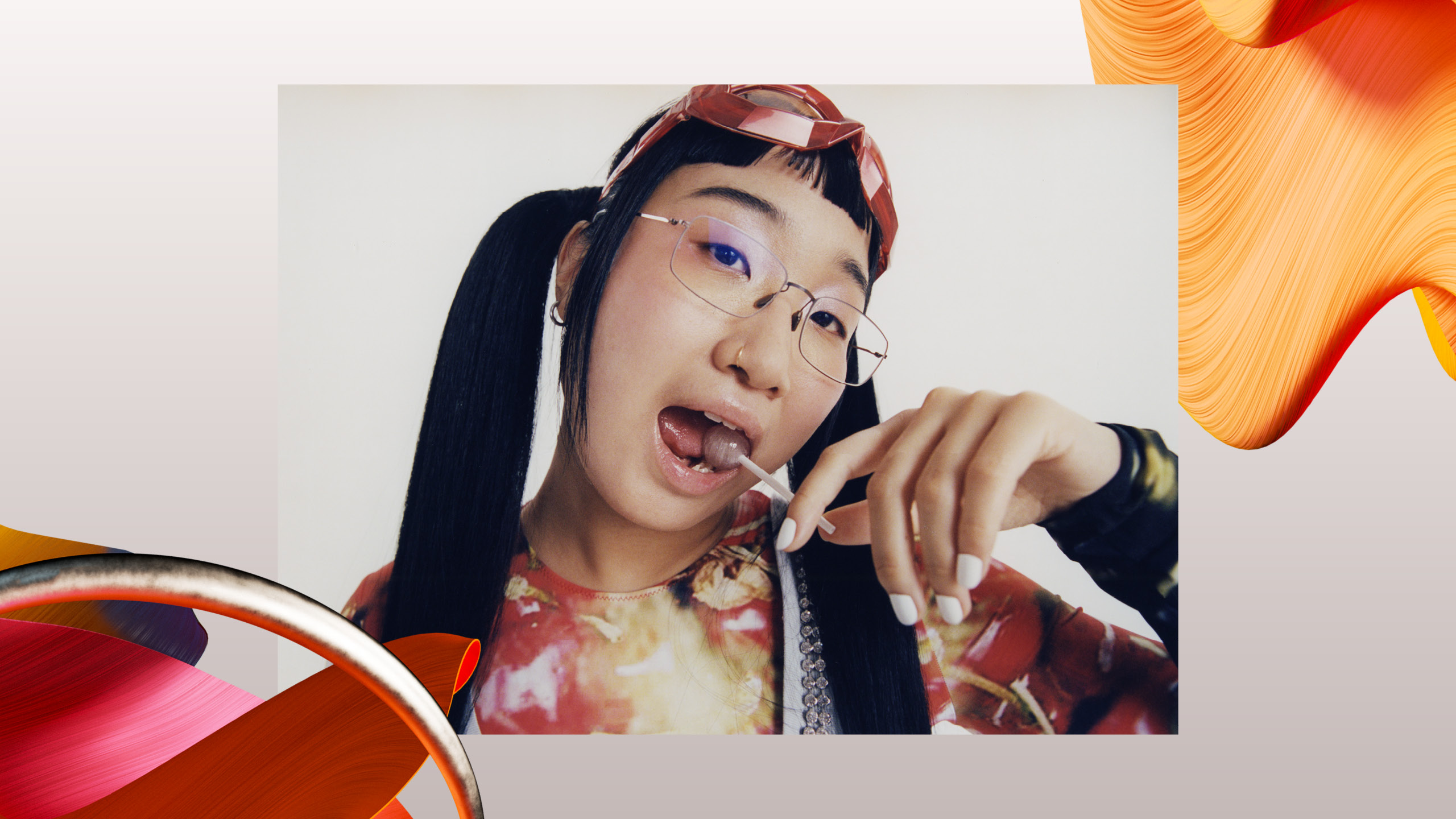 Her Sydney Opera House debut was a sold-out smash. Now, with a hotly anticipated album on the horizon, Korean-American dance-pop icon Yaeji returns for this Australian exclusive performance and her very first Vivid LIVE appearance.