On Tubowgule, now called Bennelong Point, Quandamooka artist Megan Cope introduces Whispers, a melding of First Nations history and environmental consciousness. With more than 85,000 oyster shells positioned across the Sydney Opera House precinct, the artist evokes the ancestral midden sites that were used on this site for Aboriginal celebrations and gatherings for thousands of years.
Witness the artwork
27 September – 26 November 2023
Help us create the artwork
Our workshops on the Sydney Opera House Forecourt and in Marrickville have now concluded. 
This is a free event. No registration is required.
Schools are encouraged to visit the Megan Cope exhibition on site at Sydney Opera House for a free self-guided walk around the installation. For a day out excursions teachers can also consider a visit as to the Museum of History's exhibition The People's House: Sydney Opera House at 50.
If you are interested in finding out about a Shell Art workshop for students to accompany your visit to Whispers please contact our Schools Engagement Officer. Please advise us of the year level you are seeking a workshop for.
Also on this page

Read this page in your language

Other links and resources
A Monumental Public Artwork
With oyster shells, Cope has reimagined the architectural framework of the Opera House itself. Two hundred timber Kinyingarra Guwinyanba poles - the phrase means "a place of oysters" in the Jandai language of the Quandamooka people - have transformed the Northern Broadwalk into a landscape of cultural history and community. These poles, covered with oysters, stand as symbols of ecological rebirth and ancestral homage, echoing the call of collective memory and Indigenous resilience. They connect to a 14m wall of shells that frame the western side of the building and emerge through the upper podium. 
A singular artistic statement, Whispers beats with the spirit of community. Over the past year, more than 3000 volunteers have taken part in over 100 workshops in three key sites - the Opera House Forecourt, Addison Road Community Centre in Marrickville and the artist's studio in Brisbane - where they  worked together to clean, polish, drill and thread thousands of shells by hand. Together, these volunteers  created a rich tapestry of shared narratives and kinships, elevating the humble oyster shell into a symbol of a community, heritage and Country.
This program is proudly supported by the NSW Government through Create NSW Blockbusters Funding initiative
"For the 50-year anniversary of the Sydney Opera House, I have created a series of propositional sculptures that connect to deep layers of time and the cultural history of this site to evoke discussion for potential futures for local Saltwater ways around Gadigal Country. These immersive sculptures will rest in three prominent locations that connect magnificent building with an expanded narrative that creates space to see Land, Sky and Sea Country through a First Nations lens.
All the works are informed by and trace six years of research into the history of and cultural relationships to Kinyingarra, from the vast reef constructions made by our Indigenous ancestors to the early lime-burning industries to the potential extinction of oyster reefs and impact of climate change. In the process they ask questions about how art and culture can heal Saltwater Country as well as our current relationship with the environment.
In archaeological terms, a midden is a mound or deposit containing shells, animal bones and other refuse that indicates human settlement. In other words, it contains the site of Indigenous family feasts and gatherings built up across thousands of years.
The removal of these Aboriginal architectural forms, and the continued mining operations and excavation of sacred sites, renders a landscape void of Indigenous culture and markers once used by our ancestors to navigate through Country.
This work provides a space to learn local histories and see Country through an Indigenous lens, It has also provided an opportunity for the community of Sydney to participate in the project through the evolution of the sculptures themselves."
- Megan Cope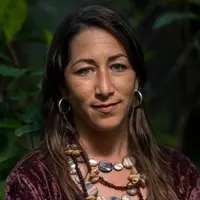 Meet the team
Megan Cope is a Quandamooka Artist. Her site-specific sculptural installations, video work, paintings and public art investigate issues relating to colonial histories, the environment and mapping practices.
In 2022 her work was featured in We, On The Rising Wave, Busan Biennale, South Korea, Reclaim the Earth, Palais de Tokyo, Paris, France,  Embodied Knowledge: Queensland Contemporary Art, Gallery of Queensland, Brisbane as well as The NGV Triennial (2020), Adelaide Biennial of Australian Art: Monster Theatres at the Art Gallery of South Australia, The TarraWarra Biennial (2021): Slow Moving Waters, The National, Art Gallery of NSW (2017), and Defying Empire: 3rd National Indigenous Art Triennial (2017). In 2017-19 Cope was the Official Australian War Artist.
Her work is held in Australian and International collections. She is a member of Aboriginal art collective proppaNOW and is represented by Milani Gallery, Brisbane.
Mike Butler has been working with First Nations communities for nearly 25 years across Papua New Guinea, New Zealand, Vanuatu and Australia. He is a legal, journalism and engagement guy with an engineering background who makes boomerangs. His Aboriginal blood comes from his mum from the Iningai lands of Central Queensland. He's grown up on Sydney Harbour and has called Pyrmont home since 2000.
He has worked alongside Aboriginal and Torres Strait Islander groups in the NT, Qld and NSW as well as advocating for Aboriginal parents who've had their kids removed by NSW's child welfare system.
As a young designer and artist, I like to experiment with all styles and methods of creative making. I enjoy tradition styles of dot painting with acrylic paint and combining mixing media and manipulating the designs digitally. My artist style would be a mix between tradition Aboriginal stories as well as my own experience as a modern day Aboriginal woman, told and created in a contemporary way.
Since completing a diploma of design at TAFENSW in 2017, I have worked in the arts for the past five years. Working on public artworks with artists and designers, Alison Page & Brenda L. Croft. Graphic design works for companies such as Lendlease and Spirit Creative. Currently working as First Nations creative producer at Australian Design Centre and Art Gallery NSW as Programs Assistant.
Dakota is a proud Dharawal – Dhunghatti – Yuin woman. She lives and works on Gadigal land, Sydney.
As part of Whispers, artist Megan Cope collaborated with Meanjin based design and fabrication studio, Parts Department. Led by Dugald Moncrieff and Sam Stewart, Parts Department work with collaborators, creatives and artists to realise ideas, conversations and public ambitions, no matter the size.
Other information
The Sydney Opera House Car Park, operated by Wilson Parking, is open and available to use. Wilson Parking offer discounted parking if you book ahead. Please see their website for details.
Please check the Transport NSW website for the latest advice and information on travel and COVID-19 safety measures. You can catch public transport (bus, train, ferry) to Circular Quay and enjoy a six min walk to the Opera House. 
The health and wellbeing of everyone attending the Opera House is our top priority. We're committed to making your experience safe, comfortable and enjoyable, with a number of measures in place including regular cleaning of high-touch areas, air conditioning systems that maximise ventilation, and hand sanitiser stations positioned in all paths of travel. We encourage you to wear a mask in indoor settings or when physical distancing can't be maintained, and please stay home if you feel unwell. If you need to discuss your ticketing or booking options, contact our Box Office team on 02 9250 7777.
Nothing is more important to us than the health and safety of everyone on site, and we are closely following NSW Health guidelines and advice. The Sydney Opera House is registered as a COVID Safe business with the NSW Government. For detailed information about our COVID-19 safety measures and what's required of you when visiting, please see our plan your visit page.
Face masks are strongly recommended for all patrons while inside our theatres and foyers, including during the performance. Please bring your own mask.
As you move around the Opera House, practise physical distancing (1.5 metres whenever possible) and follow the guidance provided by our staff and signage.
Within venues, always take your allocated seat.
For detailed information about our COVID-19 safety measures and what's required of you, please see our plan your visit page.
The Sydney Opera House no longer requires patrons to show that they are fully vaccinated against COVID-19.
Face masks are strongly recommended for all patrons while inside our theatres and foyers, including during the performance. Please bring your own mask.
Contact information is required when making a booking with us and upon arrival at the Opera House, as set out in our General Terms and Conditions for Tickets and Attendance at Events and our Customer Privacy Statement.
As the ticket purchaser, you are responsible for recording the contact details of your guests. Contact information will only be used for the purposes of contact tracing, if required, and will be deleted at least 28 days after your event.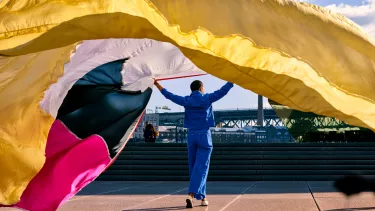 Contemporary art at the Sydney Opera House is guided by the promise that visual artists can challenge us to experience the world anew. With an emphasis on commissioning and exhibiting the artists of today, the twentieth century architectural icon is situated as a catalyst for visual artists to stage open-ended exhibitions, installations and projects that offer insights into the most pressing cultural, political and social questions of our society.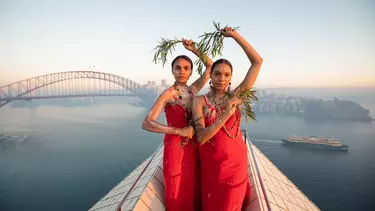 Tubowgule, as the land on which the Opera House stands is known to its Traditional Custodians, the Gadigal, has long been a gathering place for storytelling, ceremony and culture. The Opera House continues this legacy today by embracing and celebrating the culture of Australia's First Peoples.