The iconic songs of Sondheim The cast of Sweeney share their favourite tracks
Sondheim revolutionised musical theatre by penning some of the most loved and iconic scores. His unique and distinctive style defies genre and illuminates characters' inner thoughts and emotions. From "West Side Story" to "Into the Woods," his music has captivated audiences around the world. 
One of his most beloved musicals, "Sweeney Todd: The Demon Barber of Fleet Street," is now showing at the Sydney Opera House. Directed by Stuart Maunder and starring Ben Mingay as Sweeney Todd and Antoinette Halloran as Mrs Lovett, this production promises to be a sensationally thrilling experience.
Since its premiere in 1979, "Sweeney Todd" has garnered immense critical acclaim. It's a testament to Sondheim how much people love a play about serial murder and cannibalism. Around the world, audiences have been enchanted by the haunting melodies, intricate storytelling, and razor-sharp wit that define this dark tale.
The story features barber Sweeney Todd and follows his return to London to gain revenge on the man who destroyed his life. Sondheim's lyrics delve into the character's inner thoughts, motivations, and struggles. The story challenges our conventional notions of heroism and villainy and leaves us questioning right and wrong.
In anticipation of this thrilling season, we had the opportunity to speak with the cast and crew about the enduring impact of the great Stephen Sondheim. They shared their favourite songs from his extensive and remarkable career. It comes as no surprise that this legendary composer has accumulated more Tony Awards than any other.
Ben Rasheed Signot Pirelli
'Move On' from Sunday in the Park with George
For me, particularly as a performing artist, I'd have to say… 'Move On'. Sondheim's lyrics are superb and incredibly insightful… 
"The choice may have been mistaken, the choosing was not, you have to move on." And…
"Stop worrying if your vision is new, let others make that decision they usually do. You keep moving on."
'No More' from Into the Woods
My favourite Sondheim song is 'No More'. 'No More' is sung by the Baker towards the end of Act 2 and is a huge turning point not just for the Baker but the whole story. I was lucky enough to play the Baker when I was 19 and this song has resonated with me for 25 years. It's about overcoming your fears, taking responsibility for your actions, and taking a giant leap into the unknown.
Ashleigh Rubenach Johanna
'On The Steps of the Palace' from Into The Woods
For my graduation showcase at WAAPA, I chose to sing 'On The Steps of the Palace'. Sondheim's Cinderella is no damsel in distress! Sondheim princess; smart princess. The magic of his writing is in its subtlety - a single semitone can shift the entire meaning of a line. Sondheim was the master of detail.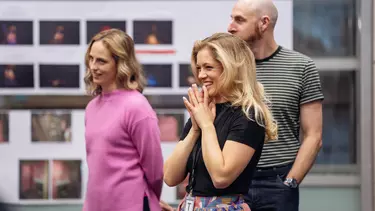 'We Do Not Belong Together' from Sunday in the Park with George 
There are too many incredible Sondheim songs to have an absolute favourite! However, the song 'We Do Not Belong Together' is up there as one of them. 
The swirling melody and powerful lyrics captures the love, hurt, regret and tragedy of two people who 'do not belong together but should have belonged together.' 
This duet explores the complexity of human relationships at the point of breakdown. Sondheim artfully finds the light amongst the dark - and finishes this emotional and heartbreaking piece with a glimmer of hope. 
Every time I listen to this number there are goosebumps, tears and a lump in the throat - I'm sure this is exactly the reaction Sondheim was after.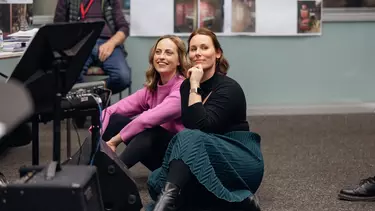 Harry Prouse Sydney Opera House Presents Producer
'Being Alive' from Company
Hate to be unoriginal, but we can't have a list of Sondheim favourites without 'Being Alive'. 
Performed by Bobby at the end of Company, I love that Sondheim hasn't tried to write an upbeat closing number and tie up the show with a neat bow. 
The song feels truthful to the cynical leading character, but by its end there is hope. It feels true to life – where there are rarely any neat bows.
Sweeney Todd
Attend the deliciously dark tale of Sweeney Todd. A gruesome story of a man who is living life by the razor's edge. Experience Stephen Sondheim's Tony Award®-winning musical thriller, Sweeney Todd, starring Ben Mingay (Hacksaw Ridge) and Antoinette Halloran (Mary and Max), directed by celebrated Australian opera and musical theatre director Stuart Maunder AM – this is a horror operetta you don't want to miss.