Exploring the future of performance with Outlines
"For decades, artists have stretched the boundaries of technology to create innovative forms of art that have had a profound and lasting impact on our culture. 
That has never been more true than it is today, as artists erase boundaries between digital and physical environments at an ever-increasing rate. 
Outlines is a new season from Sydney Opera House which gives a taste of work being made in this arena, a playful, provocative showcase of artists that are using technology to imagine new forms of performance."
– Head of Digital Programming, Stuart Buchanan
Meet the artists of Outlines
Our Outlines season celebrates and champions boundary-pushing contemporary artists, technologists, and visionaries working across motion-capture, artificial intelligence, machine-learning, 3D animation, generative art, decentralised performance and experimental film techniques. 
Here's what you can look forward to in our free online season:
TRACES: A First Nations voice-to-art experience
What to expect?
Created by Magabala Books and Google, TRACES fuses generative art, projection, spoken word and interactive audio-to-visual technology, and asks us to reflect on our connection to the land that sustains us. Through artwork that gives voice to Country, TRACES illustrates yarns in real time, grounding us in the old and the new, here and now, in ephemeral conversation. Watch now.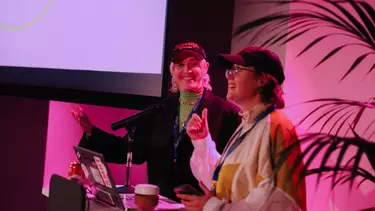 What to expect?
The corporate presentation format you love to snooze through gets a joyous queer makeover in this hit experimental performance from artists Xanthe Dobbie and Harriet Gilles. Featuring a team of very special artists taking their presentations to the next level, Queer PowerPoint - Live! is an alternately playful and hilarious deep dive down pop culture's infinite rabbit holes, all staged through the lens of everyone's favourite slide show. Watch now.
"Harriet and I always work with technology in our practices. It's cheap, it's accessible, and it's easy to mess with. Technology is the defining innovation of the contemporary era - it just makes sense to make art about it." 
– Xanthe Dobbie
Claire L Evans In Conversation
What to expect?
Will artificial intelligence enhance humanity's creative process or destroy it forever?

It's the question everyone is asking, and YACHT's lead singer Claire L. Evans tackles it headfirst when she talked with Angharad 'Rad' Yeo about the band's new documentary The Computer Accent. Posing the big questions around art, technology and authenticity, the Grammy-nominated American post-pop band mesh their DIY sensibilities with the emerging world of AI technology to summon a new kind of human-machine music.  Watch now.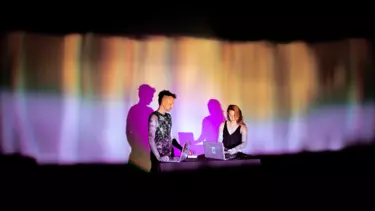 What to expect?
Experimental artists Alexis Weaver and salllvage come together for a live audio-visual performance, using AI tools and techniques to unlock music's potential in unexpected and delightful ways. Commissioned by the Sydney Opera House and produced by Kopi Su Studio, this live presentation will be followed by a panel discussion, offering audiences a chance to explore this fascinating showcase of discovery. Watch now.
"I believe that eventually, AI will streamline the performance process. Working alongside a system that can predict and respond to changes in the musical material - or even the environment - could mean that performance becomes a more organic and flexible act."
– Alexis Weaver
Shortwave: New Digital Commissions
What to expect?
Shortwave is a series of 6 new digital commissions, creating a platform for interdisciplinary Australian artists to further extend their digital practice.
Brad Darkson, Nasim Patel, JD Reforma, Claudia Nicholson, Riana Head-Toussaint and Feras Shaheen present films that speak to our moment, exploring discussions of contemporary culture, accessibility, heritage and the self. Combining multidisciplinary creativity, these artists channel dance, the internet, photography, disability and artificial intelligence to reimagine their creative relationship with technology. Watch now.
Lu Yang: DOKU, The Binary World
What to expect?
Two dancers, worlds apart, are joined together by live motion-capture technology for a singularly spectacular performance. 
In a remarkable networked performance, motion-captured dancers in the two geographic locations interact in the same virtual environment, creating an innovative artistic collaboration between two major cultural institutions. Originally staged in 2022, this premiere screening is followed by a Q&A with Lu Tang and producer Mat Spisbah, as they explore this innovative collaboration. Watch now.
Harrison Hall, Body Pipelines
What to expect?
Bringing together dance, 3D animation and music, Harrison Hall's work explores the states of flux within digital and live worlds. Developed in collaboration with Luca Dante, Sam Mcgilp and Naxs Future, this event comprises of screenings of two works: 'Maelstrom', a combination of experimental techno/ambient sounds, digital choreography and motion graphics, and  - 'Flesh Cache', a choreographic work imagining the body in a hybrid digital / physical space. Watch now.
Outlines is available to watch exclusively on the Sydney Opera House streaming platform, Stream, with premieres and livestreams available to watch now. 
Outlines 2023
A free online season celebrating boundary-pushing contemporary artists, technologists and visionaries, free to Stream.