Wake in Fright drags you back into an outback nightmare
Zahra Newman plays the outsider in a one-woman stage adaptation of the claustrophobic Australian classic
When the film Wake in Fright, based on the Kenneth Cook novel, premiered at Cannes in 1971 it was a surprise hit. 'One of them said that there was so much heat and dust (on screen) he had to go home and have a shower afterwards,' said director Ted Kotcheff.
The film later changed its name to Outback, the distributors thinking that the film's message of sheer outback nihilism — a young British man succumbing to the claustrophobic vices of an Australian town called 'the Yabba' — would get lost on an international audience.
38 years later it premiered again at Cannes, digitally restored after a long journey of restoration involving missing reels found in a dump bin in Pittsburgh 'marked for destruction'.
Wake in Fright has endured because it cuts at the darkest core of white Australia still looming today — the violent illusion of mateship and the simple seduction of alcohol in the desert.
Director Declan Greene and actor Zahra Newman build upon the canon of works to create an even bleaker vision of Australia for the stage. They replace everything with a one-woman show, with Newman slipping from the stranded school teacher and the boozy Bundanyabba locals.
Wake in Fright makes its Sydney premiere in the Playhouse, showing now until Saturday 15 February as part of UnWrapped.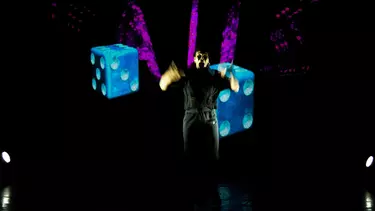 Who is John Grant? What's happened since the Yabba?
In our production of Wake in Fright we found a parallel between John Grant and Zahra, me as a performer on stage and the protagonist. The stories that were interesting to us also relate to anecdotes not just from me but other members of the creative team, stories of when they've been challenged by the culture.
Some of the experiences that John goes through in the book feel very reminiscent of experiences that I had when I moved to Australia when I was 14. The most interesting thing for us were the ways in which he is forced to compromise himself and embark on a journey of self-destruction in an effort to fit in.
And after this, you just can't go back and be the same. Something is absolutely changed inside of you, whether it's only change or whether certain things inside yourself are completely abolished forever is up for grabs.
You perform as the 'outsider', but also from the other side. How do you do both opposing roles?
I try not to overcomplicate it too much because we know how to do that already as humans. Reading stories to a child is the very base level of that. When you read a fairy tale to a child you might put on a certain voice for the mother or the king or the wolf. We know how to receive information where we have to use our imagination as the audience, as the listener. Sometimes people are afraid that their audience doesn't understand what's happening – it's really important to trust that an audience can follow. There's also a lot of technical things that you can do to help signify a character, especially if you're going to come back to them, choosing one thing, one gesture, one particular vocal pick, and not overcomplicating it.
Wake in Fright is a physical, traumatic, violent work. How does it feel to perform something with this kind of energy?
It's actually really fun. I think some of the aesthetic choices we've made, in terms of the style of presentation, the way that we've chosen to enter into a storytelling mode – one actor, one voice – have made it so I could just fit really comfortably inside a type of storytelling that feels very connected to the audience.
Does Wake in Fright make you see the evil inside yourself?
Confrontation inside the theatre is useful, but some people don't like it, they like to just come to the theatre and be presented with something and feel nice, and there's absolutely room for that sort of performance. But I think our show facilitates a process where people come and self-reflect about where they sit or about seeing a different experience of what it means to live inside of Australian culture.
A lot of our responses to the material and things that we were intrigued by were about notions of Australian mateship and benevolence and how that fits inside of the reality of living here. The myths that have been sold to us and the myth that we get told about Australian culture actually sit in quite stark contradiction to what the reality is of living here.
In Wake in Fright the protagonist John Grant finds himself in this town, in this culture, and he's trapped there trying to leave and the people are "helping him" on his way out of town. Actually, everything that they do is a negotiation where he has to sacrifice or kill off parts of himself — all of the help and benevolence is conditional; if you want our help you have to join our culture.
Those sort of things have a lot of resonances particularly for immigrants in this country or people who are on the fringes and might feel as though they don't fit or belong into a narrative that has been sold to the society as "this is what our culture looks like" or "this is what it feels or sounds like".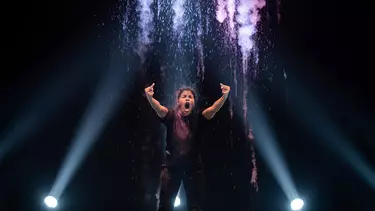 A big part of the book and the film is the representation of place: the Yabba is an isolated, inescapable outback town. How do you represent that on stage?
From the beginning Declan was very keen on the place, the Yabba, as another character in the show and that it should be represented by the soundscape. It helps, oppresses, envelops, and really fights against the actor in the space. The sound is very active and reflects the ways in which the town, and people in the town, are having an effect on the protagonist.
We did an experiment early on with very limited props, with just a beer can or something, but we found we didn't need it. We were just more attracted to a style of performance that was more about invoking imagination.
Your production is accompanied by a searing electronic soundscape. How did you and Declan approach your collaboration with friendships? What was the creative process?
Nic Brown from friendships was with us from very early on when we did some initial development. Usually you don't know what sort of aesthetic is happening sonically until much later on in the process. Having Nic so integral and involved from the beginning meant that we could shape some of the language and physicality in the piece. Declan would use provocations like, "I want you to overpower Zahra with the sound, drown her out", to get Nic to use the music in an active way like it's a character in the space, not just a pretty soundscape. Nic is not from the theatre world, so he was unbound by the expectations of what's "right or wrong" – he was just generating what he thought would work well. It was really refreshing to have somebody who wasn't hindered by being part of a very niche aspect of the arts.
See Wake in Fright in the Playhouse, showing now until Saturday 15 February as part of UnWrapped.