Uncovered: Richard Greenacre
Showcasing artistic excellence off-stage
Visitors at the Opera House are well-accustomed to walking through its hallowed halls and seeing renowned musicians, cutting-edge theatre and acclaimed musicals on its stages. As a modern architectural marvel, the iconic sails are home to those who have creativity and inspiration to share.
Now, with its Uncovered program, the Sydney Opera House Shop celebrates different forms of artistic excellence. With his range of porcelain ceramics, Richard Greenacre is the latest Uncovered alumni in the Homewares and Gifts category. An industrial designer by day and ceramicist by night, Richard experiments with different materials and software to see how he can bring a new take to ceramic craft. 
Richard shared how his design background complements his ceramics practice and what goes into his unique line of beakers and bowls. 
Tell us about yourself.
I'm an industrial designer and ceramicist based in Melbourne. My background is in furniture and lighting design and ceramics is my side gig.
How did you start working with ceramics?
When I was still studying I designed a pendant light that was made of both timber and ceramic materials. I'd been interested in learning about different materials and specifically porcelain because of its translucency. I really enjoy exploring how materials can be shaped in different ways so I wanted to see if I could use slip casting for ceramics. This involves working with a liquid form of clay called slip that gets poured into a plaster mould. The plaster absorbs water from the slip and it leaves behind a layer of clay which takes on all the detail and texture of the mould.
What I love about using clay as a medium is that it acts as the perfect counterpoint to the precision of digital technologies.
How does your work as a designer inform your work as a ceramicist?
My ceramic work is heavily influenced by my training as an industrial designer. Conceptually, my ceramics are about exploring the liminal space between industrial design and craft. What I find really interesting is the intersection of these two disciplines because it's about seeing what industrial design can bring to the table in terms of expanding the field of ceramics. Combining technologies such as 3D printing and using computer-aided design (CAD) software with slip casting requires sensitivity because you need to strike a balance between what can be designed digitally and what can actually be realised as a physical object. 
What I love about using clay as a medium is that it acts as the perfect counterpoint to the precision of digital technologies. I might be able to design an object that is dimensionally perfect when it appears on-screen, but when I translate the design into a ceramic piece, every touch or gesture is captured in the clay, which adds a unique character to each piece.
Where do you find inspiration for your ceramic designs?
The inspiration for this collection was drawn from native flora, specifically flowers and seed pods from the Proteacea family - the Hakea and the Banksia flowers. I often look to the natural world for inspiration as I find the organic forms and textures have an interesting juxtaposition against the technical precision of the digital software that I use to design.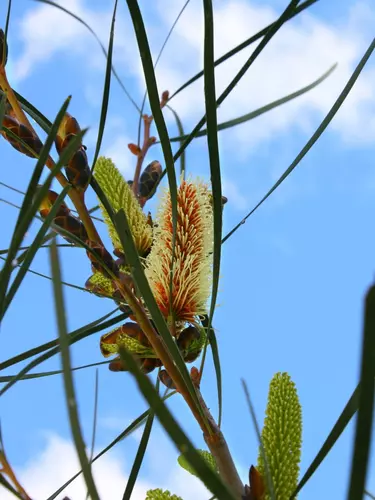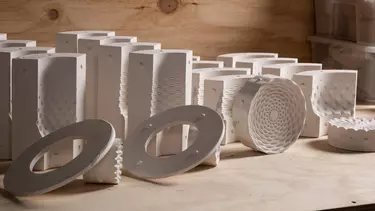 What does your creative process look like?
I usually begin with photography and sketching. This collection involves functional wares, so the ergonomics of each piece are important. I consider the volume and proportions of each piece by modelling the basic structure using CAD software and then 3D printing them in plastic to see if the scale works. Then I return to the computer to apply surface texture to the forms by using parametric modelling software. That's where I use algorithms to manipulate surfaces and create different textures. This is a long process, because I overlay multiple surfaces and textures in each piece before 3D printing the forms in plastic again so that I can cast the plaster moulds that will eventually be used for slip casting. One of the dangers of using CAD is that you can create so freely and because of that I'm always conscious of holding on to my creative intent and making sure I go in with a concept in mind.