Showcasing artistic excellence off stage
The Sydney Opera House is a beacon for creativity. For more than 46 years it has presented immeasurable talent on its stages, from the likes of Pavarotti and Prince to Ella Fitzgerald and Florence + The Machine.
Now, the Opera House is showcasing artistic excellence through a new platform—its shop. In July this year, the inaugural Uncovered retail mentorship program offered local artists, makers, creatives and artisans the opportunity to apply to showcase their Australian-inspired products through a three month residency in the Opera House's onsite and online retail shop.
We spoke with Sydney-based designers Camila De Gregorio and Christopher Macaluso of Eggpicnic who have been selected for Uncovered's Prints, Photography & Art category. 
Their Sydney Opera House Shop collection features birds local to Sydney Harbour.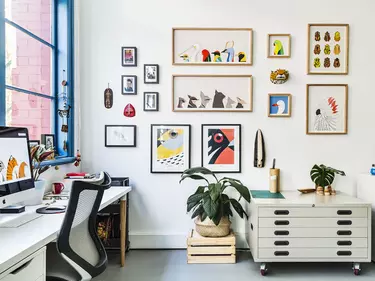 What do you do?
Chris: We create fine art illustrations based on Australian native wildlife.
Camila: The illustrations feature iconic wildlife but also critically endangered and vulnerable species to raise their profile to get people to fall in love with them, and in this way protect them. We want to create a sustainable future through our work and end extinction through education.
You do more than just raise the birds' profile. How do you support conservation?
Camila: Australia is home to around 800 species of birds, half of which are endemic, which means they are found nowhere else in the world. They are more crucial to the pollination and distribution of plants here than anywhere else on the planet. 
Chris: We are highly focused on the conservation of species. We team up with six not-for-profit organisations, and a portion of our profits go directly to specific programs. One of our partners is BirdLife Australia, so for every Red-Tailed Black-cockatoo print sold, we donate to their Red-Tailed Black-cockatoo conservation program.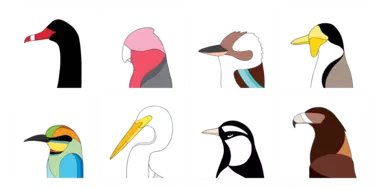 What sparked your interest in Australian birds?
Camila: When we moved to Sydney from my native Chile I had a really close encounter with a cockatoo. When I was sitting on the balcony a giant cockatoo came and sat down next to me, and I was blown away. When I told Chris about it he said it's quite normal, and I just couldn't believe it.
Chris: Australians have a very special connection with their birds. They see them every day, they make names for them, they give them a bit of food or a bird bath and that's something we really wanted to tap into through design.
Camila: We did that by creating these characters that everyone can relate to. They have that signature little eye because I can't draw a realistic eye, but we discovered that was really drawing people in and bringing their personality out. The designs are simple enough for you to recognise what bird it is but it was...
Chris: ...still accurate in terms of the colours, the patterns and the form of the head or wings or beak. Anyone from a kid to an ornithologist can acknowledge what bird it is.
Camila: We're tackling the misconception that nature is out there in the world, somewhere remote. We're talking about the species we have in the city and explaining that nature starts at our doorstep.
And now you're a part of the birding community?
Chris: We joined Birding NSW and we've met people who've been birding for 40 years. It's incredible to hear their stories and the changes that have happened within the environment.
Camila: We've started to get a lot of interest from the scientific community too, which is amazing as I wanted to be a scientist when I was a kid. Some of the drawings come from scientists who share research and say, 'This is the species we need to be talking about, this is the species that needs to be put under the spotlight.' 
Where does the name 'Eggpicnic' come from?
Camila: Chris and I met in Milan in 2009. I was living with friends who were moving away, so Chris invited me to move in with him. I took everything my friends left behind, and amongst that was baskets of eggs. I arrived with my bags and all these eggs so we cooked, scrambled, poached, and went on a picnic to Parco Sempione. At that time we decided with our love for the natural world we should combine forces as a graphic designer and product designer, and that's where Eggpicnic started.
How did you find out about Uncovered?
Chris: A friend of ours sent us a link and said, "you guys would be perfect for this!" So we checked it out and applied with specific species that live around the Opera House; the Sulphur-crested Cockatoo, the Rainbow Lorikeet and a few other species as well.
Camila: When we saw the link we thought, this is the biggest thing that could happen to us and to the birds. The Opera House itself is so iconic, and so is Australia's bird life. We thought if these two met, the natural world would have the same recognition as a manmade masterpiece.
What are you hoping to take away from this opportunity?
Camila: Being selected for the Uncovered program is an incredible opportunity for us to learn, grow our impact and to give the animals a stronger platform, grow the profile of the more-than-human-world we share our habitats with and to really put them on stage.
Which are your favourite birds in your Opera House collection?
Camila: My favourite is the Sulphur-crested Cockatoo. That was the first bird I encountered in Sydney and it's really important to me because it made me realise the interaction Australians have with their bird life.
Chris: My favourite is the Rainbow Lorikeet. You always see the rainbow lorikeet in pairs which I love, and sometimes they have a little one with them. They're just such characters, they're really noisy. To me that's the typical sound that represents Sydney and I love hearing them in the morning when they're chewing on bottlebrush.
Camila: When I was new to Sydney I had my sandwich stolen in Darling Harbour by a Silver Gull, also one of my favourite birds.