Showcasing artistic excellence off-stage
The Opera House showcases artistic talent on stages of all sizes. With a year-round catalogue of extraordinary events and performances, its iconic sails are home to inspiration and creativity in all forms.

With its Uncovered program, the Sydney Opera House Shop celebrates artistic excellence on a new stage. Founded by sisters Eloise and Sophie Rankine, Elph Ceramics is a ceramic homewares business that combines artistic sensibility with minimalist design. Locally handcrafted and sustainably made in the Southern Highlands in New South Wales, Elph Ceramics pieces are designed for everyday use - to be cherished and kept forever.

Eloise and Sophie shared what it's like running a business together and the importance of implementing sustainable initiatives when it comes to sourcing and making their products.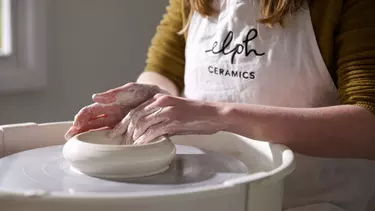 Tell us about yourselves and your brand.

Sophie: Elph Ceramics was founded by myself and Eloise. The idea behind our products is to fuse traditional ceramic techniques with contemporary design. We're very intentional about designing and manufacturing in the same space because we believe it creates a cohesion between our intent and our product which isn't necessarily achievable with overseas production, particularly when prototyping our products.

All of our products are designed and manufactured in our beautiful Southern Highlands studio. Eloise maps out each piece using clay which means we can prototype relatively quickly and create new shapes and designs without going through the process of having to use 3D printing or tooling methods. It's a natural way of taking our ideas from conception through to product-making.

How did you start Elph Ceramics?

Eloise: I studied fine arts at university so the concept behind Elph Ceramics started as a side project for me. During my degree, I used to make carved vessels that were extremely time-consuming to make and the kind of pieces you might find in an art gallery. I wanted to use my clay-throwing skills more often instead of working away at the same piece for days on end, so my idea with Elph Ceramics was to create a collection that embodied minimalism because Sophie and I love timeless pieces that are both functional and beautiful.

Before relocating to the Southern Highlands, we had a shop in Paddington, Sydney where we sold other people's ceramics as well as our own, and I found it hard to fit in the time to make my own work. 
Sophie: My background is in industrial design but at that point in time I was working in commercial fit-out design and only working part-time on Elph Ceramics. El said to me that people really liked the products but that she didn't have time to make them. So that was when I decided to dedicate all my time to Elph Ceramics because I was also looking for a career change. I had just started my Masters of Business Administration and thought it was a great way to learn about how a business actually runs.
The idea behind our products is to fuse traditional ceramic techniques with contemporary design.
What materials do you use for your products and where do you source these?

Eloise: We use three different clays that are white, grey and black. The white one is porcelain. They're all Australian made and we source them locally from other small businesses. The colour of our product is in the clay itself which is different to other ceramics makers who use coloured clay and then add additional glaze to them afterwards. There are a few technical constraints that come with working with clay which people might not realise. Soph asked me once, "why don't we make different colours?". But clay isn't like paint and when it's fired, the colour can change so it doesn't always look the way it's expected or supposed to. At first, we only made our products using white clay, and after a bit of trial and error, we started incorporating grey and black clays into our product range. We stay away from using coloured clays because what resonates with our customers is that our products are great staple pieces for a home, kind of like how a basic white t-shirt fits seamlessly into a wardrobe.
Why is it important for your products to be sustainably made?

Sophie: A big part of our ethos is helping to support the local ecosystems around us because we also have a small business ourselves. In the Southern Highlands, there is a real sense of community where everyone supports each other, which allows the business ecosystem to thrive. We feel that if we don't actively make decisions to support local institutions, then those institutions will no longer be there.

It's really important to us to manufacture our products in Australia. People started to realise the importance of sourcing locally when COVID happened, as it became harder to import materials and products. Shipping is also a huge contributor to global emissions and we're so aware of clay and how it's a heavy product. Things like mugs and vases need to be individually wrapped in bubble wrap which can't be recycled. There are so many elements in the supply chain that have a bigger impact than what people initially think. That's a core reason for why we wanted to keep our business small because it allows us to have more oversight and control over our supply chain.

Eloise: We're also working with materials that come from the earth, so we want to be reducing the impact of that. Clay can't easily be a part of a circular economy because it can't be recycled once it's fired. Once a ceramic piece is made, you want it to be used as much as possible over its lifetime and that's something we're very conscious of.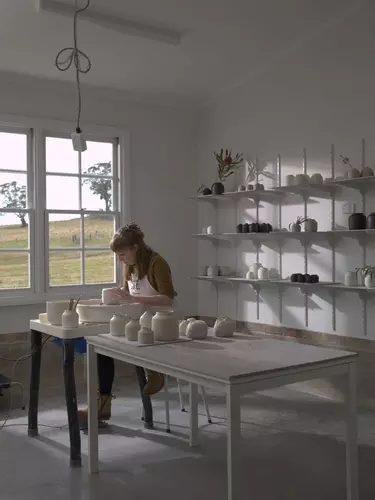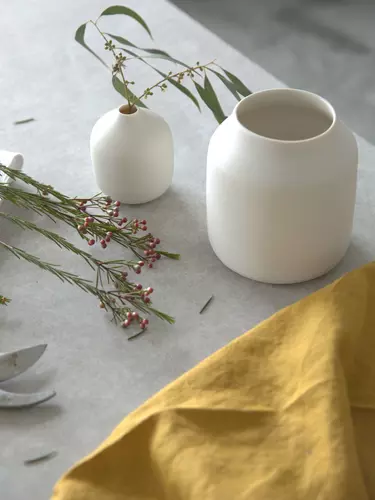 The products in our Opera House collection are intended to complement the nature around us..
Where do you draw inspiration for your products?

Eloise: The original design inspiration for our products was a cup that I made while I was studying at university which we called the Cuddle Cup. It was designed to be held with two hands and to feel like a little cuddle. When I was studying ceramics, I experimented with different styles and I was really drawn to that minimalist aesthetic. In ceramics making, there are different shapes that tend to be regularly used as cross sections when making things like vases. The Cuddle Cup uses a round base cross section that evolved to become the Bud Vase. It was inspired by the Southern Highlands and its many beautiful gardens and the idea was that if you walk around, you can pick your favourite flower from the gardens and put it in our Bud Vase. The products in our Opera House collection are intended to complement the nature around us.

Sophie: I love having flowers in my home and the nice thing about the Elph vases is that they can still look good without anything in them. Usually if you have a lot of vases they can end up in the cupboard, but the idea with our products is that they can still look nice on the shelf by themselves. When we designed the Bud Vase, we used the Cuddle Cup as a guide and then from there we made a new product with a different function.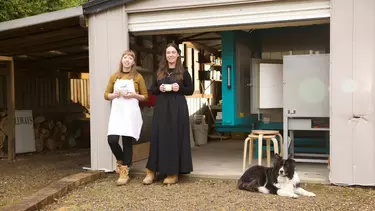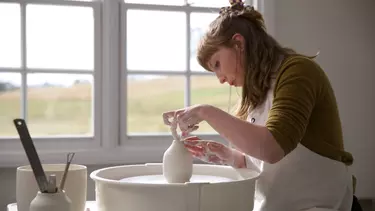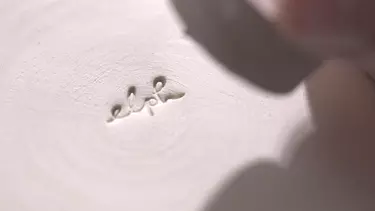 What is involved in your production process?

Eloise: We make our products in a very traditional way when it comes to ceramics making. I start by weighing and kneading the clay, which is called wedging. Then they're thrown on a pottery wheel and are left to dry for a little bit before going back on the wheel. After trimming the piece, I let it dry completely and sponge it before firing them in the kiln. We either fire the pieces in the kiln once or twice depending on the type of clay used. The last step is polishing them which involves sanding them under water. Because we use different types of clays for each product, we also colour code the pottery wheels so we don't mix any clays together.
What does showcasing your products through Uncovered mean to you?

Sophie: When I think about iconic buildings in Australia, the first that comes to mind is the Sydney Opera House. What resonates with us about the Opera House is their commitment to showcasing local artisans and makers in their shop. Being a part of its fabric and story is incredible and really special for us.

What is your favourite piece in your Opera House collection?

Eloise: My favourite product would have to be the Bud Vase. I think it's so nice to pick a beautiful flower and then showcase it in a small vase.

Sophie: For me it's the Medium Bottle Vase because it can fit a larger bouquet of flowers. The shape of the flowers moulds to the vase and holds them nicely in place so that they can fan out and be styled easily.