Showcasing artistic excellence off-stage
The Opera House showcases artistic talent on stages of all sizes. With a year-round catalogue of extraordinary events and performances, its iconic sails are home to inspiration and creativity in all forms.

With its Uncovered program, the Sydney Opera House Shop celebrates artistic excellence on a new stage. fromBIGthings is a Sydney-based model maker studio run by Adrian Veale which is dedicated to celebrating architecture and buildings across Sydney through its range of plaster models depicting various design elements of buildings. Each model is made by Veale himself by producing plaster casts that are either handmade, 3D printed or laser-cut, which in turn allow him to create miniature models of different architectural details.

Adrian spoke to us about the meticulous process required to create his models and the journey from working in architecture to starting fromBIGthings.
Tell us about fromBIGthings.

fromBIGthings is a business that recreates architectural details on a smaller scale. Its focus is on highlighting different features of Sydney which can be presented to people as a not-so-generic representation of the city. More specifically, it's an Australian architecturally-focused company which celebrates the beauty of all the buildings we're lucky to have in Sydney. 
How do you balance working in architecture alongside your other passions in music, design and photography?
I studied architecture at the University of Sydney while also playing on the side as a commercial trumpet player. After I got my start in the world of architecture working at a big firm in Sydney, I decided that if I was going to work as a musician, I needed to explore it while I was reasonably young. I paused my work in architecture for a bit to focus on that and during that time other opportunities started to open up. So I began photographing and working in design which eventually led me back to architecture. Between 9am and 5pm I'm working in architecture but I'm also exploring my interest in it beyond that with fromBIGthings. It can be extremely busy and I sometimes wake up thinking, "what am I meant to be focusing on today?".
I always knew how complex the Opera House was architecturally, but it wasn't until I looked more closely... that I saw how beautiful, intelligent and influential the design really was...
How does your background in architecture influence your work?
I think I'm really focused on the details of design, and I don't want to present something to people that is generic. I want my models to be enjoyed and respected by engineers, architects, and anyone that knows Sydney intimately and identifies with its features. I always knew how complex the Opera House was architecturally, but it wasn't until I looked more closely into it that I saw how beautiful, intelligent and influential the design really was for its time. 
Where do you find inspiration for your designs?
I look for iconic buildings - buildings that I know and buildings that stand out to Sydneysiders. I try to cover a lot of popular buildings but then there are also other buildings specific to Sydney that stand out to me too, like terrace houses. I like to recreate these types of buildings because they're well known and synonymous with the city, and that's why I've got an Opera House collection as well as models that are based on regular houses found on everyday streets. 
What made you want to start fromBIGthings?
At the time I was working in music, playing the trumpet and teaching design as well. I was really missing working in architecture and the hard work that goes into it. So I started making models again as a way to get back into architecture. That led me to things like getting a 3D printer. I saw an opportunity in the 3D printer that I hadn't even realised - it just looked like something fun to play with, but eventually it inspired me to create the models I now sell as part of my business.
Why is it important for you to represent Sydney's architecture in this way?
I believe it's valuable to have specific models and representations of Sydney that are less than generic and more specific to the city. It's important to me that someone who has lived in or visited Sydney is able to capture that, whether it's through a model or drawing. My Opera House collection gives people a new way of appreciating the city. It's nice to have something that doesn't just say 'Sydney' on a T-shirt and have a piece that speaks to specific details of a place, like the Opera House, and celebrates it. My models are intentionally white because I thought putting colour on them would take away from it and the white colour allows people to appreciate the finer details in each piece.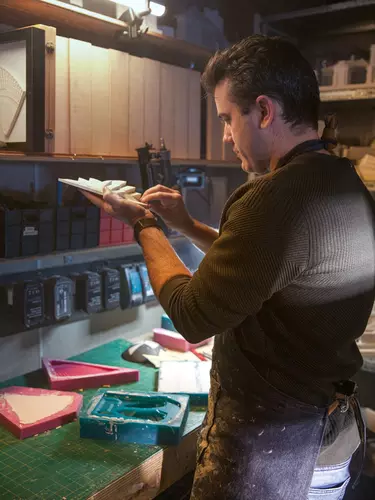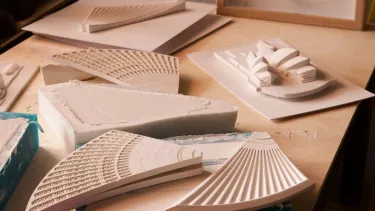 ...I'm conscious of ensuring my practice is sustainable... Everything either gets made into something or recycled.
What is involved in your production process?
For the Opera House, my process started on the computer. I looked up the original drawings of the building and did a lot of research into how it was constructed by going through the Utzon Archives - a collection of the construction drawings done by the architect Jørn Utzon. I also went through ABC footage from the time it was built. The photographer who was commissioned to capture its construction, Max Dupain, has some great images that helped me in my research of the building as well. There were also books published throughout the construction about the processes that were being undertaken. The Opera House was such an innovative building for its time that the team responsible for its construction had to develop new ways to calculate loads and construct elements that ensured it stayed up. Once I was familiar with all of this background, I started to build an actual model. I usually do this through 3D printing or using flat sheets to either hand-cut or laser-cut the material. 
Once I've got a model, I make a silicone mould and take an impression of it. The final process is casting it in acrylic plaster, which is tougher than usual. It's called 'eco plaster' because it means I can put my hands in it, unlike resin which can be unsafe to handle. It's very much like using plaster to put on your walls. The frames are made out of Australian hardwood, which I make myself as well because there is no commercial frame that is deep enough for the models to fit in - so the full product is completely bespoke and handmade by me.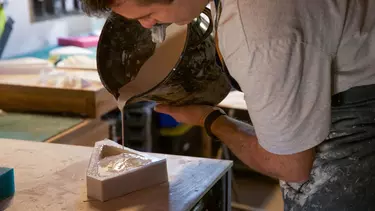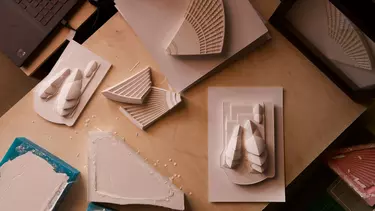 What materials do you use for your products?
The materials I use are actually quite simple but I'm conscious of ensuring my practice is sustainable. The 3D printing filament I use is made from PLA which is essentially a biodegradable filament that breaks down naturally over time.Those models are only made to last long enough so that I can make a mould. The moulds are made from silicone but even if the moulds don't work out, I break them down and reconstitute them for the next mould. The hardwood timber I use for the frames is sustainably-sourced Victorian hardwood and the plaster I use is a sustainable alternative to using resin which can be toxic. Everything either gets made into something or recycled.
What does showcasing your work through Uncovered mean to you?
I think it's been a great opportunity to sell pieces that showcase architectural details of an iconic symbol of Sydney. It's a beautiful opportunity to be able to capture elements of Sydney's architecture that can be taken away by tourists or visitors. The most popular model I make has been the structural model, which is a cast of one of the sails with the tiles removed. I recently gave one of the models to someone who worked as one of the original engineers involved in construction and they instantly recognised which shell it was from. I think that's why this opportunity means so much to me because the pieces are able to go to people who truly appreciate Sydney's architecture. 
What is your favourite piece in your Opera House collection?
My favourite model is called the engineering sectional model and it essentially shows a type of drawing called a 'section'. Each shell of the Opera House has a rib running through it and if you slice through the shell, the shape of the rib changes at different points. What makes these sections so unique is that standard structural beams don't typically change shape and are uniform along their length. But with the Opera House, these engineering details change in relation to the forces that are applied upon them and to the overall architecture they're helping to form. This piece represents three varying cross sections of different types of beams in the Sydney Opera House. I think the way it works is quite beautiful which is why it's my favourite piece.
Shop the collection
Are you an Australian based maker? Find out more about our Uncovered program.