Showcasing artistic excellence off-stage
Precisely 1,056,006 ceramic tiles adorn the Sydney Opera House's sails. The tiles were specially made by Swedish company Höganäs AB and are designed to catch and mirror the sky with all its varied light throughout the day. They are also self-cleaning; rainwater washes away dirt so manual cleaning of the soaring sculptural arches isn't required.
As a ceramics enthusiast, these are the kind of facts Sydney-based ceramicist Milly Dent loves to regale her friends with.
This year, Milly's striking ceramics will feature in the Sydney Opera House's onsite and online retail shop as part of the inaugural Uncovered retail program. Uncovered offers local artists, makers, creatives and artisans the opportunity to showcase their Australian-inspired products through a three-month residency in the Sydney Opera House Shop.
Milly spoke to us about her work, where she finds inspiration and her Sydney Opera House collection.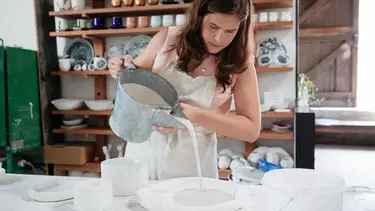 Tell us about your brand. 
I'm a ceramic artist and designer and my studio is based in Marrickville. I work predominantly with porcelain. My signature tableware range, which uses Australian porcelain and cobalt, is both utilitarian and sculptural in form.
Where do you draw inspiration from in your work? 
Inspiration in my work is drawn mainly from things, patterns, and textures found in nature.
The Sydney coastline is incredibly inspiring in my life and also in my ceramics. Moving from Brisbane to Sydney, a city right at the beach, was an incredible thing. I get into the ocean often. I try to go for a swim every day and love snorkelling at Gordons Bay. There's always a big blue groper and some stingrays there that I like to spot. And I find the time just after swimming very inspiring and incredibly meditative.
My signature collection, made for the Opera House, is inspired by the coastline and Sydney Harbour. The geometry of my work is inspired by matrices that are found in nature like rock cuttings and different sculptural forms that you often find on the coastline. Hopefully, you can see the textures and patterns of the Sydney coastline reflected within my work. There's just something magical about the coast.
You talked about the rock formations. How will we see those natural forms replicated in your work?
In the actual marbling of my work. You can see it's made in that fluid motion of the movement of the sea. In terms of the faceted forms, it's the cliff faces, it's the rocks that scatter along the coast. All of those natural, flat, faceted forms that nature produces are reflected in my work.
Would you describe your work as uniquely Australian?
The blue and white colour combination is very iconically Australian, reflecting our white sand beaches and deep blue ocean. Also, every piece is handmade by an Australian maker, using Australian porcelain.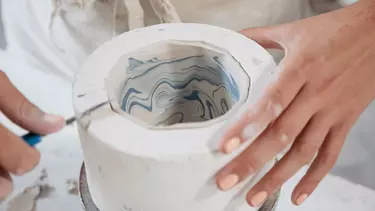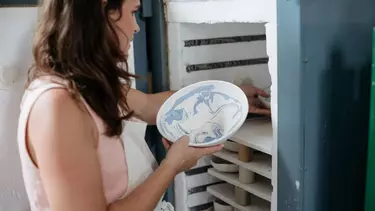 Talk us through your creative process.
Initially, when I have an idea I'll sketch the form that I want to create. And then I'll prototype it from clay or plaster. That might involve throwing it on the wheel or carving a form out of plaster.
From there, I make a plaster mould of the prototype. And then I do a process called slip casting, which is where you use liquid porcelain and you pour it into the mould. The mould is plaster and porous so it absorbs the water out of the porcelain and forms a skin inside the mould. Then you pour out the porcelain that's in the mould, fire the piece once, glaze it, fire it again, and then you have the finished product.
Why is it important to you that each piece is so uniquely handmade?
It keeps me interested in the work. Every time I open the kiln, I get to see new ceramics pieces that I haven't seen before, patterns that I haven't made before. It keeps me equally as intrigued and excited about the work. I think we all want to have something that's uniquely ours and not like anyone else's. 
How has travel influenced your work?
I've done a number of overseas art residencies which have continued my interest and intrigue in the history of porcelain. I've travelled to Jingdezhen, China, the birthplace of porcelain and Arita, Japan, the birthplace of porcelain there. And I went to Italy and did a wheel throwing course that was specific to porcelain.
I learn these skills as I go overseas, and I come back and bring them back into my practice, which has brought me to today, happily making ceramics here in Sydney and feeling very inspired.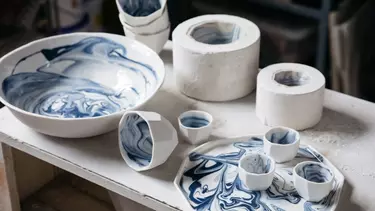 What do you like most about your pieces in the Opera House collection?
They use that signature combination of cobalt blue and white porcelain which has stood the test of time. Some of the oldest Chinese and Japanese ceramics are blue and white. It's a combination of colours I think is unrivalled when it comes to using porcelain, something traditional and very revered. I'm using it in a contemporary context and not challenging the colour combination. Just using it in a different way.
What does it mean for you to have this opportunity as part of the Uncovered program?
I've always been very interested in the Opera House, mainly because of the ceramic tiles that are all over the building. There are a number of fun facts I've always told my international friends about the Opera House's tiles, including the fact that the white and cream tiles catch light and mirror the sky, and of course that they have a "self-cleaning" ceramic finish.
The Opera House has been a place of intrigue and inspiration for me, so to have my work for sale within the Opera House is something that I'm incredibly excited about.