Uncovered: popaboutdesign
Showcasing artistic excellence off-stage
Visitors at the Opera House are well-accustomed to walking through its hallowed halls and seeing renowned musicians, cutting-edge theatre and acclaimed musicals on its stages. As a modern architectural marvel, the iconic sails are home to those who have creativity and inspiration to share.
Now, with its Uncovered program, the Sydney Opera House Shop celebrates different forms of artistic excellence. With her range of original prints, Jane from popaboutdesign submitted her work to the Prints, Photography and Art category. A Sydney local who's trained as an architect, Jane exhibits a remarkable level of detail in her prints, with each of the pools and the Opera House sails all drawn to scale and designed to complement each other. 
Jane sat down to share with us how she started popaboutdesign, the meaning behind each of her prints and what being 'Uncovered' means to her. 
Tell us about your brand. 
My name is Jane, I'm an architect, an educator, a swimmer and an illustrator. I make illustrations of my neighbourhood that remind us of those little moments in life. I live in Bronte, not too far from the ocean and Sydney's unique and beautiful rock pools which are the inspiration for my prints.
How did you end up being an architect, an educator and an artist?
Oh, it just happened, I didn't plan any of it! I'm an architect but I've always loved art and always enjoyed drawing and doodling and creating as far as I can remember. I started exploring digital illustrations a few years ago and for me, it reinvented the way traditional methods like screen printing could be used by allowing me to combine it with my architectural drafting skills. I was educated at an art school in Kent, England, by the most amazing, talented teachers and they inspired me to give back and to teach. It's fantastic to watch students come in a little bit anxious and unsure of themselves and then go away with these amazing new skills and confidence to move on in their lives with something that they're inspired by and have a passion for.
How did your brand, popaboutdesign, come about?
popaboutdesign is really about celebrating those little moments in life. It's so easy to get caught up in our routine, and miss the beauty in the everyday. We often don't stop for that moment and see exactly what's around us. So, the idea is by framing scenes in the neighbourhood I can capture the unique and the extraordinary. We live in a world that's worthy of celebration and wonder and I think that's really worth looking after. 
Tell us about your connection to Australia.
I've been living in Australia for about 20 years and the Opera House is just the ultimate building for me and I think for any architect. Anyone in the world can appreciate it. I first visited Australia as a backpacker on my own. When I first arrived, I got off the plane and on to the tourist bus and went straight to The Royal Botanic Gardens to do some sketching and have a look at the Opera House. I had been waiting so, so long to see it. It just pushes the boundaries of design and the whole story of Jørn Utzon and his sketch and not knowing how to build it... as an architect, I think it's such a beautiful building and it's core to our city. 
Where do you find inspiration?
My inspiration is my neighborhood. I'm inspired by the beauty that's in our daily lives and often we just take it for granted. I think we're often overwhelmed by bad news – global warming, plastic pollution, and at the moment the very obvious thing is the pandemic. We forget to stop for that moment and open our eyes and see the beauty in the everyday and the beauty in our surroundings, in our neighborhood. As an ocean swimmer, I think the pools are so special to Sydney. Some of them are over 100 years old, they're absolutely unique and they've been shaped to fit into the natural landscape. By connecting to our environment and our history, we're reminded that we have a world that's worthy of looking after. It's not completely destroyed yet, it's still beautiful and we still have hope. 
What does your creative process look like?
I live near these beaches in the eastern suburbs so I'm very privileged to be immersed in this beautiful landscape every day. I see the ocean through all the different seasons and every day is unique because the colours, the wind and the salt in the air changes. I feel alive every time I step out my front door. For me, the process starts with that experience. From there, I photograph and sketch and absorb and that's where the architect in me takes over a little bit. I see the world in terms of plans, section and elevation and I use digital imaging to get the scale. Each pool print has been created to the same scale, the swimmers are also depicted on the same scale and they're all oriented north. I use different line weights to differentiate what I'm drawing and then I can add bold colours, like in screen printing. The colours are applied in layers. For each of my series, I've curated a colour palette which has kind of set a consistent language.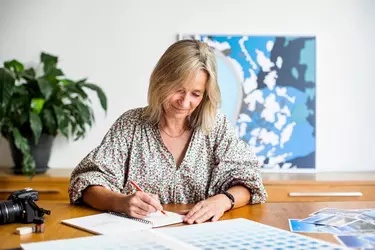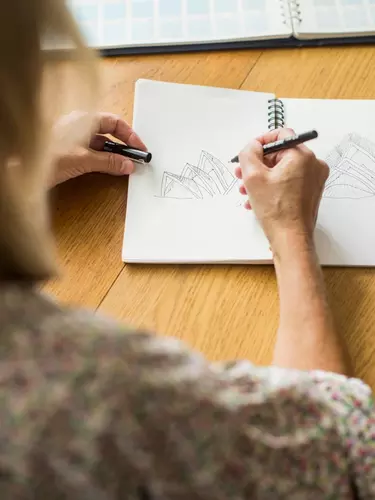 How did you find out about Uncovered?
I'm friends with Chris and Camila, who are from Eggpicnic and the most gorgeous couple who were involved in the program last year. They and other friends who know of my work encouraged me to give it a go. The thing about entering was that it didn't matter to me if nothing came of it, it was just the fact that I could even enter. I think that's one of the beautiful things about the Opera House: it's not exclusive, it's for everyone. The Opera House's front door is open for anyone to walk in to go in. I would never have imagined in my wildest dreams that I would be chosen [for Uncovered] but it's inspired me to keep illustrating. I never saw myself as an artist because it was just something that I was doing. But if I could keep conversations going by reminding people who see or buy my prints of the special moments where they feel connected to their neighborhood, then everyone might remember to see the beauty in the world. 
Which is your favourite print in your Opera House collection?
It has to be the Bronte one. It's my neighborhood. I pop down there most days with my dog Edie, and the shape of the Bronte pool is quite unique. A lot of the pools have quite a square shape but Bronte is slightly different and most people wouldn't realise it until they saw it from above.