Uncovered: Yinarr Maramali
Showcasing artistic excellence off-stage.
Visitors at the Opera House are well-accustomed to walking through its hallowed halls and seeing renowned musicians, cutting-edge theatre and acclaimed musicals on its stages. As a modern architectural marvel, the iconic sails are home to those who have creativity and inspiration to share.
Now, with its Uncovered program, the Sydney Opera House Shop celebrates different forms of artistic excellence. 
Amy Hammond and Lorrelle Munro are the co-founders of Yinarr Maramali, a Gomeroi women's business based on Country in Tamworth NSW. Meaning "made by Gomeroi women's hands", Yinarr Maramali use natural materials collected by hand from Country to make a range of hand-woven baskets, coolamons and dilly bags.
Amy and Lorrelle share how they started Yinarr Maramali, how they operate their business in a way that still cares for Country and how the practice of weaving connects them to their Community.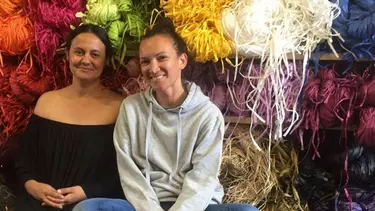 yaama yaaminday Gadigal walaay-baa-ga ngiyanigu gulay winun-ngulla-waa yillumbul murri maaru mala ngalay dhawan.
Our bags are on Gadigal Country and we pay respect to their Elders past and present who have cared and still care for their Country. 

Tell us about yourselves. 
Amy: Yaama, I'm Amy Hammond, a Gamilaroi yinarr and mother born in Moree. I spent most of my childhood growing up on Wiradjuri Country in Wellington. I'm the eldest granddaughter of a beautiful, caring and proud Mehi woman named Yvonne Hammond and a bus-drivin', storytellin' Gulargambone man named Ronald "Spoto" Hammond. My family connections run across many Gamilaroi, Wailwan and Wiradjuri communities. I trained in technical production at the Western Australian Academy of Performing Arts (WAAPA) and worked for a decade in blak theatre, community festivals and events, and supporting other blakfullas to share their Stories in the performing arts. I spent a lot of time on tour sharing Stories across many First Nations and around the world. This was an unforgettable time in my life and now I share Stories through weaving as the Co-founder, Director and Weaver at Yinarr Maramali (YM).
In addition to Lorrelle and myself, the Yinarr Maramali core Weavers are Bronwyn Spearim and Rachael Phillips (Craigie) who were born in Moree, raised between there and Tamworth, and Sophie and Emily Honess who were born and raised in Tamworth. 
Lorrelle: I'm Lorrelle Munro (Kennedy), a proud Gomeroi yinarr and mother of three who was born and raised in Tamworth/Moonbi. I am passionate about my family, culture, community and country, and have been continuing to learn and share Gomeroi weaving culture within our Community for the past eight years. I gain so much strength from my family and I am the proud granddaughter of Rosemary Combo, and Bulla Blair who I thank for their love, support and values given to me.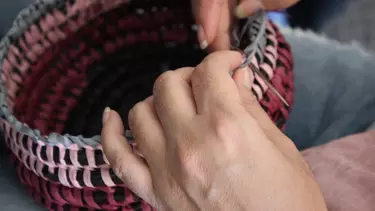 How did you learn to weave?
Amy: Heartbreakingly, I didn't grow up knowing how to weave. The first stitch I ever wove was yellow, taught to me by a very beautiful and generous Yolngu woman, my Manyi Kathy Marika. Manyi taught me how to make a coil basket, which I started while I was working as the Cultural Programs and Company Manager for Bangarra Dance Theatre. I was assisting Manyi with weaving workshops and I didn't know how much of an impact these workshops would have on me – it was a really significant project. When the workshops finished, images of our hands and weaving were showcased on banners that were flown on Gadigal Country, down Redfern Street in Sydney. I remember how good we all felt after seeing what we had created, by coming together. 
I would like to take this opportunity to publicly thank Manyi and acknowledge the impact she's made on our communities. 
Lorrelle: I learnt how to weave from Amy back in 2013, after we had become friends. I visited her home and Amy was weaving an eel trap using Lomandra grasses and it was so beautiful. I had seen photos and stories of weavers, but I didn't have the opportunity to learn it while growing up. Amy taught me how to weave using the coiling stitch and I created my first basket that day using beautiful sky-blue colours. It is still one of my favourite woven pieces, as it began a journey for me that has been inspiring, loving, and healing.
Yinarr Maramali feels like a responsibility to ensure Gomeroi women and girls in our community have the opportunity to access their cultural knowledge and stories in a safe and supportive environment.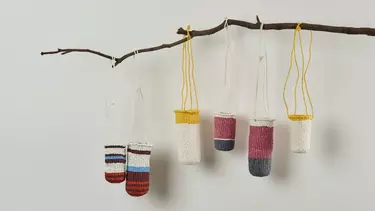 What is the inspiration behind Yinarr Maramali? 
Lorrelle: The inspiration for Yinarr Maramali came from wanting to create a space for Gomeroi yinarr to support the wellbeing of our Community and Country through the continuation of Gomeroi weaving culture. Yinarr Maramali feels like a responsibility to ensure Gomeroi yinarr (women) and miyay (girls) in our community have the opportunity to access their cultural knowledge and stories in a safe and supportive environment. We are proud to have a space for younger generations to learn, share their stories and explore their many creative talents.
We use natural materials that are collected by hand and sustainably sourced on Country to create our weavings and artworks. It ensures that our stories can be shared without a negative impact on our environment, following in our ancestors' footsteps by exercising care, reciprocity and respect.
Amy: Yinarr Maramali was created by us (yinarr) coming together to sit, weave and spin a yarn. Gamilaroi people have always been great weavers and our (YM's) inspiration from the beginning still remains with us now. Everything we do is for our Country, community and culture. Because of our experiences growing up, we understand how critical it is that our community, and especially our children, have the opportunity to learn our weaving culture. It is through the practice and process of weaving that we learn a very old way of caring for Country, ourselves and each other. Weaving has always belonged to our younger generations, we are taking care of it for them. 
The first dhigaraagal (bird) I ever wove were for my daughter Milaan, a Gilaa (gilah), Muraay (white cockatoo), Waan (crow), Bilarr (red tailed and yellow tailed cockatoo) and Gugurrgaagaa (kookaburra). The inspiration for weaving different birds in our collection comes from our Stories and by sharing Country with them. We hold an inherent connection with birds and have a responsibility to protect them. By continuing to weave birds we continue their Story and teachings. The importance of birds and the role they play within our culture and taking care of Country is obvious to us and by sharing a bit of their Story publicly we hope to make it obvious to others who live on Country and to all visitors. Each bird has been hand-woven with sustainable raffia and comes with a tag that shares a bit of their Story.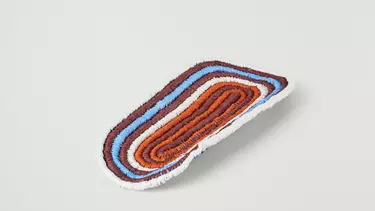 The inspiration for weaving different birds in our collection comes from our Stories and by sharing Country with them.
What's the relationship between Yinarr Maramali and the community?
Amy: Because of who we are and where we come from, when we sit in a circle and weave together, we know our ancestors have sat like this before. It is sacred. We live and operate our business in the communities that our families have been a part of for many generations. Over the years we have sat in a great number of circles and it has been such an honour and a privilege to witness so many of our people reconnecting and creating their first stitch and basket. I believe our old people are smiling, knowing that we are weaving again.
Lorrelle: Because we're part of the Gomeroi community in Tamworth, it's been special for us to learn and share weaving and continue to build our connections and relationships through practice.
We have a strong partnership with the Gomeroi Dance Company, who we've been able to collaborate with, by sharing our experience and knowledge to stage Cultural and Community programs, events, Corroborees and Caring for Country.
It's also been special to see our Yinarr Maramali family grow over the years. We have eight members now and we've been able to create a safe and nurturing space for weaving, healing, yarning, and connection. A few highlights for me include weaving our Warrabah (short-neck turtle) sculpture with over 100 Gomeroi women and girls from four different Gomeroi Communities; seeing our young ones sing and dance in their woven skirts and belts at Corroborees, and continuing to see the connection and pride that each weaver feels after they finish their first basket.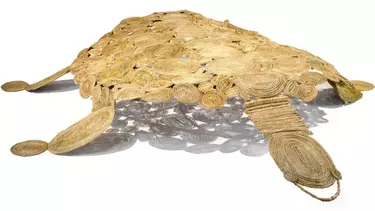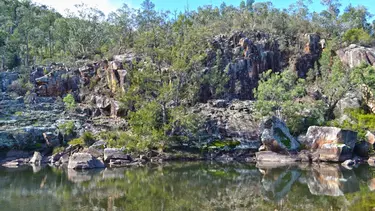 How do you choose the materials you use in your weaving? 
Amy: It varies depending on season and how healthy Country is. Due to limited access to our Country, land clearing, mismanaged water and drought, it has become increasingly difficult over time to collect the natural grasses we need for weaving. 
Living in a place like Tamworth is also limiting as the local retail shops tend to stock manufactured weaving materials that are unsustainable. We don't have a word in Gomeroi language for sustainability and I believe that's because it's naturally embedded into everything we do. During the past few years where our land has suffered from mismanaged water and severe drought, we've faced the heartbreaking realisation that we had to stop collecting grasses from Country until it recovers. We needed an alternative solution that could exist within our cultural norms.
It has taken us years of trial and error to find suppliers who could provide us with what we now use, which includes sustainable hemp, natural and paper raffia. When you buy from us, everything is sustainably sourced, down to the packaging and even our product swing tags, made from recycled card. We're always keeping an eye out for the highest quality weaving materials, whether that's from Country or from retail. It's an ongoing lesson for us. By using the more sustainable raffia, we're able to teach and continue weaving, no matter what.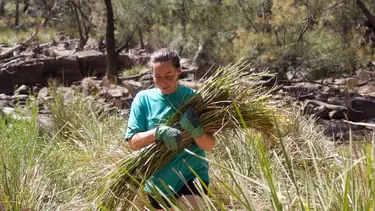 How did you find out about Uncovered?
Amy:  A family member shared a link with me. I mentioned it to the yinarr and told them I was going to apply for this Opera House thing. We knew it was a long shot. You can imagine how we felt when we received the news that we had been successful – and here we are! It is a special opportunity to share our stories on such an iconic platform.
What's your favourite piece in your Opera House collection?
Lorrelle: My favourite piece in the Uncovered collection is the Muraay (the Sulfer-Crested White Cockatoo) basket. Muraay remind me of home, and being woken up by their early morning calls. Our Dhigaraa (bird) collection shares beautiful Gomeroi stories of our local birds, and Muraay have a deep connection within our creation stories. I always feel a sense of calm and connection when weaving Muraay.
Amy: It would have to be the galah dillybags for me. My family has a strong connection with galahs. My pop Spoto is from Gulargambone and he and nan Yvonne got around like a pair of galahs, always together. Whenever I'm with my daughter and we see two galahs together, Milaan says "look mum, there's nan and pop". Milaan knows they will always be with us.
Are you an Australian based maker? Find out more about our Uncovered program.