Andrew Thomas Huang decorates the House with floral symbols of Australia
For Vivid LIVE, Austral Flora Ballet is an urgent reminder of our natural world
When filmmaker Andrew Thomas Huang creates new work, he reflects a bright, fractured dreamscape that entices us to reflect on our own world. In the music video for 'Cellophane' by FKA twigs, the singer wraps herself around a pole and enters another realm. The short film 兔兒神 Kiss of the Rabbit God, an 18th century Qing dynasty god falls in love with a restaurant worker and drags him into his reality. With 'The Gate', Björk takes us through a portal connected between the chest of two lovers. In Fire Cock, a group of elders swirl mahjong tiles across a table to summon Guan Yu, the Chinese god of war.
Austral Flora Ballet is the title of this year's Lighting of the Sails work during Vivid LIVE as part of Vivid Sydney. It will be crafted from five beloved floral gems: New South Wales Waratah, Kangaroo Paw, Hakea Archaeoides, Kingsmillii Eucalyptus and the Red Beard Orchid, all of which have a rich connection to the country, story and dance of First Nations people. The iconic waratah (warada or wãarata in Dharug) is a flower relished for its nectar and often used in ceremonies. Huang integrates the anatomy of these elegant Australian flowers with motion-captured dance performances in direct response to the architectural form of the Sails.
Sydney Opera House Backstage editor Justin Tam talks to Huang about his connection to nature and navigating cultural institutions as an artist of colour.
For a lot of Australians, we grow up near and with nature. It's part of how we exist, with the water and with the bush. Has nature been a part of your life?
I grew up right by the ocean in LA. I feel lucky and privileged for that. It's not everybody that gets that luxury of just being near a tide pool. When I say like nature, it was still very suburban nature but at least I had that. It's always been an important part of my life.
California is unique in that we have forests, mountains, the beach and the deserts all in one state. We took ski trips as a kid or we would go to the desert for the trip, we could go up the coast, to Big Sur and Redwood Forests. California in general is pretty developed, it's only increasingly so, and untouched nature is harder and harder to come by.
You said you want people to recognise plants and flowers in a new way, inspiring them to mean something else.
My partner – actually, I have to credit him for educating me – studies native flora in California and specialises in restoration and conservation. He's a plant ecologist. Just learning from him about the importance of native flora, why they're so adapted to their local environment and how important that is, especially with the encroachment of urbanization and development. Here in California, it's precisely all the air pollution that has contributed to the decline of native California plants like sage – many of which are actually fire-resistant.
The more air pollution you have, the more invasive species you get that are incendiary. There's a direct correlation between air pollution and fire, like what happened with the California fires. When you start to kind of encroach on those you throw things off balance. And it's safe to say that on a global scale with capitalism and climate change in general. 
There's a direct correlation between air pollution and ... the California fires. When you start to kind of encroach on those you throw things off balance.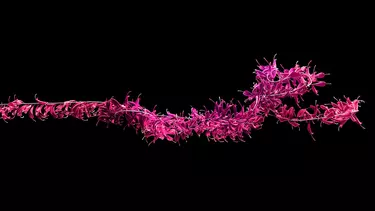 Why did you choose flowers to do this?
Here I am, making a work for a country I've never been to, for an iconic building that is the symbol of that country. I felt responsible to build a work that was riffing off the native flora. This is for the public, this is a high tourist traffic area where everyone from grandmas to small children may see it. They're something that we can all marvel at, but how do I present that? I could have just like have flowers on rotation or could have abstracted them and made them into patterns. But here I'm actually driving them using human motion capture and contemporary dance. How do we bring a human kinetic energy to drive the personality of these flowers and draw that link between the human body and these native flora?
Being an Asian-American artist, you're expected to tell a kind of story. Did you think of that when creating Austral Flora Ballet?
There are weird ties between the US and Australia, like they're these weird uncanny twins, with very similar blemishes on our history. I know the experience of being Asian-Australian is similarly complex and fraught in different ways, being that it is a Western dominant society. At the the same time Australians are in closer proximity to Asia. I approach my place in this project as a guest in this new city, in this new country. I can certainly speak from my own experience about the complexities of being a minority in the States – and I'm sure a lot of that rings true over there.
How much do you have to wear yellowface just to get a space in the room?
How are artists of colour able to navigate the complexities of Western arts institutions?
If [institutions] they want to take advantage of, tokenize you, it's each artist's prerogative to decide if they're okay with that or not – and some are, some aren't. It's hard to say exactly what each person would do in this situation, and I don't blame anybody because all artists are operating in an ecosystem of scarcity. It's tricky – how much do you have to wear yellowface just to get a space in the room? There are times where it's very real, and others where it's a little unclear.
Tell us about how you're making these flowers 'dance'. How did you work with choreographer Toogie Barcelo and dancer Genna Moroni?
I worked with Tessa (Toogie) on a video for Perfume Genius. It was just clear she was doing her own thing, she has her own voice. She used to work at Heidi Duckler Dance in LA, so specialised in site-specific choreography. I immediately thought of her because she knows how to create work that is site-specific and spatially conscious. She's perfect if we're going to make a piece centered around this architecture.
Do you always work with a choreographer or movement director?
A lot. Much of my work involves performance, whether it's acting or dancing. I have a puppetry background, so I hate when I see 3D animation that doesn't account for how things move. I think I speak their language better than I speak an actor's language. Movement and dance and animation, it's all kind of the same.