Rosso's tapestry obsession
Tim Ross, design enthusiast and presenter, has become fixated with the Opera House's historic tapestries — so much so, he's hosting a podcast
A few years ago I was speaking at a function in the Utzon room at the Opera House. Afterwards, I found myself making small talk with a woman in front of the large tapestry designed by Jørn Utzon that runs almost the length of the room.
It emerged that she was in charge of maintaining the tapestry. Being a tapestry nerd I enquired as to how it was cleaned. Expecting an answer that involved a dedicated peculiar looking Danish teak brush, I was surprised by her simple response: "I just give it a bit of a vacuum."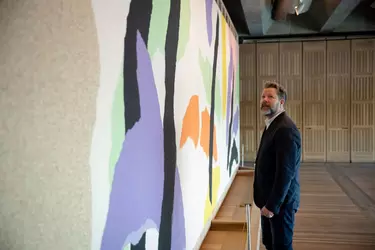 The concept of tapestries can sound unbelievably dull but once you get in front of them, they have a warmth and visual tactility that draws you in.
A centuries old artform, tapestries had a renaissance when the great architects of the 20th century used them to soften the modernist buildings that defined the architecture of that time.
Harry Seidler originally hung two, one by Le Corbusier and another by Vasarely, in his Australia Square building. Today in his smaller building behind it, sits a rather dusty and unloved tapestry by Alexander Calder. But Sydney's most famous tapestries remain the two curtains that Peter Hall commissioned Australian artist John Coburn to create in the late 60s.
... they have a warmth and visual tactility that draws you in.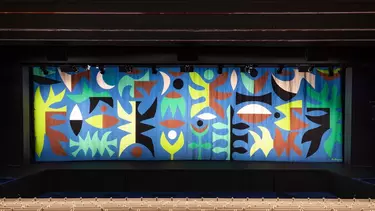 When the Opera House opened in 1973, his spectacular colourful abstract Curtain of the Sun for the Opera Theatre (now the Joan Sutherland Theatre) and the Curtain of the Moon for the Drama Theatre were an instant hit with the general public. 
They weren't as popular with the various performing groups who used the theatre so they were soon temporarily removed and within a decade they had been decommissioned.
Sadly, the tapestries are fabulous for being hung statically on a wall but are less robust when used as curtains. They have suffered from the process and were covered in oil from the mechanisms and various other battle scars from life on the stage. They have since been restored but remain in storage. They were temporarily rehung in tribute when Coburn died in 2006.
They were also temporarily placed in situ last year, I was lucky enough to see them and was completely taken aback. Despite being over 50 years old, the colours are still vivid and vibrant, all that time in the dark theatres has been kind to them. Utzon's original vision for the theatres was to have explosions of colour before a performance and they do that in spades and more. I wasn't the only one in awe during the viewing, audible gasps were let out all around me because they are magnificent and have a visceral pull that's difficult to describe. I think part of their appeal is that Coburn's work references the Australian landscape which helps anchor the interiors of the Opera House to place.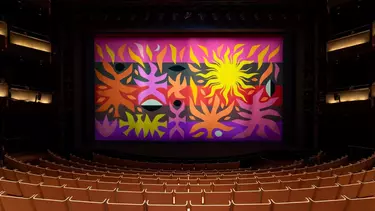 In a perfect world they would be rehung permanently but that's impossible. Not only are they not practical as curtains, the theatres have been changed over time and the space for them to be rolled out of sight no longer exists. It's important that people have the opportunity to see them and it's something the Opera House is grappling with. I'd like to see smaller reproductions woven and hung within the venue; the originals are so large they couldn't be displayed elsewhere within the House.
In a perfect world they could find their own space, perhaps a subterranean purpose built gallery in the Botanic Gardens. Then, after a quick vacuum, more people could experience these icons of Australian modernism.
House Stories: The Tapestries is a podcast inspired by the four tapestries of the Opera House created with design enthusiast Tim Ross. Listen now to unravel the stories behind these iconic works.