The two-year project that's future-proofed the heart of the Sydney Opera House
The Concert Hall is alive with movement. The Opera House's biggest venue has been closed for more than two years, yet behind its shuttered doors the beat goes on. The hum of thousands of excited concert-goers has been replaced with the buzz of hundreds of workers, busy future-proofing the venue for decades to come.
When audiences return, they will experience the Hall like never before. This ambitious project, the biggest of the Opera House's $300 million Renewal program, will better equip it for the full spectrum of 21st century performance, giving artists the capacity to fully realise their creative vision. 
It is the biggest upgrade of the Concert Hall since the Opera House opened in 1973 and it is breathtaking in its scope: a new automatic stage is being installed; acoustic innovations will greatly improve sound and the structure itself is being reinforced to carry much heavier loads to facilitate state-of-the-art lighting and visual effects.
All of this had to be achieved without compromising the work of Australian architect Peter Hall, the Opera House's second principal architect, after Jørn Utzon's withdrawal from the original build.
A world-class team of experts, including original structural engineers Arup, ARM Architecture, heritage advisors Design5, theatre consultants TheatrePlan, construction firm Taylor, specialist theatre machinery contractor Waagner-biro, building services engineers Steensen Varming, led by the Opera House's Renewal project team, had the task of preserving the building's past while equipping it for the future.
Andrew Hayne, principal architect with ARM, has worked on the project since the beginning in 2015, and says the challenging task was met with "a certain amount of excitement, obviously, and curiosity but … there's a little bit of fear there and trepidation when you're working on one of the world's most famous buildings". 
This pressure was felt by all involved, including Arup engineer Xavier Nuttall, who describes it as "one of the most complex buildings in the world", and Taylor project manager Adam Vassallo, who says the heritage aspect was "next level" compared to other projects.
"It's a World Heritage icon. You look at all the artists that go there, all the tourists that go there, and we feel like we're almost representing Australia," he says.
The work is literally a top-to-bottom overhaul, from new rooms and walkways built above the ceiling housing and giving safer access to new equipment, to the 95 tonnes of new machinery installed below the stage.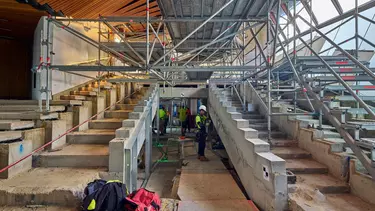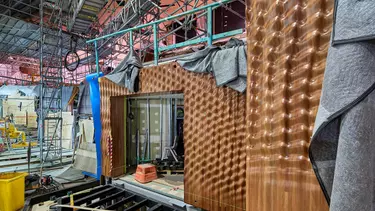 "We're touching on pretty much every piece of that portion of the building, be it the shells or the stage – we're interfacing with all of them," Xavier says.
These extensive upgrades are all crucial to transforming the live experience for performers and audiences, but the innovations to the stage are perhaps the most exciting. An automated system will allow it to be easily raised and lowered, enhancing visibility for audiences, as well as providing quick, easy staging options for a wide range of performances. Tiered platforms needed by orchestras, once set up manually, will now appear at the touch of a button. It will also have the capacity to be extended into the auditorium, or to retract, making room for more rows of seating. 
The acoustic upgrades are just as ground breaking. Despite an Opera House appearance being something of a holy grail for performers around the world, the sound inside the Concert Hall has often been uneven. This is partly due to the venue's unusual shape, says Andrew: at 25 metres high and 43 metres in length from the front edge of the stage to the back wall, it is much larger than most contemporary concert halls. 
It was also originally designed for acoustic music, but within months of opening was hosting amplified performances. For years, the Opera House's production team have manually retrofitted the venue to get the best sound for the vast range of musical genres and stage shows. 
Their job will be much easier and faster with Waagner-Biro's machinery, which includes 40 new movable and automated ceiling and wall reflectors and 67 different types of banners and curtains. These can be raised and lowered at the flick of a switch, to dampen reverberation and create a fuller, richer sound, for acoustic and amplified music alike. When not in use, they slide into the walls, ceiling and floor, disappearing from view.
Waagner-Biro engineer Alex Amon says all the new machinery is designed for maximum impact and minimum intrusion.
"All the audience will see is the performance and all the beautiful art, not our machinery. If someone in the audience can see our machinery or hear it, we did something wrong." 
Rooms above the ceiling and a walkway dubbed "the central catwalk" – which are also invisible to audiences – give access to this new machinery for maintenance and operation.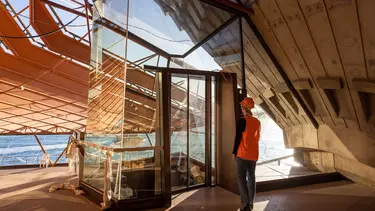 To realise the new designs, Taylor installed 174 tonnes of new structural steel (equal to more than 100 cars), placed 720 tonnes of new reinforced concrete and laid 300 kilometres of cable. This included 44 tonnes of hot pink steel to mark the difference between primary and secondary steel.
The builder's work includes service upgrades and matching finishes on new concrete and timber to blend in with the original materials in a considered and appropriate way. 
Echoing Alex, Adam says that "most people won't appreciate how much work has gone into it".
What they will appreciate, says Xavier, is the enhanced experience as audience and performers.
"You look at the way they can now use the venue in terms of hosting music shows, stage shows, circus shows. It's so much more flexible with so much more capacity."
Less mobile audiences will be able to experience the Concert Hall as never before, with more accessible seating and a new lift and passageway providing access to all levels.
Building first began on the Opera House in 1959 and wasn't completed until 1973. Xavier says that decades later, the original engineering is "still world class, it's absolutely stunning". 
"We've just done a little bit of tinkering on the side," he says of the upgrades. "I mean, it's taken six, seven years, but when you compare it to the original engineering, it's not much."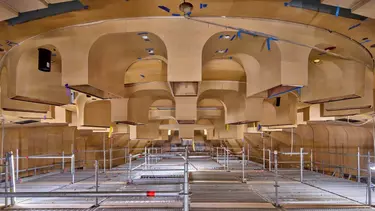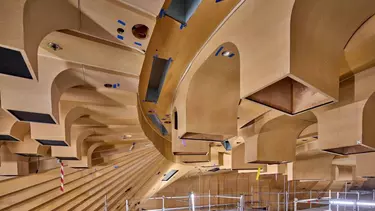 To plan for this "tinkering", Arup and ARM pored over thousands of archival images from the original build as well as documents of modifications made since opening. Having a team with a long track record of working at the Opera House, as well as the Opera House's Conservation Management Plan, proved crucial in creating a seamless connection between past and present, while building for the future.
Unexpected connections to the past were also unearthed during construction, filling in more pieces of the Opera House story.
"As we've worked our way through we've found little intricate messages left behind, some in other languages," Adam says. These include messages in bottles and an old cigarette packet with a $1 bill tucked into it with a message in Greek written by a carpenter.
Graffiti on ceiling walls dates back to the '60s, providing a reminder of the many builders who have played a part in realising Jørn Utzon and Peter Hall's masterpiece.
Hundreds of workers are now making their own contribution during this important milestone in the Opera House's renewal.
"We feel quite honoured that we've been selected to work on this project and contribute to the history of it," Adam says.
Soon, they – and everyone else who has been waiting to experience the transformation – will be able to see the results of years and years of their hard work. 
"I just can't wait for it to open and see the audience enjoying a show," Xavier says. "I'll be the first one in that show as well. I can't wait to witness that. It will be fantastic."  
The Concert Hall will welcome audiences back to the renewed venue on the 20 July.