Transcendence: 50 Years of Unforgettable Moments
New Book Shares Artists' Indelible Memories from the Sydney Opera House
We cherish our memories of visiting the Sydney Opera House, whether that's catching your favourite artist or being amazed by the stories told on stage. But what about the artists' memories?
To celebrate our 50th anniversary, the Sydney Opera House has released a new book that brings together five decades of stories by artists who share an enduring connection with this remarkable building.
Transcendence: 50 Years of Unforgettable Moments at the Sydney Opera House celebrates the evolution of a cultural masterpiece through the eyes of some of those who have made it sing.
Contributors include: 
Hollywood Director Baz Luhrmann, famous for films including Moulin Rouge and more recently Elvis, had a career breakthrough directing La Boheme for The Australian Opera. Considered a radical production, it led to a standing ovation from Joan Sutherland and sold out to young people. Such a pivotal moment in his and his partner designer Catherine Martin's career, they returned for their wedding.
"When CM and I decided to get married, we thought: we put shows on for everybody else, so why don't we put a show on for our friends? It began with them arriving at a warehouse and these guys came out in Hawaiian shirts, playing violins, a bit Romeo and Juliet, and they were all loaded onto buses, not knowing where they were going, and they drove down to the Opera House and were taken in the lift to the stage where we'd built the L'Amour sign from La Bohème and a kind of church. Then our dear friend Noel Staunton, who worked at the Opera House, floated down from the ceiling dressed as a fairy and married us. Our wedding took place on the stage of what is now called the Joan Sutherland Theatre, and we did it just as a show for our friends and family and it was quite magical."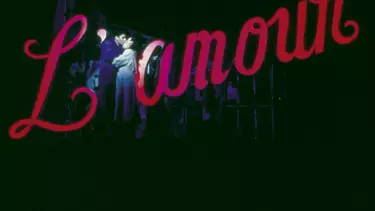 There's something special about seeing live music at the Sydney Opera House, and Paul Kelly couldn't agree more. He reminisces on the transcendental experience of having enough cash to see Don Giovanni in the Concert Hall.
"In 1987, I received my first royalty cheque. It was more money than I'd ever been paid at one time. I did two things. I bought myself a gold electric guitar from a music shop on Parramatta Road and then three tickets for me, my sister, and a housemate to Don Giovanni at the Sydney Opera House.

We took our seats. The lights dimmed. The overture began with those two big, long chords of doom. Instantly, I was electrified and, if memory serves me well, which it doesn't always, for the next three hours I didn't leave the edge of my seat."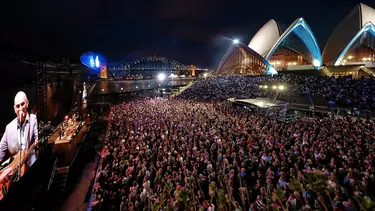 The Playhouse is often home to nights of laugh-out-loud laughter as our favourite comedians hit the stage. Kitty Flanagan first performed in 2010 as a support act—a performance she shared because there's not really anything funny about comedy gigs that go well.
"I talk pretty fast even when I'm not nervous. But when I'm nervous, dear god, good luck keeping up even if English is your first language. And I was nervous. Added to that, I'd had a last-minute panic about the camera 'adding ten pounds' and decided I should wear heavy-duty Spanx under what was already a very tight pair of black denim jeans. I basically took to the stage wrapped in a double layer of compression bandages, unable to breathe properly, then babbled and wheezed at a room full of bemused tourists. That's what I should have called the show: Kitty Flanagan – Babble & Wheeze. 

Some might say I didn't belong at the Opera House back then, but I disagree. What makes the building so special is that over fifty years it's evolved into being so much more than just an opera house. It's everybody's house."
Award-winning Australian actor Deborah Mailman goes back to her time in Bell Shakespeare as Cordelia in King Lear. A moment after the show will stay with her forever.
"There are a lot of pinch-me moments in the Opera House, but there's also the reality of performing on stage. That sense of awe might be always there – it's one of the most beautiful places to perform, a real privilege – but at the end of the day, there's a job to be done.

The show was being presented downstairs in the Playhouse. John Bell was Lear. I was Cordelia. After the bow that night, when everything started to happen, I was still a bit dazed: it was a Kosky production, so you're going a hundred miles an hour. 

Someone pulled me off stage and Barrie was with me as we walked through the stage door into the night. I looked up to the sky and the huge electrical storm. We stood next to the Opera House, where a live feed had been set up to the AFI awards (now the AACTA awards). I listened through an earpiece, still in costume and full make-up from King Lear, and that was how I found out I'd won my very first AFI award for Radiance, the film by Rachel Perkins. The storm was still blowing when Barrie handed me the award. It was just a crazy, singular moment."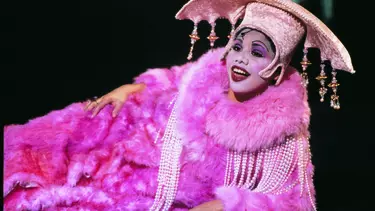 Australian Hip Hop Artist Briggs looks back at creating the Bad Apples House Party, part of Vivid LIVE in 2019. This was a pivotal moment for Briggs' own label, but also a moment to open the Opera House doors to more rap and hip-hop music.
"This was our opportunity to make something to remember. The Opera House, one of the most prestigious buildings in the world, not just in the country – this was our house. But it wasn't until the day itself when we were wandering around the rabbit warren out the back of the Joan Sutherland Theatre – I ran into Robert Smith from The Cure; they were playing next door in the Concert Hall – that it hit us. 

Backstage, there was a lot of joy, and I was feeding off that energy. They were stoked. I've been around the world, but sometimes you forget. A lot of these kids who live in Sydney may have only been to the Opera House on a school excursion or seen it when going past on a train. Even though it's your city, it can still be kind of unattainable. And then, suddenly, we cracked the door open. It was like we'd snuck in. The Cure was next door, doing their thing, and we were over here, doing our thing. It was like: Mum and Dad are out, let's go."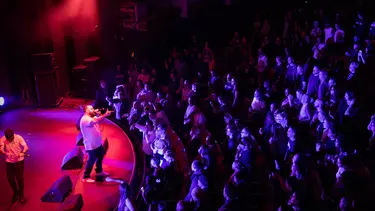 Other contributors include Jimmy Barnes, Carlotta, Paul Kelly, Tim Minchin, Graeme Murphy, Rhoda Roberts, Sarah Blasko, Clementine Ford, Barrie Kosky, Simone Young, Louis Nowra, and many more. 
Sydney Opera House CEO Louise Herron AM said, "What the artists make clear is that there's always been something magical about the Opera House, inside and out. The spirit soars in its presence. Through this book, we are not only celebrating half a century of unforgettable moments but also inviting everyone to be part of the next chapter as well."
Pick up your copy today at the Sydney Opera House Shop or online at Booktopia. Published by Thames & Hudson Australia, and edited by award-winning journalist, author, and Sydney Opera House staff member Ashleigh Wilson, these stories reveal as much about the Opera House has they do about the city itself.