At home with Bennelong's Head Pastry Chef
Rhiann Mead's recipe for the perfect croissant
I've baked pretty much every day of this lockdown. I've been using this time to practise skills I'd usually be too busy to do – sugar work, chocolate sculpting, and different wedding cake designs.
My main focus for this lockdown has been to perfect croissants. I've tried so many recipes and methods, and combined them into a foolproof recipe. Being a three day process it's been a great way to consume time, and a perfect way to start a day!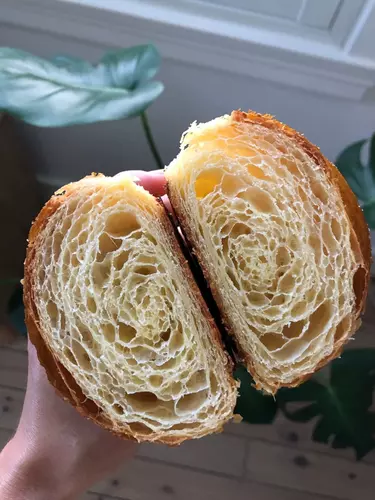 Ingredients
Makes approximately 10 croissants
500gm strong/bread flour 
12gm salt 
40gm unsalted butter (room temp) 
140gm water
140gm milk (full fat) 
55gm sugar
11gm dry yeast
300gm unsalted butter - slightly softened (for folding) 
1 egg (for egg wash)
Method
Day 1
1.  Add flour, salt and butter in a mixing bowl. Mix until well combined and a sand-like consistency.
2. Warm milk, water and sugar (about 35 degrees). Remove from heat and dissolve dry yeast. Set aside for 5 minutes to thicken and activate.. 
3. Add wet to dry and mix until a smooth dough is formed. 
4. Wrap well in cling film and leave at room temp about ½ hour to start the rising process. Transfer to the fridge overnight between 12 - 24 hours (a stronger flavour will develop the longer in the fridge). 
5. In the meantime, use a rolling pin to shape the 300gm butter in between sheets of baking paper into a square about 1cm thick. Keep in the fridge.
Day 2 
1. Pull the butter square out of the fridge to soften slightly.
2. Roll out dough into a square slightly larger than your block of butter.
3. Place butter in the center of the dough and fold the edges over to completely and evenly cover. Stat lamination. 
4. Roll the pastry block out completing 4 book turns. Refrigerate between each turn to rest the gluten. The dough won't stretch if it's overworked.
5. Wrap well and refrigerate.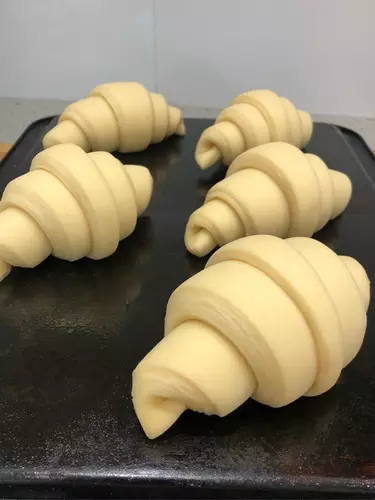 Day 3 
1. Roll the dough into a rectangle about 1cm thick. Cut triangles about 9x15cm, roll tightly from the base to the tip ensuring the tip is tucked underneath.
2. Place on a lined tray to proof at room temp, keep covered with cling film.
3. Leave croissants to proof until doubled in size (4 - 6 hours depending on room temp)
4. When croissants are almost doubled, heat the oven to 200 degrees, and glaze croissants with egg wash.
5. Bake for 6 - 8 minutes at 200 degrees, rotate tray and drop oven to 175 degrees. Bake for a further 10 - 15 minutes until golden.
6. Cool slightly and enjoy!!
Raw croissants will keep raw in the freezer for one week. Freeze straight after rolling. Defrost, then proof and bake as normal.
Rhiann Mead is the Head Pastry Chef at Bennelong Restaurant.