Christopher and Rajini's wedding
Under the Sails shares the stories of those who say 'I do' and celebrate milestones at the Opera House. 
Meet Christopher and Rajini. From an observatory meet cute, to a gorgeous multicultural ceremony, the happy couple chose the Yallamundi Rooms to celebrate, surrounded by family, friends and views of the spectacular Sydney Harbour.
How did you meet? 
We met five years ago at the Sydney Observatory looking through the oldest telescope at Saturn and its rings. It was an incredible first night at a 6 week astronomy course we had both happened to enrol in. We got to know each other over the weeks at the course, it was like having a crush at school!
Describe the style of your wedding.
We opted for a classic civil wedding with both the ceremony and reception at the Opera House. We chose a festive semi-formal dress code with a muted pastel colour theme. We wanted the wedding to feel relaxed and fun so we selected a musician who plays dreamy electric guitar and organised a DIY photo booth with props! Having our wedding during the day all in one place brought the feel to life that we were hoping for.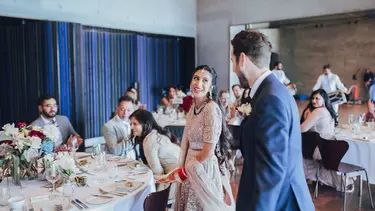 Having our wedding during the day all in one place brought the feel to life that we were hoping for.
Please tell us about how you honoured Greek and Indian heritage in your wedding?
We both have rich cultural backgrounds but in particular Greek-Cypriot, Indian (Punjabi) and Scottish are the ones that define us. Christopher had a traditional stolisma ceremony at home with his Cypriot family and close friends, where they had lovely Greek music played by local musicians whilst the family and friends literally dressed, groomed and blessed him for the day ahead. We also incorporated Greek dancing at the reception. We honoured Punjabi heritage through traditional dress, bhangra music and dancing, having my cousins play the thunderous dhols (Indian drums) and of course the age-old tradition of having the family members feed the bride and groom the wedding cake! The Scottish aspect of the wedding included Christopher in a St Andrews tartan kilt (St Andrew is also the patron saint of Greece, with blue and white as its national colours). We also took part in the traditional Scottish Quaich ceremony, where we received a blessing and shared a dram of whiskey.
What was the most memorable part of the day?
It's very hard to pick a specific part of the day as there were so many memorable aspects. We have memories throughout the day of stopping to look around and just enjoy where we were, surrounded by loved ones at the Opera House on the Sydney Harbour, feeling relaxed and so happy. 
Dancing was particularly fun - being drummed into the dining room, going from Night Fever to Greek dancing, to bhangra. A dancing highlight certainly was doing the traditional Indian "train" (rail ghadee) dance where all of our guests linked up to form a train and we wove in and out of the tables around the halls and out onto the deck. When we reached the opposite door outside it was locked so we had to do a u-turn and go back inside. Everyone fell about laughing and our train collapsed!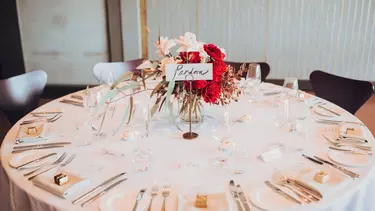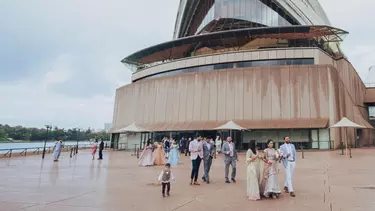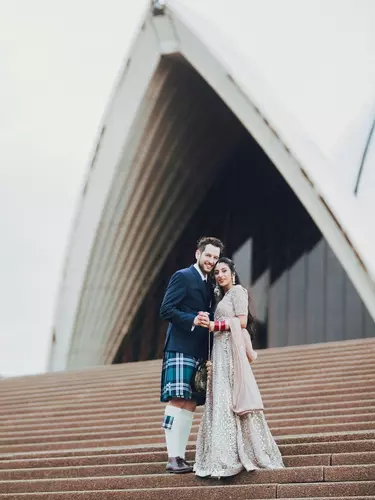 Why did you choose the Opera House as your wedding venue?
We wanted to get married somewhere that was special for us both. We had initially thought of marrying at the Sydney Observatory where we met, but as migrants from the USA and UK we never tire of the incredible Sydney Harbour and were impressed with how well-equipped the Opera House was to handle coordination. The Opera House is particularly special to us as we love any opportunity to be there, be it for a walk around the grounds, going on the Opera House tour, Vivid LIVE, seeing live orchestras perform and incredible cultural shows there, or just socialising at Opera Bar! It's just magical. The Opera House has really become a part of who we are, so what better reason to be at one of the world's most iconic buildings, than for our wedding!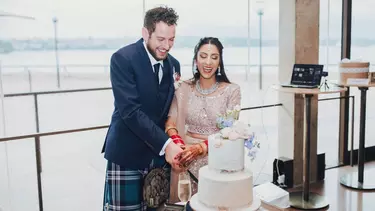 Whether your looking forward to planning your wedding, birthday or corporate event, treat your guests to a memorable event under the sails.  With a range of spaces to book, our Functions team are here to help.