Inside the Opera House's secret club
Once a year, the Opera House flips its Studio—usually home to cabaret, talks and kids shows—and rolls in the subs and smoke machines to transform it into a heaving haven of the finest electronic music: the Vivid LIVE Studio Parties.
Our favourite Sydney DJs, artists and regulars relive their favourite moments across the years to warm up for this year's Studio Parties, from Flume's first big show to how PVC piping and a little bit of light trickery turned the room into a superclub.
Club Kooky's 16th Birthday Party (2013)
KookyKids:
"Kooky is a sharing and caring, cross- cultural, intergenerational Sydney community institution. It's a celebration of diversity as a queer / weirdo ('queerdo') culture and logical family. It was wonderfully awesome to look out into the Studio & witness our chosen family both sharing and owning this magical space.
"Another huge moment was having Kooky and a rainbow fist projected onto the Opera House sails for just a moment at our 16th birthday at Vivid LIVE 2011. it is less about our collective ego on the Sails but more about our community being recognised and being able to have a wondrous, ephemeral moment on an iconic space like the Sydney Opera House."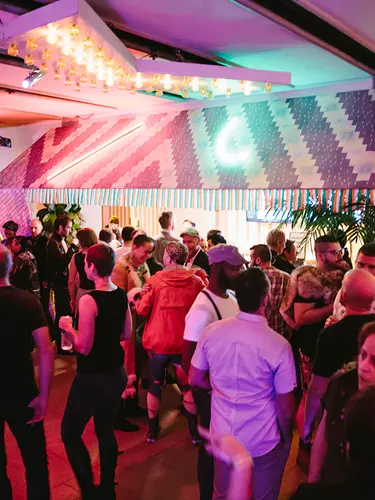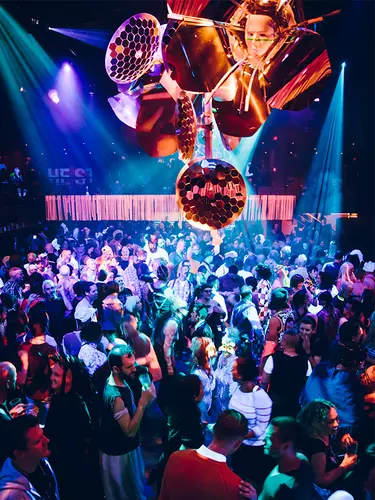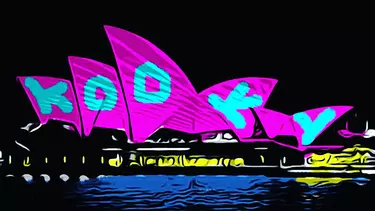 Goodgod Danceteria! &
Goodgod Super Club 
Andy Webb, Resident Advisor:
"I've had a bunch of fantastic nights at Studio parties during Vivid LIVE but my favourite would have to be DJ Harvey's all-night set for Goodgod Super Club last year. I've seen Harv play a number of times in all different settings and situations, and he's always fantastic, but this night took the cake. He's a DJ who does have a real rockstar aura about him, and the bold room production, 360-degree enveloping sound and central DJ booth with everybody flocking around him really made for a perfect scenario for him to step up and deliver five-plus hours of powerful, flexing, emotional disco. Turning on the house lights at the end of the night, then plunging the floor back into darkness, then bringing them up again while people lost their minds—it was a pretty remarkable high to end an already near-perfect party on."
Lorna Clarkson, Red Bull Music Academy & 
2SER's Down Low Disco:
"What I love about the Studio is that you can walk into it and not quite know where you are. Whether at the hands of Mad Racket, Kooky or the GoodGod crew, the space becomes what it needs to be, transporting you to the desired party dimension. I absolutely loved DJing at Kooky when the foyer area was transformed into a dirty little disco. I remember playing Masters at Work and singing legend Shaun J. Wright ran up and grabbed my hands over the decks and we sang at the top of our voices to each other. Another stand out was bearing witness to the joyful display of fierce moves and fiercer attitudes of the voguing beauties of the Minceteria back in 2015. It was so brilliant to see Sydney's beautiful queerlings owning that space. I hope the Studio continues to push and push in order to create a rightful space for those that deserve to shine."
Jimmy Sing, Goodgod:
"Our first year of building a purpose-designed nightclub space Goodgod Super Club had a very special DIY reveal for late in the night. We'd installed a network of black piping just above the dancefloor so that it architecturally transformed the sense of the Studio's high ceilings into a more intimate proportion. What people didn't realise was that this piping was all just plumbers PVC stormwater pipe that we'd painted black and drilled hundreds of holes in. We hooked up four high-powered smoke machines to the corners of this pipe network and in the final hour of the night pushed smoke through them so it spurted out all the holes, right above everyone's heads. It was both a 'hands in the air moment' and completed our transformation of the Studio into a hazy basement club where people really feel most comfortable to get down.
"There was a special chaos to the first years of club nights at the Opera House. We had the phenomenal Nicky da B from New Orleans—rest in peace you beautiful spirit—headline our crazy eclectic lineup including Egyptian Lover and Jamaica's Prince Zimboo. He was the first New Orleans Bounce artist to perform in Australia, and he and his crew of six, fully laid down the law on what Bounce's signature dance move is...Twerking. This was still a couple of years before this had become a thing across the world and it truly threw the room into another gear we didn't think was possible. It prompted a full stage invasion too, another first for the Opera House. Such uplifting, euphoric vibes."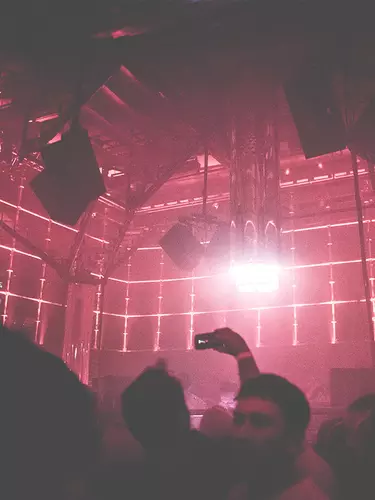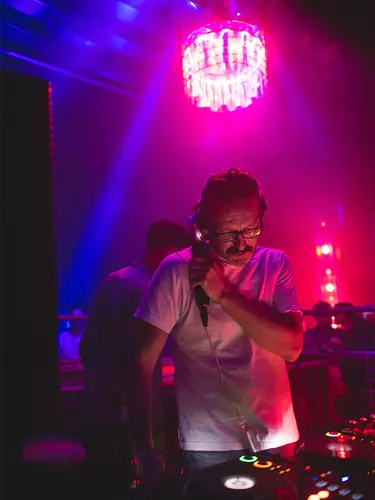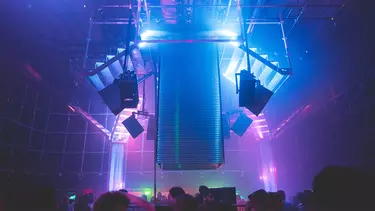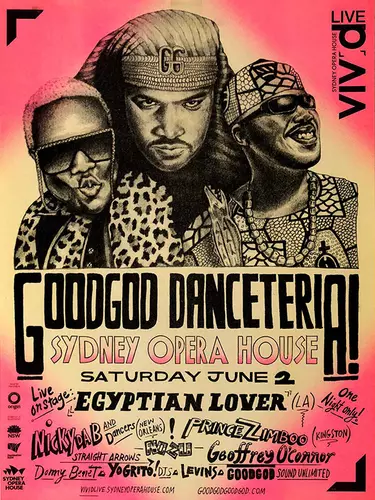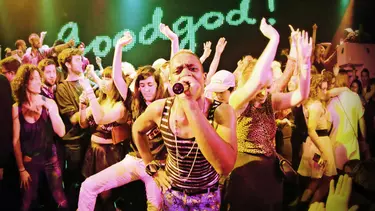 Astral People Party ft. Omar-S, Africa Hitech & more (2013)
Vic Edirisinghe, Astral People:
"Omar S had just released his album Thank You For Letting Me Be Myself and we were obsessed. We knew he was our man that we were going to shape our night around. I sent his agent an email and away we went. Now little did I know at the time, but he's had a history of cancelling tours last minute and also 'clearing dancefloors,' so you can understand my anxiety when I'm waiting for him to arrive at Sydney airport at six AM the morning of the Sydney show. Oh, and to add to that, he requested his full fee be paid in advance just a few hours before getting on a plane or he wouldn't get on his flight, so we were staring down the barrel of a huge financial loss alongside the embarrassment of our Vivid LIVE headliner not showing up. One hour passed, and another, and another… still no Omar to be seen. Just when I had given up and was about to break the news to my partner that he wasn't turning up, along strolls in this shy dude wearing a bucket hat and rocking a FXHE tee. Omar had arrived."
Tom Huggett, Astral People:
"It's been three years since our last Studio party with Robert Owens and Amir Alexander. 2018 may be our most special party yet due to the absolute legends we've somehow managed to secure to grace the Studio stage. Kicking off the night is one of our favourite Sydney DJs Lauren Hansom—we've watched her play everywhere from Summer Dance to Freda's to live streams on Resident Advisor and Red Light Radio, and there's a reason why DJs like Motor City Drum Ensemble consider themselves fans...She knows a tune. Next up on the night will be NYC selector Natasha Diggs. We were first introduced to her through her 2015 Boiler Room set where she somehow mixed through just about all of our favourite songs ever. Diggs is the type of DJ who will be playing alongside hip-hop icon Pete Rock one week and then the warming it up for a house icon like Kenny Dope the next. Do not miss Diggs. And closing out the night we have a legend in every sense of the word....Danny (fuckin') Krivit, the man behind that 'Strings Of Life' edit and so, so much more. Danny has been DJing for over forty years now—he was a resident at The Loft in NYC and is the man behind the Body & Soul parties (alongside fellow pioneers Joe Claussel and Francois K). We've already got goosebumps just thinking about what song Danny will close the night out with."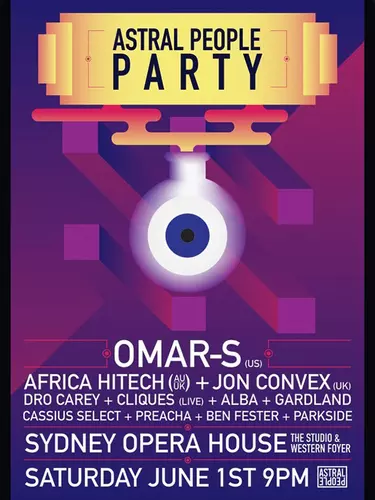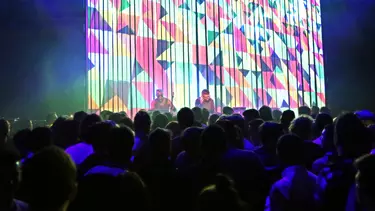 Future Classic Party ft. Flume, Isolée & Jacques Renault (2012)
Chad Gillard, Future Classic:
"In June 2012 we did our first ever Future Classic event at the Sydney Opera House for Vivid LIVE. We booked German techno legend Isolée, NYC disco don Jacques Renault and one of the first ever Sydney shows for a relatively unknown producer (at the time) by the name of Flume. The Studio at the Opera House was the coolest and most impressive venue we'd ever thrown an event at...How often do you get to throw club nights in of one of the most iconic live music venues in the world?
"That night did feel like the start of something shifting for our little company. I saw a younger generation, lots of new faces coming through to see Flume, a new artist that would go on to achieve incredible success both at home and abroad. Then as the programming continued throughout the night and went into Isolée's live set and then Jacques bringing the night home so triumphantly...We were surrounded by friends and nightlife industry peers that had been with us since the company started so many years ago.
"That party in 2012 was the start of a close relationship between Future Classic, the Sydney Opera House and Vivid LIVE. We threw parties in the Studio the following two years with Cashmere Cat, Lapalux, Touch Sensitive and Koreless headlining.
"I'm flying back home to Sydney for Vivid LIVE this year and couldn't be more thrilled to see our management client, Jonathan Zawada, projecting his visual creations up on the sails. Future Classic is very much a Sydney born and bred creative company. In addition to our Sydney base we have an office and recording studios that we've just built here in LA. But we still call Sydney home and will always feel privileged, proud and incredibly humbled to have been invited into and embraced by the Sydney Opera House on such a regular basis. The building and the amazing people behind the scenes that make the place tick will always hold a special place in our hearts."
Mad Racket presents The Crystal Ark (2011)
Simon Caldwell, Mad Racket:
"The first gig we played in the Studio was with The Crystal Ark. I remember walking into the foyer that was transformed into a club with people dancing everywhere thinking, what the hell is going on here? It was so abstract that a staging area was being used as a dancefloor. People were absolutely loving it. It's a shame we can't use the foyer as a second dance floor anymore."