My love letter to... The Flaming Lips
Jonti on the psychedelic sway of The Flaming Lips
Love Letter is our series showcasing the influence of touring international performers on established local talent. Previously, Izzi from The Preatures has professed her "real love" for Cat Power, and Jono from Jaguar Ma credited Panda Bear's "musical pilgrimage" for his path to music.
Now Jonti Danilewitz, the Sydney-based Stones Throw producer (and touring member of the Avalanches) better known as just Jonti, dives into the "endless inspiration" of The Flaming Lips on his career so far. The Oklahoma boys, with their colourful catalogue and sensory spectacle, are responsible for a generation of psychedelic enthusiasts. Acompanying his letter, Jonti has curated a vinyl mix featuring tracks from The Flaming Lips and other "fearless freaks" who have inspired or been inspired by the alt-rock group.
The Flaming Lips play the Sydney Opera House Concert Hall on 30 September and 1 October. Jonti's latest project is Mystics, a collaboration with Love Letters alumnus Jono Ma.
Growing up I liked noisy bands, psychedelic things, Beach Boys chords, studio explorations and people who had rather colourful personalities. So naturally, I was a Flaming Lips fan. I loved trying to mimic Ronald Jones with my guitar while jamming to Clouds Taste Metallic in my room. Or having my ear to the speaker trying to figure out those Steven Drozd chords on The Soft Bulletin. I still revel in the joy of Wayne Coyne's art. 
I got to see my first Flaming Lips live show at Big Day Out 2004 and I thought I was prepared — but of course I wasn't. What started out as Wayne onstage in daylight syncing the visuals to the projector screen and chatting with the audience, transformed into an all out explosion of the senses. As a hyper 'Race For The Prize' opened the set, there was a party on stage with Wayne swinging a glowing orb around his head, multiple people dancing in animal costumes, and balloons and confetti fireworks making everyone feel like they've reached the best party in the world. It was a lot of fun — Wayne poured fake blood over his head, and sang a 'Yoshimi Battles The Pink Robots' duet with a puppet on his hand. There was some grotesque visuals that made me want to pass out, but it was kind of cool. It's hard to explain why, but it added to that teenage experience.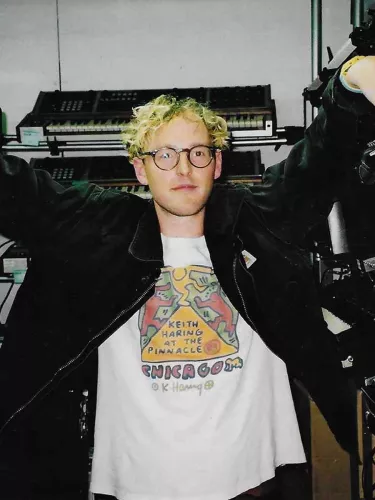 In 1998, you released a compilation called 'A Collection of Songs Representing an Enthusiasm for Recording…By Amateurs'. And to me, that title represents the coolest thing about The Flaming Lips. The idea of the "enthusiastic amateur", which is something I think about all the time. Clearly you can play your instruments, and have demonstrated many genius moments in the studio and on stage. But it was more the reflection of this attitude towards remaining youthful, fresh and not taking yourself too seriously that I loved and wanted to live. In addition, it had this punk-like invitational quality that said 'you can do this too'.
And it made me want to do it. In 2011, I released my first single for Stones Throw Records called 'Firework Spraying Moon'. And I feel now is the time to come clean and reveal that the name came from Wayne's lyric 'Standing there in the graveyard/while the moon sprays fireworks in your hair' from the song 'The Sound Of Failure'. Thank you, Wayne.