Skepta wants grime to be a revolution
Through pirate radio to the global stage, the Tottenham king proves there's more to his scene
True heads will be sick of hearing that grime is the "next big thing" when they know it's always been there simmering in the underground. Above the surface, the genre has had its peaks: Dizzee Rascal shot to fame after receiving the Mercury Prize in 2003 with Boy in da Corner, then returned to a very different type of song with bars on Arman Van Helden's 'Bonkers'; Wiley's 'Wearing My Rolex' steamrolled American summer festivals in 2013; and Stormzy resurrected an icy beat with 'Shut Up', 13 years after the classic instrumental was first released.
None of these moments have been as supreme as Skepta's time. It's been over a decade since he debuted, and he's proven himself as a landmark of the genre and its deep political and socio-economic roots. The MC, born Joseph Jr. Adenuga, wants to be remembered for giving his city a voice – both musical and political. For him, as the first grime artist in the Opera House, it's the perfect soapbox.
It's still about the soundclash
In its early years, the grime clash known as Lord of the Mics was strictly inner London; MCs from the Midlands or the North were left out. It wasn't until LOTM2 in 2016 that they opened up, and Skepta was there representing Tottenham. Based on the Jamaican soundclash, crews like Skepta's Boy Better Know would go head-to-head with neighbouring boroughs.
Fans will remember the iconic battle between Skepta and Devilman, a feud which Skepta resurfaced in 2015 over the Wiley beat 'The Morgue' (written 10 years earlier). Devilman dissed back two days later, calling his old sparring mate out for selling out.
It's a London thing
Grime's popularity in its hometown has been something to celebrate in youth culture, collaboration and black British identity. In 2015, giving fans just a few hours' notice, Skepta packed out a Shoreditch car park with an impromptu rave, free and unticketed. This moment underscored a surge in his influence and popularity which the following year proved more than true when he took home the 2016 Mercury Prize. Skepta changed the course for the genre yet again and amplified London's distinct musical voice.
While he's come a long way, Skepta has always shared the success ('I've gotta do these shows / Cause I ain't tryna see another tear run down your nose / Nah, mum, your son's got ambition', from 'Text Me Back'). In 2017, he took all the proceeds from a sold-out show in London and gave £30,000 to Shelter, a charity tackling homelessness and bad housing in England, and spearheaded positive change in his local Tottenham community where he ran music production workshops.
Skepta tells the story of his borough and the looks that made him through his work in fashion. A collaboration with Nike (black-and-red Air Max '97 colourways) and his unisex label MAINS (a runway take on the classic tracksuit) prove he's one of urban culture's only icons that can lay claim to his origins.
I'm not a rapper, I'm an activist.
Even grime kings struggle with the industry
Tension in the music industry led Skepta to publicly denounced his desire for these external pressures posting a monologue to YouTube titled Underdog Psychosis – queue mega-tune 'That's Not Me'.
"That was the real turning point for me. It's like 26 minutes of me just talking to my laptop screen about my life and how I felt. You see every artist in the industry have a breakdown... Everyone goes through it in different ways. Underdog Psychosis was mine. After it was released, I felt cleansed." The video ended up screening as an installation at Tate Modern in an exhibit about grime's renaissance.
He represents Nigeria's new wave
Back in his parent's home of Ogun, Nigeria, Skepta was made a Chieftain – Chief Amuludun of Odo Aje. It holds the same prestige as receiving an Order of the British Empire, a title which Skepta allegedly knocked back ("The MBE got rejected/I'm not trying to be accepted" in the song 'Hypocrisy').
Skepta keeps sharing centrestage with others from his home country. Most recently, 'Energy (Stay Far Away)', featuring Wizkid puts a spotlight on Lagos's most creative and fashionable youth, from director, photographers and musicians to skaters, designers, stylists and models all featured in the songs video clip.
They don't need a major label
The eldest in the first family of grime (his sister Julie is a Beats 1 DJ and MC JME is his brother), Skepta operated behind the scenes during grime's early days before founding crew and independent label Boy Better Know in 2005. The collective began releasing music and performing together, including first single and underground hit 'Too Many Men'. Ten years later, in February 2016, Drake performed alongside Skepta at a show in London and so began his allegiance with BBK, and Skepta's with label OVO Sound.
Over a decade into his career, Skepta owns all his successes, with no label and no corporate affiliations.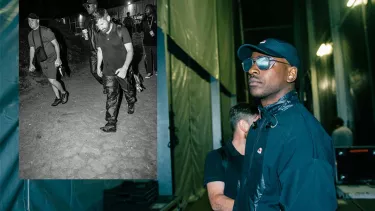 He doesn't need to sell out to America
There's a pattern where grime MCs fall into the American sounds of the time, as Wiley or Dizzee Rascal did with EDM. At the Red Bull Culture Clash, again a tribute to the Jamaican clash, crews from the corners of every musical genre battled for the crown. Like Lord of the Mics before, MCs trade bars over classic riddims, their own beats, and tracks from their competitors.
In 2014 on their homeground of London, reigning champs Boy Better Know opened round one of the clash with Skepta and his brother JME on 'That's Not Me'. They competed against A$AP Rocky's A$AP Mob – some would say they were out of their element, coming from the East Coast rap world and not understanding how a clash works – Jamaica's Stone Love, and Rebel Sound (with David Rodigan, Shy FX and Chase & Status). Through the four rounds, Stormzy took down the stage, and godfather Wiley jumped on stage for one song before vanishing again. They didn't take the title, but both crews proved that grime didn't need America to continue its reign.