A Soft Future is a bright one
In conversation with the Goodgod creative masterminds behind the sustainable Soft Future Piano Bar pop-up
We recline on repurposed insides of rubber tyres to the sound of Satie's 'Gnossienne No. 3'. Only instead of the traditional piano arrangement you'd expect, it's a synth recording. Selected Ambient Works by Aphex Twin follows. And then Gaussian Curve — the ambient project of Italo electronic pioneer Gigi Masin, English producer Jonny Nash and DJ Young Marco.
This isn't the world of Murakami or an Amsterdam coffee shop — we are seated inside the Concert Hall Northern Foyer at the Sydney Opera House, where Jimmy Sing and Hana Shimada of Goodgod have created the perfect place to wind down.
Soft Future Piano Bar is a  response to the established tradition of Sydney bar spaces. In place of found objects, Edison bulbs and memorabilia commonly found in Sydney bars, the Soft Future Piano Bar is decorated with minimal custom-made furnishings built with an awareness of their ephemerality. A retro-futurist take that befits Jørn Utzon's purple carpet. 
Lacing the functionalism of Sydney DJ-cum-industrial designer Todd Sidery with the illuminations of Vivid LIVE, Soft Future Piano Bar draws aesthetics from Kubrick's A Clockwork Orange with the expressly modern intention of leaving no waste behind.
Jimmy tells Backstage of the "brutal visual" that made him rethink how to build the space. "If we're going to look at the future, let's create a space where everything can be re-used, recycled, the food waste from the bar can be rotted in compost and go toward zero-waste."
Sui Zhen and Marco Vella (Retiree) are some of the artists experimenting with the in-house organ and Rhodes at the bar.
It's by no means the first time Jimmy and Hana have challenged the experience of going out in Sydney. The couple are best known for the game-changing Goodgod Small Club in Chinatown — the venue became a sanctuary for underground music and played host to the likes of Jamie xx, Thom Yorke, SBTRKT and even Lorde, who performed there before hitting the charts.
Once again, Jimmy and Hana have challenged Sydney's nightlife traditions with an air of optimism.
A Soft Future is a bright one.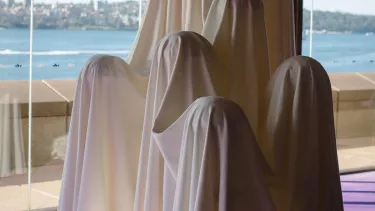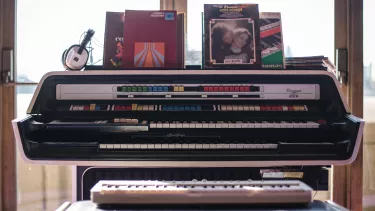 Claudio Santoro: How did your experiences DJing and designing come to inform the concept behind the Soft Future Piano Bar?
Jimmy Sing: We spent a bit of time just standing in that room and it's such a peaceful space.
Hana Shimada: It brings you to your knees.
JS: It is already a beautifully designed serene space, this curved panoramic window that feels like you're at the bow of a ship that isn't rocking. Just hanging out over the water there, beautiful concrete beams that you could just lie looking up at. That night harbour vista is what inspired us to think let's create something really low lying that you can relax into that is not essentially a party bar, which is what we've done a lot of — created spaces that have a lot of energy and are about a certain mode of socialising. We were thinking perhaps having something where people could come and spend real quality time together and settle in and lie about heaped on platform type furniture instead of a neat table with four chairs. Also, a cosmic soundtrack for that night harbour view. That's what kicked off that idea of a retro-futurist space. There's so much depiction in the 60s and 70s of what a futuristic environment could be and what is better for humans to socialise in. Simple things like carpeted conversation pits and the Opera House has already got, for me, a real monolithic futuristic feel. It's a beautiful modernist vision.
HS: It's super weird and I feel like it's nowhere more highlighted than with that purple carpet. It's actually weird everywhere but there's a more conventional colour palette in other spaces. It's so freaked out in the best way and it just felt like we're spoilt by a lot of geographic beauty in Sydney, but in there it's framed by such a wild futuristic vision and I think the jump-off point is about carpet for us, because it's really different from other places with an epic view. It's that tiered thing and the slot window that made us drop everything down low.
JS: You see that carpet and you just want to lie down.
CS: Was creating a sustainable space part of the initial idea?
JS: On that second weekend of the Super Club last year we saw everything that had been there over the four nights, which was only about 20 hours in action, then having to go into this massive skip bin.
HS: It was such a brutal visual.
JS: We thought if we're going to look at the future, let's create a space where everything can be re-used, recycled, the food waste from the bar can be rotted in compost and go toward zero-waste. We're aiming not only for our installation, but all our food and drinks in collaboration with Aria throughout the whole festival, to come out with no more than one rubbish bag for landfill, which would be a flipside on what we inflicted on the world last year. It really sparked us to think differently about creating temporary spaces for enjoyment. If they're such short term experiences, it's so gluttonous to throw all these resources at it and not think about what happens next.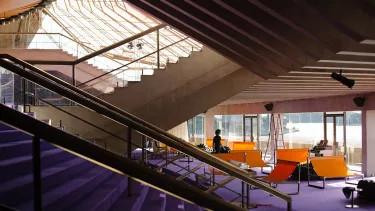 CS: Does that idea extend to the design of the Super Club?
JS: We've taken that approach to our design this year for Super Club but it hasn't been foregrounded in the publicity as much as Soft Future. For Super Club this year, we wanted to bring some architecture to the space in order to change the theatre feeling of The Studio. We've designed the space with Jeremiah Wolf to build a lot of it out of scaffolding and use that in a way that isn't presented in a conventional sense - that looks like a construction site, but to suspend the scaffolding staircases and lead up to nowhere to create the feeling of…
HS: Wonder. Shrinal wonder.
JS: Yeah! And inherent with that is a scaff company coming in with their gear, building in an unconventional way and then coming in to disassemble and take it away.
CS: A staircase that leads to nowhere?
JS: There are many. There are sixteen sets of staircases. We've built a grid that creates a Tron feeling and changes the way you perceive the space. The challenge was building a place for dancing in a theatrical convention space - so it's all about trying to transform that. Last year we just blacked out a lot of it but this year we've looked at trying to build it in a different shape, so you feel the square nature of the room but using different materials to what's there already.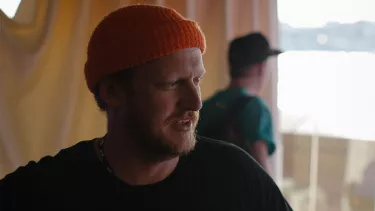 CS: How does the Super Club elevate itself from the usual model of a nightclub?
HS: It is really interesting. I feel like the demands on current day venues are so different. If you want to stay viable, it's difficult to focus on only one function. Super Club is so joyous to us to create because there's a total focus on the function of it being a club space, which sounds simple, but you have to offer so much more. We were discussing earlier today how you need to have fancy food and drinks. We used to have bands at Goodgod as well as the club and, in a way, all that stuff gets compromised because there's not a full focus on one thing.
JS: That's why with Super Club we've tried to give people longer sets, which is coming back into the clubbing world now. In MySpace days, promoters would book ten DJs to play half hour sets so that they'd invite all their MySpace friends. I think it's really nice to be able to settle into the experience and enjoy one person taking you on a journey. And instead of just doing it in your headphones when you're commuting on the train, the power of that is different when you've got hundreds of people around you all doing the same thing and feeding off that energy - and that is something so special when it's increased over hours and hours. You go through more together and that's probably what creates some of the more memorable nights of dance music.
HS: It's a vast history of us as humans doing that too. It's nothing new. It's cathartic if you allow yourself to focus. 
CS: Do you think there's been some maturity to the Goodgod project?
JS: We're still entirely immature, but we're working on something that's probably a more direct expression of our own tastes. Whereas when we were running the club, we were the venue which housed a lot of people who were passionate about their own tastes and we shared 90% of them.
HS: There was a lot of facilitating and that was a beautiful thing, but what we do at the Opera House definitely puts us into the driver's seat and we're the artists dictating how it should all go.
JS: With Super Club, we actually get to work on designing and resolving every part of the experience inside the room. When you're on the dance floor, the sound system is how we want it, the lighting is custom tricks that we've had fun designing, the interior architecture is how we want it to be, and the music is played by DJs we love. It's very indulgent to be able to put that all together and whether it's more mature or not I don't know.
CS: Has the identity of Goodgod grown up with you guys?
JS: For sure it has. I wonder if maybe the Soft Future Piano Bar is even a more acute side of that. We've been listening to a lot of chill out music and enjoying the idea of the old chill out room at the rave. When you go out it doesn't have to be about enjoying music at one certain energy level, and that was the music that we naturally veered to after getting out of running a weekly club.
HS: I'd say we stopped listening to music altogether for a while. It was just noise.
JS: The stuff we started listening to again was more ambient. Hana's got a great collection of Japanese pop and synth stuff - all different dynamics that are not banging in any way - just different types of music that perhaps Soft Future Piano Bar touches on.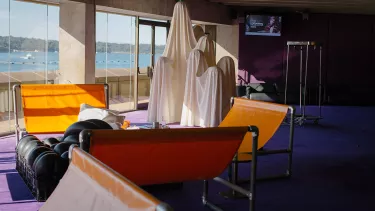 CS: Do you think Soft Future will be an opportunity for community building in the same way the Danceteria was in the Small Club?
JS: I think when you hold something to a spotlight, people come to it with a respect. They find people gathered around it who are treating it with respect and so you get this environment where each person treats one another with respect. I'm sure you'll get this feeling from the Soft Future Piano Bar - that it will be a very different mode to a club, but we hope that sense of community feels the same in there and let's people enjoy a similar atmosphere together. The pity is that it's so temporary. Everyone knows on nights out it takes those great relaxing never-never hours after your working week that you might meet someone and spend longer with them than you normally would. And you're open to new experience and you connect with people in very spontaneous ways. I think that's the beauty of nightlife in general. Lots of people meet their lovers, the people that they come to form solid friendship groups with. People having that like-minded community around them makes them whole again. So many people say that about going out at night and enjoying music with people.
HS: I think it comes back to the design we've created. It's the sounds and the hours but it's also a matter of tricking people into seeing beauty, wanting to linger and feeling the space in the way we've set it up. Hopefully people can sink and get tricked into it.
Soft Future Piano Bar was open May 26 - June 4 as part of Vivid LIVE in the Concert Hall Northern Foyer of the Sydney Opera House. Listen to mixes from this year's Goodgod Super Club alumni Magda Bytnerowicz and Nite Fleit.