Writing hits with Future Classic
We sat in on a session with the Sydney label's writing camp at Vivid LIVE
A giant, sprawling jellyfish is projected across the Sydney Opera House. Much like the neon scenes beyond the sails, a delicate ballet of sound, light and movement radiating across the Harbour from Bennelong Point beguiles Sydneysiders and tourists, who defy the urge to seek warmth and shelter against the cool winter nights. The allure of the Vivid lights are as powerful and stirring as ever. But behind the lights of Vivid, some of Australia's best and brightest musicians remain tucked beneath the building in the wood-panelled inner sanctum of the Opera House's world-class broadcasting studio.
I almost trip on backpacks strewn casually across the studio floor. A keyboard – I didn't note down the model or year – leans casually against a console. Sydney producer Basenji and a visiting songwriter have just ducked out for a snack, their MacBook open to an Ableton Live mixdown screen, audio cables snaking out from the humble laptop and into the studio's colossal speaker stacks. Basenji is one of the newer artists on Future Classic's (FC) sprawling roster, joining Flume, Nick Murphy (fka Chet Faker), Seekae, Flight Facilities, Jonti and Ta-ku. During Vivid LIVE 2017, some of the FC vanguard joined songwriters, musicians and producers from across Australia to participate in a month-long intensive songwriting camp—an opportunity for cultural exchange - to bounce ideas off each other, write (and rewrite) lyrics and finesse the fine art of laying down the perfect drum pattern.
Being in a different space can interest an artist and get them excited.

Chad Gillard, Future Classic
FC started as a vinyl label, a side-job for co-founders Nathan McLay and Chad Gillard to release the Rhodes-tinted vocal house-slash-disco hybrid that they loved to play in DJ sets. Since then, FC has evolved into artist management and touring, casually topping Coachella line-ups with Flume and Nick Murphy. With one foot now firmly in sunny LA and the other at home in Sydney, they've carved out a sound on the international stage that can confidently be called 'Australian' – a difficult feat in the world of dance and pop music when you consider the sonic mutations on online platforms like Soundcloud and Tumblr. More importantly, they've founded a creative enclave, a family of sorts, for creatives to work together. They're artists with a business edge.
And, lucky for us, they've made the Opera House their home over the past six years, curating Studio nights featuring Cashmere Cat, Touch Sensitive and Koreless; headline shows on the main stages with Nick Murphy, Ta-ku and Seekae; Flume's 'Some Minds' music video shot inside and around the building; and celebrated their tenth birthday on the Northern Broadwalk with Flume, Flight Facilities and Seekae.
I had a chat to Chad as he was slamming out emails in the recording studio's  vocal booth about the label's relationship to the Opera House, how they pair the right musicians together, and how they massage a song into a hit.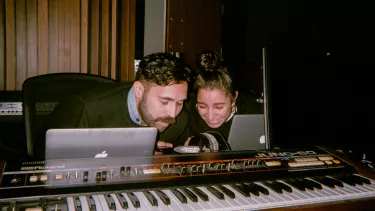 JT: How did Flume and Kai end up writing 'Never Be Like You' together?
CG: Harley [Streten] and Kai had been talking online and he'd shared a couple demo beats with her to write to as a start. Kai wrote to one of these beats and Harley took what she'd written and effectively started a new idea with it. They met in person for the first time at a writing camp that we ran with Chris Tabron and the Red Bull Studios in New York in 2015. The song wasn't entirely finished at the camp but it definitely became a real prospect and took shape there I feel.
JT: How do you develop a new, or seasoned, artist's sound?
CG: I think new experiences and a little bit of disruption (at the right times) are often healthy. That could be working with a new artist for the first time, going to new places to perform or write, trying new things with live performances and songs. It's a subtle thing and is different for all artists. Having a community of artists that have access to each other is often really rewarding.
In terms of an artist's sound, we really enjoy sharing music we love and talking about it with our artists. There'll often be times where something super unexpected, or being in a different space musically, can interest an artist and get them excited or feeling creative.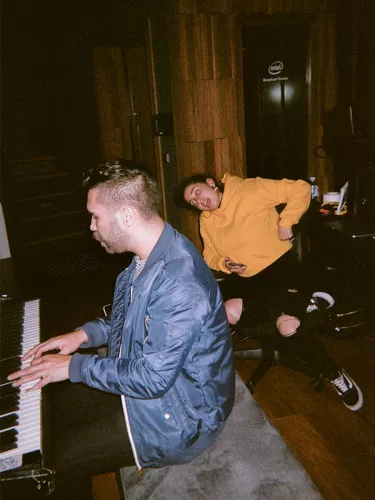 Having a community of artists that have access to each other is often really rewarding.
JT: How do you match artists that have different sounds and workflows?
CG: We try to talk with our artists and their teams and get an idea of what they're trying to achieve creatively. I think it's good to try push a bit outside of an artist's comfort zone, but it's important to have those unexpected collaborator ideas informed by what they're trying to do and who an artist is trying to get in and work with.
It also often comes down to personalities and different skill sets – some acts you can just tell will work well together and have a similar approach or process. It's also great to try pair artists where they'll mutually benefit from the experience. If someone is really great at synth sounds but isn't as confident in their drum sounds, pair them with someone who is really strong on drum programming. As always, sometimes this stuff works, sometimes it doesn't.
It's often about finding common ground to connect on.
JT: And when they finally meet in the studio, what does it look like?
There's usually a slightly sped up getting-to-know-you process. A bit of small talk and hanging out and chatting to start. The thing that usually gets things cooking is when artists play each other music they're each working on or music they've been listening to that they really like. It's often about finding common ground to connect on musically that gets the creative process moving. Sometimes that can be super fast and other times it's super slow.
CG: How can you tell when two artists are the right fit for each other?
I feel artists working together mostly relies on a mutual respect and appreciation for each other's work. A collaboration doesn't have to seem obvious or logical musically. For me it's more about the artists genuinely wanting to work together and being open to the idea of collaborating.