Female choreographers to centre stage in new residency
Sydney Opera House, The Australian Ballet and Dance Australia join forces in a new choreographic initiative for women
Update: The winner of the residency has been announced. Read more about her and the selection process.
In 2017 Dance Australia noticed a pattern: In an artform that is otherwise so dominated by women, it is strange that female choreographers are so far and few between.
Developing an artist's voice through dance is not something a dancer is offered, says Alice Topp, coryphée and now choreographer at The Australian Ballet. She noticed the regime of being a company dancer made it difficult for her to create her own work, a common story with women in her field.
The Bodytorque program allowed company dancers such as Topp—she is now creating her fifth work from the Ballet—to experiment with their own choreographic creations with the full guidance and resources of the company.
The Sydney Opera House in partnership with The Australian Ballet and Dance Australia is playing a part in this movement, to encourage and foster professional skills development within the classical and modern ballet genres through the Emerging Female Classical Choreographers initiative.
Olivia Ansell, Head of Contemporary Performance at Sydney Opera House, explains the initiative.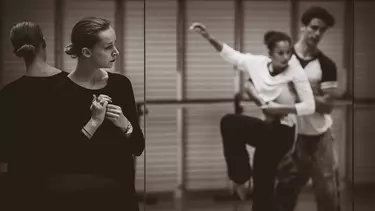 What makes this initiative so important now?
After a recent trip overseas to both Europe and the UK, where I was introduced to numerous modern and classical ballet companies and their current roster of short and full length works available for tour, I was quite taken by the number of female choreographers whose works featured amongst these companies and their programs. I began to think of the Australian female choreographers whose works I have seen performed by major performing arts companies who present classical ballet in Australia. Meryl Tankard, Natalie Weir, Alice Topp…I struggled to name more than a handful.
How do you see the Australian dance scene? Can it compete with the international scene? Are there companies here of the same standard?
Australian dancers are some of the most hardest working, physically attuned, disciplined and free spirited artists I have come across. A sense of space and respect for the land resonates in most Australian dancers. Their free sense of movement, gratitude, discipline and wit is almost always identifiable.
For dancers who come to Australia to work, at places like Sydney Dance Company, what do they have to look forward to? What can Australia offer that companies in other countries can't?
An incredible lifestyle and strong creative voice. Seriously, we take living in Australia for granted. The volume and quality of space, be it for class or performance or simply your weekend, is certainly an appealing factor for any dancer who chooses to work in Australia.  With innovative choreographic leadership, a strong creative vision and appealing weather conditions, so much is possible.
A sense of space and respect for the land resonates in Australian dancers.
What is the state of dance for women?
In the Australian contemporary dance sector, females represent some of the most exciting work in the country right now. Lucy Guerin Inc., Stephanie Lake, Amber Haines, Gabrielle Nankivell, Nicola Gunn, Ghenoa Gela, Larissa McGowan, Kristina Chan, Danielle Micich, Anouk Van Dijk…to name a few.
What are the venues, companies, and organisations in Sydney that support emerging female dancers today?
In Sydney, The Australian Ballet, Bangarra Dance Theatre, Bankstown Arts Centre, Blacktown Arts Centre, Campbelltown Arts Centre, Carriageworks, Casula Powerhouse, Critical Path, Dirty Feet Dance Collective, Force Majeure, Form Dance Projects, Liveworks Festival, Marrugeku, PACT Erskineville, Powerhouse Youth Arts Theatre, Riverside Theatres Parramatta, Sydney Opera House, Sydney Dance Company, Sydney Festival, The Performance Space and UNSW IOMyers Studio.
A classical ballet is either preserved and performed to a virtuosic standard, or it is revolutionised.
Classical and modern ballet, like any classical art forms, always face the challenge of time and falling behind. How does a good classical artist or work stay relevant?
Relevance is in the delivery. A classic traditional ballet is either preserved and performed to the highest technical and virtuosic standard, or it is revolutionised—given new choreographic and contemporary vision. Either way, so long as the performance standard is of the highest quality, audiences will appreciate both styles.