Learning from Country: An Indigenous design perspective
Wailwan/Kamilaroi man Jefa Greenaway was the first Indigenous architect to be registered in Victoria. Speaking as part of Antidote panel Resetting the World, Greenaway writes on why it's more critical than ever we infuse Indigenous perspectives into our design thinking.
Globally we are contending with catastrophic bushfires, severe droughts and unusual weather events – never mind a pandemic. Mother Nature is speaking to us, telling us that we need to listen to Country, to find better ways to connect to the deep seated knowledge that exists in this place.
Built environment professions have been complicit in many of the challenges we are facing, from the extent of biodiversity loss, to the role of such things as air conditioning in affecting climate change, to the imposed colonial systems which have subjugated the natural flows and capacities of First Nations people to groom the landscape and 'care for Country' in the ways in which it has been done for millennia.
67,000 plus years of wisdom carries a lot of knowledge....
We are at an important moment, a moment of pause, to reflect and to chart a new direction. To this point, I would contend that architecture can in fact become an enabler for meaningful change, a vehicle to transform the way we think about shaping the places and spaces in which we engage. There are new voices – Indigenous voices – who are actively seeking to lead the conversation. An emerging cohort of Indigenous creative practitioners from architects to artists, planners to weavers and graphic designers to jewellers are reclaiming and reshaping design, drawing on the tradition, culture, technology and innovation. The stories, the lineage and heritage are as diverse as our rich landscape, however the consistent refrain is to be true to one's own experience. It is clear now that we have reached a level of cultural maturity to engage with such intricacies, be it through embedding of Indigenous perspectives into design briefs, proactively seeking Indigenous design contributors, or moving away from the standard tropes of how we represent Indigenous culture.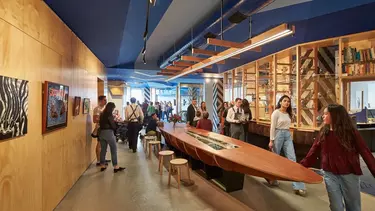 Indigenous people have always been innovators, inventors, storytellers and creatives. 67,000 plus years of wisdom carries a lot of knowledge. There is indeed a potent mix when Indigenous peoples collaborate with Traditional Custodians and Knowledge Keepers – to strengthen cultural expression, to embed narratives of the unknown and to reconsider how we can embed places with meaning, which share and celebrate our deep connections.
The Black Lives Matter movement has crystallised and reinforced the entrenched power dynamics which Indigenous people face. However, it can become a moment to face a true reckoning of history, to face the difficult truths and to embrace the value that our culture offers. The key however is for true agency to be enabled, for reciprocity and respect to be at the forefront of how designers engage with Community. As design equity gains greater momentum, the need to step aside for Indigenous designers, to provide opportunities and the strengthen connections which shift from the transactional to a relational model, become ever more relevant.
The key however is for true agency to be enabled, for reciprocity and respect to be at the forefront of how designers engage with community.
We are now actively engaging with notions of Treaty, Makarrata and truth telling. It does importantly beg the question, how does the built environment profession and architecture in particular need to adapt and change to meet these new realities on the horizon? As we navigate more and more of life with technology, there is a visceral yearning for authentic connections to place. There can be no better way than to amplify connections to Country, than to know the place in which one designs – be it Gadigal, Kulin Nation or Noongar lands, the starting point is to build one's cultural intelligence, while building understanding anchored in humility. 
We have far too often exploited Country, commodified Country and scarred Country. The time is now to heal Country, to design with Country and understand that Country is never static, it is a living entity a holistic interplay of complex interrelationships. We need to be restorative, to learn from our mistakes and to think of Country – the water, the trees, the soil – as a living entity never in stasis but rather actively performative. 
The best way to readily illustrate these points is through an example. A small project which we undertook was a discrete intervention in a university, which sat adjacent to the Indigenous unit of the university. The brief was to create a space of respite and contemplation, while building a setting  which was of its place and enabled ceremonial practice and knowledge exchange.
The result was Ngarara Place, a project centred on the acknowledgement of the six or seven seasons of the Kulin Nation in the busy metropolis of Melbourne. The very suggestion of six or seven seasons sets the tone. It challenged preconceptions and a foreign imposition of the rhythms of Country for the Wurundjeri and Boon Wurrung peoples of the Kulin Nation. It reinforced the 'Indigenous design' – however that might be understood as being inherently a political act. The traditional Western canon of architecture is turned on its head, through the weaving in of Indigenous ways of knowing and being.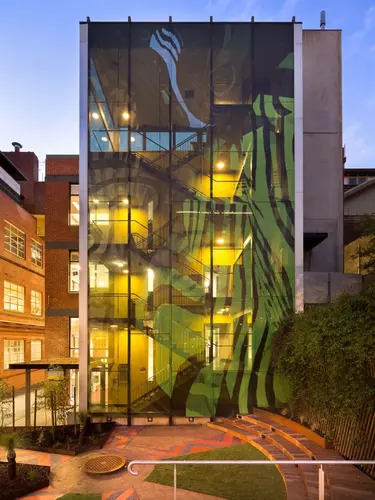 The project drew upon four key pillars, which anchored the design narrative embedded in the scheme, namely: 
The initial starting point was to reinforce the importance of Aboriginal people's connection to Country. This notion was woven through as exploration of Kulin Nation seasonality. Consequently this aspect saw the division of the design into seven sections – six on the ground plane and one in the vertical dimension (to an adjacent glazed façade). The demarcation of the ground plane enabled distinct zones for tiered planting, an area for traditional dance/ceremonial practice, amphitheatre seating and a primary focal point being a sculptural laser-cut smoke pit.
The second pivotal element included a number of radiating arms which reach out to adjacent buildings through a broader urban design gesture. Critically these design features infuse cultural motifs which pick up on Indigenous cultural and artistic practices specific to the South East of Australia, namely traditional carving practices (referencing Dendroglyphs – carved trees) as well as body paint, through an etched paving graphic which doubles as the primary access points in the courtyard space.
Contemporary Aboriginal Art
The most visible gesture was an unashamedly contemporary and specifically curated piece of artwork by Aboriginal digital artist Aroha Groves, signifying the power of art in the public realm and acting as a striking marker in the landscape. The piece evokes nature, place and connections to Country and acts as a backdrop that reinforces the landscape setting in which it is located.
The space, importantly, acted as a place of pause, within the hustle and bustle of a busy University counteracted by an intimately scaled landscape setting in collaboration with Gubbi and Monero/Ngarigo landscape designer Charles Solomon. Here the existing staircase connected to the adjacent Alumni Courtyard provided an opportunity to amplify a sense of enclosure through the completion of an amphitheatre, using local blackbutt timbers overlooking the green space.
All planting used were endemic and indigenous species to the local bio region. Incorporating planting communicates the importance of landscape in sustaining life and cultural practice, including specimens traditionally use for edible, medicinal and utility like weaving. Pedagogical panels engaged the public by providing a cultural context of interpretation as a means for cultural exchange.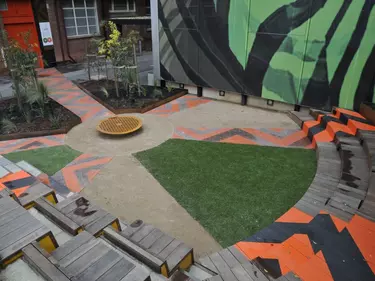 Ngarara Place reinforced and revealed layers of history and meaning through an active gesture of reconciliation, while infusing Indigenous sensibilities within the heart of the city, building a broader frame of reference in which people can connect to place. Most importantly it was led by, designed by and authorised by Indigenous voices.