Celebrate in style in this flexible, all weather event space with dramatic views of Sydney Harbour. Mark the moment with up to 400 people for a cocktail event, or create a more intimate experience with tables of 8 people, up to total of 180.
Enjoy direct access to the Northern Broadwalk from this exceptional space, as you treat your guests to one of the world's most spectacular locations. 
Meaning 'storyteller' in the local Sydney language , Yallamundi celebrates the Sydney Opera House connection to First Nations culture. As a meeting place for community celebrations, intimate gatherings and performances, the Yallamundi Rooms carry on the legacy of Tubowgule, maintaining a deep connection to the past, present and future of the Opera House.
This event space is crescent-shaped and spans the entire northern end of the eastern podium to take advantage of spectacular harbour views. 
Oscillating fabric and brass panels thread their way along the southern side of the new rooms, complimenting the beautifully restored original Terrazzo floor. Visible from the Northern Broadwalk and the harbour, they bring together the Utzon, Hall and new vision of the Opera House. 
Celebrate in style at this iconic venue.
Meet our events partner Trippas White Group
Trippas White Group are leaders and innovators in the Australian hospitality industry, with outstanding events experience in some of Australia's most notable locations. Specialising in creating extraordinary events, they offer an impressive array of catering options.

Trippas White Group has also appointed esteemed chef Danielle Alvarez as Culinary Director of the Yallamundi Rooms. Danielle is one of Australia's most celebrated female chefs who gained her passion for farm-to-table cooking from an impeccable pedigree of restaurants both in the US and Australia.
As Culinary Director, Danielle has developed tailored menus for functions across our venues including weddings, intimate cocktail events, corporate networking and gala dinners. The menus draw on her dedication to seasonality and the joy and connection of sharing food, as well as championing local producers.
Yallamundi Rooms highlights
Getting to the Yallamundi Rooms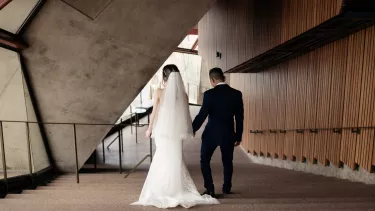 A simple sit-down dinner, or a luxurious cocktail party –  the Sydney Opera House is the perfect backdrop for your wedding.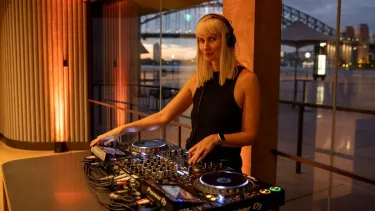 Whether it's a milestone anniversary with your nearest and dearest or a lavish birthday party, Sydney Opera House has a range of venue options to ensure you celebrate in style.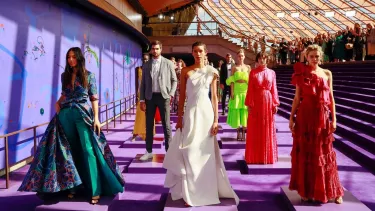 From bigger events to recognise and reward your largest teams; to more intimate affairs to celebrate individual work, there is no better place to host your business event than the Sydney Opera House. 
Frequently asked questions
The access to Yallamundi Rooms is via the Northern Broadwalk, so it's simple to get to from either side of the Opera House. Guests can walk around the outside of the House, or if they are less mobile, there is a Buggy Service available at no additional cost. If you need to make use of it, please discuss this with our Functions Team when you book the venue.
Yes, there are 4 doors within Yallamundi Rooms to access outdoor area. 
It will depend on what time your event is held. Please discuss this with our Events Team when you book the venue.
Please note
All bands and live music performers must have public liability insurance.
All bands and live music performers must have their equipment tested and tagged by a qualified electrician if they are using it in the venue. 
Yes, the exterior space is included in the venue hire, for the exclusive use of you and your guests. It is sectioned off from the public area with rope and bollards. 
Please note
The general public has access to the area outside the rope.
Use of the area is weather dependent.
The area can be subject to high winds.
Yes, there are female, male and accessible bathrooms available in the venue. 
Yes, there is a cloakroom in the Yallamundi Rooms, as well as a private dressing room. 
Please note: Additional dressing rooms can be available for use; however, this depends on availability based on performance schedules. Please discuss this with our events team when you book the venue.