A decade of creativity: Giving children a voice with Frank Newman
Nearly ten years since its inception, we spoke to Creative Learning Specialist Frank Newman about the importance of play, and how the Opera House uses contemporary arts practices in free Creative Play workshops.
In 2011, Bridgette Van Leuven – the Sydney Opera House's then Head of Children, Families and Creative Learning – created a free workshop program for kids, aiming to compliment the rich experiences offered by the school holiday performances inside the venues. 
Setting up a single trestle table in the Western Foyer, she ran the inaugural Creative Play – a simple series of kids colouring-in exercises.
Almost ten years later, the project has grown immensely, hosting towering Lego worlds, winding exploratory string installations, international collaborations, and immersive digital works that have begun to capture the attention of the wider arts world.
Playing creatively
It wasn't until Frank Newman came on-board as Creative Learning Specialist in 2012 that Creative Play began its shift towards its current iteration as a truly artistic program. Drawing from his previous role as artistic director at Terrapin Puppet Theatre, Frank approached the program with the creative mindset of an artist exploring new territories.
"At the time, Creative Play was focused on the educational aspect of learning. The workshops were run by school teachers, and generally aimed to help kids unpack the themes of the shows," says Newman.
"When I came on to manage the program, I approached it through an artistic lens. In my eyes, I didn't think of it as programming educational Creative Learning workshops."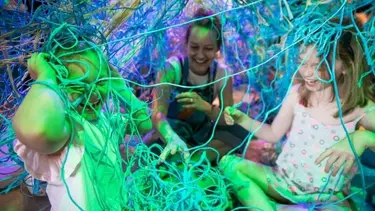 Newman's outlook is indicative of a wider cultural shift towards prioritising creativity in learning, and understanding its equal importance alongside more "traditional" skills – for example, literacy or numeracy. By now, the benefits of emphasising creativity are well-researched – from navigating our rapidly-shifting world, to teaching empathy and collaboration skills.
"With Creative Play, it's not about right or wrong – there are no mistakes in art. Instead, we give them an artistic landscape or installation intended for personal expression," he says.
"By cultivating their creative thinking skills, we're in turn providing them with vital tools they'll need beyond childhood, to think critically on their feet, work with others, flexibly adapt to situations – ultimately, to develop their understanding of their place in the world."
With this new focus on art, Newman introduced another crucial change to the program – it would be artists, not teachers, taking the reins in leading the workshops.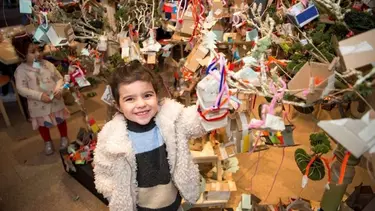 The artists
As the years progressed, Creative Play amassed a diverse list of multidisciplinary alumni, all dedicated to exploring ideas driven by performance playfulness – from Western Sydney's experimental theatre specialist Curly Fernandez and physical theatre director Alison Bennett, to contemporary artists Jacqui Stockdale and Nomumasa Takahashi.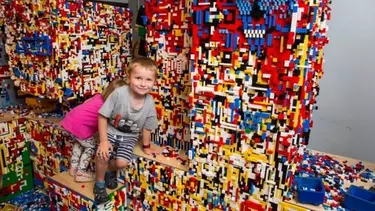 In 2015, Newman first began working with lighting designer Toby K, whose enthralling interactive works have impressed audiences at nationally-renowned arts events including Vivid and Dark Mofo.
Together, the two crafted immersive digital artworks, such as The Unbroken Line, where children's hand-drawn light patterns were seemingly pulled out of the screen, and into physical forms with string. 
The works inspired not only families, but also the wider arts community – Echo Tables and Digital Drawing were subsequently programmed by Perth International Arts Festival in 2015.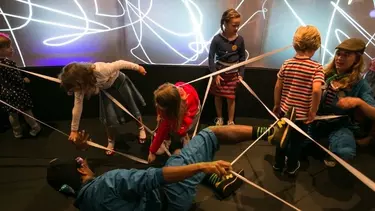 "These works excellently showcase Creative Play's spirit – a blank canvas where kids freely express themselves, and in doing so, contribute to this cutting-edge artwork blurring lines between the digital and physical worlds."
"The Unbroken Line allowed for creative play on many levels, but what surprised us was the physical string. It brought people from all generations together, even those without a common language, as they shared their culture's unique string games – right here in the foyer amongst this highly contemporary installation!"
In 2018, Sydney Festival programmed Join the Dots, perhaps the most ambitious Creative Play to date – a massive undertaking that saw the use of custom-built digital screen technology to connect children across Sydney and Ota City, Japan, to create art together in real time.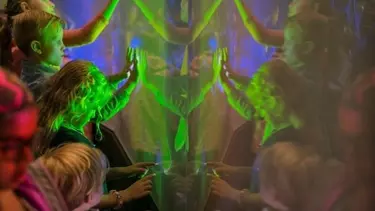 Looking forward 
These days, Creative Play workshops attracts over 24,000 children every year.
This April's offering will be double its usual size, with two workshops made possible through the NSW Government's Summer in the City initiative. The experiences include Awakening Evenfall by Liam Benson and the Adorned Collective, with children repurposing old Opera House uniforms to weave their own personal creations, and Utzon's Universe, a kid-friendly exploration of the design principles of Opera House architect Jørn Utzon.
With venues around the country reopening, Newman is eager to welcome children back to the House and nurture their creative learning.
"Kids get told what to do every single day of their lives. Creative Play gives them a voice."
Awakening Evenfall and Utzon's Universe run from April 6-18 2021.