An interview with SIX co-creator Lucy Moss
In 2016, two Cambridge students, Lucy Moss and Toby Marlow, exploded onto the musical theatre scene with what they thought was just a little show at the Edinburgh Fringe. Years later, that little show has transformed the industry of the modern musical, and is set to return to the Sydney Opera House this summer.
The show is SIX, an electrifying all female pop musical/concert remixing the story of the six wives of Henry VIII and reclaiming a historical saga responsible for such cultural phenomena as hit Showtime series The Tudors (2007), The Other Boleyn Girl (2008) and The Church of England (1534).
Though SIX goes from success to success, co-creators Toby Marlow and Lucy Moss stay humble in the face of astounding career triumphs, regularly brushing off comparisons to new-wave Broadway hits like Be More Chill. Ahead of its Australian premiere in 2020, we spoke to Moss about the origins and future of the cult show.
Tell us about your process for creating the work. When you'd settled on the story of the six wives of Henry VIII, did you have to spend lots of time researching or were you already history buffs? 
Well, Toby very diligently worked his way through Antonia Fraser's book The Six Wives of Henry VIII which is fab because it looks at each queen's life in turn—from birth to death—unlike a lot of historians who simply focus on the time they were married to Henry. Meanwhile I thought, 'I've never read an entire book from cover to cover for my history degree, I'm hardly gonna start now for this random musical no one is ever gonna see'. So, I very lightly skimmed a couple different books and articles, but mostly contented myself with watching Lucy Worsely's BBC documentary! This is also fantastic because of the way it really questions historical perceptions of these women and approaches their lives with a 21st century feminist perspective. So, while we did a little research, our main concern was making a statement about women's experiences in the present day, rather than delving too deeply into the dry facts and figures. 
Was it difficult to decide what to tell and what to leave out?
Honestly, it came quite quickly and organically (probably partly because we weren't major Tudor buffs!). Because we knew the format and structure of the show was going to be a pop concert with each queen singing a number in order and we knew it had to be an hour long for the fringe, the dramaturgical requirements guided some decisions and the 'statements' we wanted to make about other queens shaped the others. So, for example, as Catherine of Aragon was the first queen, we felt her song needed to 'set the bar' to some extent before we complicate and question this bar with the other queens. 
Essentially, we thought 'if I came to see a show where Henry's wives were "reclaiming their stories", what would I expect this to look like?'. The answer we found was: a big, badass, Beyonce-style 'F-you' to Henry. So instead of focusing on all the heartbreak Catherine experienced in her later life, we chose to focus on this one awesome moment: where she made this incredible speech at Blackfriars that prevented Henry from forcing through their annulment. By contrast, with other queens like K-Howard, we knew we wanted to redress the way she had been characterised in history—as a silly, flirty girl who loved sleeping around rather than as the abused child she was. So, this guided our decision to tell the story of her life through the prism of her relationships with the men who led to her downfall—again thinking 'what would the audience expect K-Howard to look like?', presenting her song in a style that suited this, and then subverting it from within.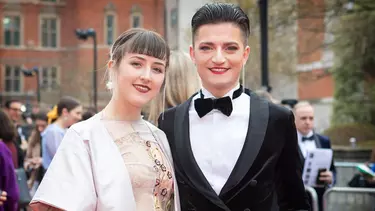 Tell us more about your creative process working with Toby Marlow. Did you collaborate on the book and music from the beginning? Did you begin with a storyline, and construct the music around it, or did you start with the music?
We write everything together; Toby sits at the keyboard and I sit at the laptop and somehow things get written! Also, the way we work also changes every time we write something new so there's not one way we work. But with SIX, we definitely started with the concept: six wives as a pop concert. Then we decided on the structure and arc: a competition that unravels, with each wife singing about why they had the worst time. Then we started writing the songs. 
Why did you decide to use pop music as the vehicle to tell this story?
Literally because we love pop music! It's what we listen to, dance to, cry to! And also I guess because we knew we wanted the show to play with the musical theatre form; we wanted to have a cool conceptual reason for music existing in the show—rather than it being a 'traditional' musical, where songs burst from naturalistic scenes with seemingly no explanation. So then when Toby had the idea of the pop concert it all slotted together and, obviously, pop concerts need pop songs! 
How have you gone about translating this show from a small stage in Edinburgh, to London and now Broadway and Australia? Were many changes made along the way to the set, scripts, or costumes?
It has come a long way since it was a student production in a hotel conference room with £5 boohoo.com dresses and about five lights! The script and songs are actually surprisingly close to what they originally were, of course, with a few lyric revamps and some spruces to the narrative shape of the ending. But the design and production values have really grown with the show. However, we've always had such wonderful teams work on the show, and they have always done an amazing job within their budget and time constraints to service the ultimate goal: making the auditorium feel like a real life pop concert from the moment the audience walks in the room. So, while the show has grown and changes have been made, it's always been to achieve the same goal.
How do you think SIX fits in the context of a 'new wave' of hit musicals on the West End, shows like Be More Chill and Mean Girls. What do you think it is about these new shows that is capturing the hearts of a younger audience?
Those shows are so amazing and brilliant and even to be placed in the same category as them is crazy to us! We can't speak for the other shows, but I guess we just tried to write a show that we ourselves would want to go and see—so maybe we're just not as original as we'd like to believe we are and other people feel the same as us!