Sustainability at Sydney Opera House Terms 1 - 4
2 April – 13 November 2024
Interactive Digital Tour​ | Stages ES1 - 3
Digitally transport your class to the Sydney Opera House for an exclusive behind the scenes adventure that explores innovative sustainability practices through the lens of a World Heritage building.
Suitable for Stages ES1 - 3
This program is recommended for Years K - 6
Run time
This program runs for approximately 45 mins.
Viewing link
The viewing link to connect to this interactive session will be emailed to you in advance of the event.
Please note, you'll require a working microphone and camera to engage in this live workshop.
This event is free for Australian schools
All digital programs are free to Australian schools. This event can be accessed via Zoom. Terms and conditions apply. Fees apply for international bookings.
For full details, please contact our Creative Learning team at creativelearning@sydneyoperahouse.com or 02 9250 7770.
Embrace a greener future!
Discover the Sydney Opera House like never before! Embark on an enlightening journey that goes beyond the iconic architecture, to look at some of our most innovative sustainability practices. Join us on a captivating tour that will leave your students inspired and empowered to embrace a greener future and let the Opera House's commitment to sustainability ignite a passion for living more responsibly among our young adventurers.
Sydney Opera House presents
Frequently asked questions
All you need is an internet connection, a camera & microphone! Schools can connect through Zoom Conferencing in an internet browser, ideally, it is best for you to do so using a conference-enabled smart board or laptop however there are a lot of different ways to make your setup work so please contact us if you are unsure. 
If you require technical assistance with your video conferencing facilities, contact your school's tech support or alternatively contact our Creative Learning team at creativelearning@sydneyoperahouse.com or 02 9250 7770.
Click on the link for your preferred session time. If it is the first time you have used DART Connections you will be required to set up a username and password. 
Please note that DART connections is the booking platform for all of our sessions and you will need to book here even if you are not a NSW or DET school.
Once your booking has been confirmed, our team will be in touch with relevant dial-in details and to address any technical questions you may have.
Sydney Opera House uses Zoom to deliver its Digital Creative Learning and Creative Leadership in Learning programs. The NSW Department of Education has approved the use of Zoom for all year levels. 
Sydney Opera House maintains an enterprise licence for Zoom and secures its Zoom sessions by using passwords. Zoom protects participants' privacy by letting them blur out everything in the camera's field of view, except themselves. Sydney Opera House does not record these sessions through Zoom's built-in recording feature or through other means except with participants' consent.
To interact with Sydney Opera House using Zoom you need to either know the password for that specific session, or have the meeting link with the embedded password.
Check your camera and microphone are working so we can hear your class ok during the session!
To ensure your students get the most out of the experience, a Teachers' Resource Pack is available for this program. 
We recommend using these resources in advance of your digital excursion.
As the program is interactive, we recommend a maximum of 30 students in one classroom for the session.
If you have more than 30 students, please book multiple sessions under each class teacher's name. If there are no slots available, contact our Creative Learning team at creativelearning@sydneyoperahouse.com or 02 9250 7770.
Each booking entitles you to one connection (meaning that all students will be joining the call from the one space). If you would like to book for multiple classrooms to attend at one time you will just need to make an additional booking and correctly record the number of students in each group.
Interactive events have just 6 slots available, so if you are unable to proceed with your booked session, please email us at creativelearning@sydneyoperahouse.com at least two days prior. This gives another school the opportunity to engage in the program.
Bookers who fail to attend on their booked sessions without providing notice may be barred from further bookings or may be subject to a no-show fee.
Our on-demand program, including performances, workshops and talks, are available for a minimum of 10 days after the premiere. This gives you greater flexibility to watch at a time and date that's convenient to your class. If you would really like to attend outside of the event dates, please contact the Creative Learning team on creativelearning@sydneyoperahouse.com and we will try our best to accommodate you.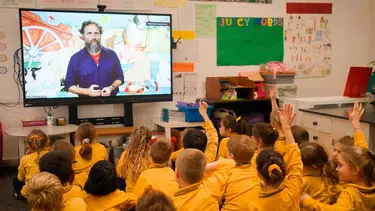 Interactive Digital Workshop | Early Stage 1 - Stage 1 | Our most popular workshop explores the structure and stages of a narrative with a live facilitator, while encouraging the development of original, imaginative story ideas.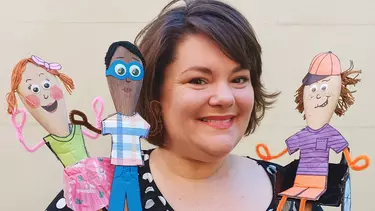 Accessible Workshop | All Ages | Using drama making techniques, students explore ways to manage new experiences and situations.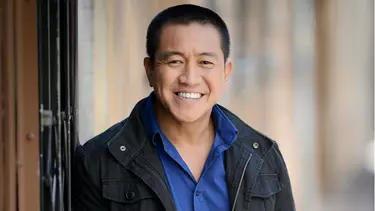 Digital Talk | Stages 1 - 4 | Join us for this interview with Anh Do, author of some of your favourite titles like WeirDo and Little Refugee. Our host speaks to Anh about his creativity and inspirations for his work, his career, his popular and new titles and answers questions sent in from students.