Liverpool Boys High rewrites the school curriculum with creativity
Principal Mike Saxon and his students are changing the way we learn
What is creativity? Why is it so important? Can you actually learn to be creative?
Literacy and numeracy, 'Back to Basics' gets all the attention, and whilst nobody will argue the importance of having good literacy and numeracy skills, imagine an education that has only literacy and numeracy as its ultimate goal. What a soulless and boring school experience.
What young people need today is a much broader range of skills so they can be successful, not just in school, but in all facets of their lives. Skills like collaboration, critical thinking, ethical thinking, research and practical skills.
Creativity is often the pinnacle and focal point of these skills. As any artist knows, if you are creative and producing creative work, you are an expert at these other skills. Creativity is hard work and takes a huge amount of effort and time. Creativity means you have spent hours researching, gathering inspiration and collaborating with others. Can you learn this? Of course, it is a skill that refines with dedication and practice.
Liverpool Boys High School is in south-western Sydney with 550 boys who come from over 60 different cultural groups. We decided in 2014 to change our school so that skills like creativity were central to what we taught and assessed. We introduced Project Based Learning in 2015 and Big Picture Education in 2017.  
To create a school based on the skills people need now and into the future we knew we needed many different elements. One of these was connections with other creative organisations, and the Creative Leadership in Learning program from the Sydney Opera House was exactly what we needed to challenge ourselves and truly embed creativity into our school DNA.
Engagement comes when the learning is fun, when it is self-directed, when it is challenging and the learning matters to the person doing the learning.
We know that learning best occurs when students are deeply engaged in what they learn. Engagement comes when the learning is fun, when it is self-directed, when it is challenging and the learning matters to the person doing the learning. The Creative Leadership in Learning program does all these things.
The three year partnership has culminated in a three week takeover happening now. It involves a group of artists from the Opera House completely transforming a school building to allow 120 boys, who opted in, and eight excellent teachers — who have placed their normal learning and teaching on hold —  to reimagine what school could be.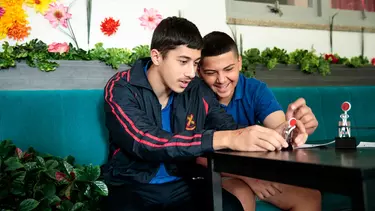 On Monday 28 October they crawled through a newly created tunnel entrance into a radically changed environment where they could lose themselves and just play in an open-ended way. Across the first week the boys were challenged to think of a driving question that they wanted to explore and to create a final product to be displayed at the festival on the last day. Minecraft worlds, films, rap, solar powered homes and balloon art furniture are all being created in this immersive and hands-on learning experience.
We suspended the traditional timetable to allow the boys to just concentrate on learning one thing and each of their projects received input from the teachers across the full range of subjects. They are responsible for their own learning and this makes them deeply accountable. They have to produce a final product in just three weeks, then display their work in front of peers, families and teachers.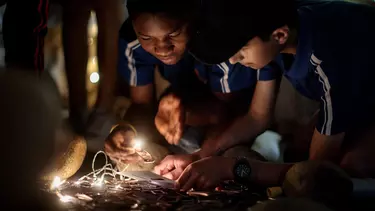 We have to unlearn and relearn... we are pushing our boundaries and redefining what 'great learning' is.
Nelson has been into balloon art for years, he is now making functional balloon art furniture. Xyrus has discovered an interest in science and anatomy after exploring his question, Who are we? by creating a range of different human skulls. William, Dusan, Eshan, Kyle, Zac, Kellan are making a short film about war and its impact on people. Tony is creating songs that address youth suicide. Marko, Sibtain, Ram, Lachlan and Rehaan are creating an esports tournament just for fun. We had almost double the number of students interested than we had capacity to involve in this pilot takeover and every day we get asked by students if they can join. Imagine that in a school, students really wanting to join classes and being really disappointed when they miss out. This is a deeply engaging experience for the boys.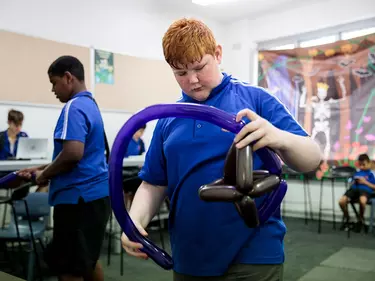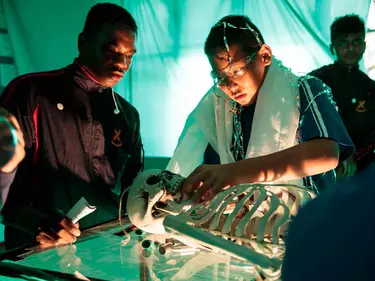 Of course this is not just a learning experience for the students. Our teachers are also on a creative journey.  All our head teachers, our leaders, are the mentors for the boys. Across 2019 they spent days working with the Creative Learning Framework to implement the takeover. As teachers we are taught to control every aspect of the learning experience, as part of Creative Leadership in Learning we have to unlearn and relearn to allow the students much more freedom to choose their own learning. Our teachers have embraced this and are pushing their own boundaries redefining what 'great learning' is.
Their goals are two-fold: not only to create a fun engaging creative experience for the students, but also to learn how we can create learning experiences in all courses across the year that will give students the responsibility, accountability, engagement and challenges that the Sydney Opera House takeover has allowed us to imagine.
Learn more about Creative Leadership in Learning.