School kids write migrant family stories into song
Students from Lansvale Public sing history and humour with musician Luke Escombe
Instructions for songwriter Luke Escombe's first encounter with class 5/6H of Lansvale Public School were loose. "Walk in with your guitar and just start singing," is the advice he remembers being given. "Within seconds of entering the classroom, I was standing on a chair singing about avocado."
But it was a story shared by two girls that stuck with Luke. Ivy's father and Zoe's grandfather both fought in the Vietnam War under the now forbidden flag of South Vietnam. Forty years later in a front yard in Canley Vale, the two men reunited.
"What emotions did they have, seeing each other again for the first time after so many years?" Luke said. "I remember Zoe stopping to think for a few seconds, before revealing: 'they talked for a long time with smiles on their faces."
It's this story, along with other shared family histories from the children of class 5/6H, that eventually became the song they wrote together called 'Boat of Dreams'.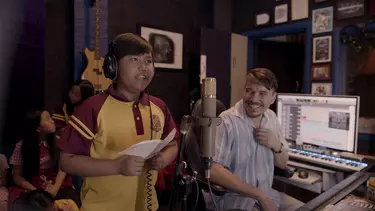 As a child, Luke's musical education didn't come from after-school piano lessons, but instead from hanging out backstage, basking in the musical prowess of rock and roll's greats like Prince, Mick Jagger and Freddie Mercury. His father Alan was the bassist of '60s band The Shake Spears, who went on to have an illustrious career as a musician before later founding an international touring company.
As an artist working in the Opera House's Creative Leadership in Learning program, Luke collaborated closely with students of Lansvale Public School in Sydney's south-west suburbs. They devoted two school terms to an artistic project exploring a focus question devised around identity: "Honour who we are, celebrate who we are becoming".
The suburbs where Asian migrants first settled are now cultural hotspots brimming with bánh mì stands and phở shops. In the children's animated recollections of everyday life, nuanced snapshots of a different kind of Sydney began to take shape. "The grannies in Bareena Park doing tai chi every morning in their pink sun-visors, teenagers practising their lion dance routines in the train station car park, and in particular, the sights, sounds, and smells of all the local Asian supermarkets." Pushing for more detail, Luke helped with crafting these visual descriptions into a catchy pop song: 'Asian Supermarket'.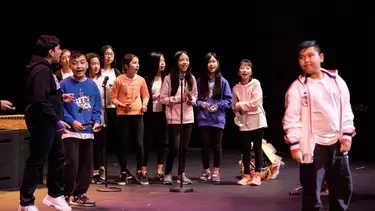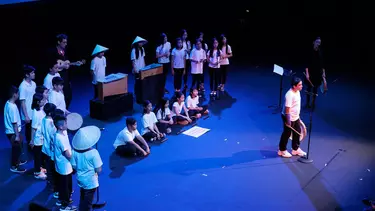 The songs debuted live in front of teachers, families and peers as part of Amplified Festival. For two days, Lansvale Public and other schools also participating in Creative Leadership in Learning took over a stage at the Opera House to present their projects as part of the program. Travelling from Lansvale to the very heart of Sydney's CBD, students became performers and a class music project became a breathtaking ballad that had the audience sobbing.
"The way they rose to the challenge of performing moved me to tears more than once," said Luke. "I knew many of the parents of these first-generation kids don't speak English, so I had to remind the kids to take their time. The pauses are just as important as the speaking. They amplify the emotion."
Over two days, the students banded together, sharing their work, connecting with their audience, and choking up their principal Mark Diamond who wiped away tears. Ivy's father, seeing his daughter hold up the flag of South Vietnam while telling his story, bawled. She had never seen him cry before in her whole life.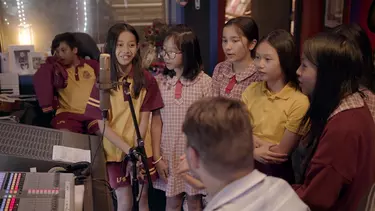 Long after their time performing at the Opera House, the school is filled with warmth, energy and hope.
"The school's vibrant and supportive culture is a testament to Principal Diamond's passion and the concern his teachers have for their students' intellectual and emotional wellbeing," said Luke.
"The kids grew as human beings, you could feel their energy and self-belief. It's what the school wanted for them above all else. They are ready to walk with confidence into the next stage of their lives.
"I feel privileged to have played a small part in their stories. I miss them already."
Hear more from Luke Escombe. He produced a radio documentary about his father's musical endeavours in Rock and Roll Dad with the ABC.
Learn more about Creative Leadership in Learning.