Five Jamie Oliver recipes we keep coming back to
Ahead of Jamie Oliver's talk at the Sydney Opera House, our team share their favourite recipes.
Jamie Oliver is a man who needs no introduction. After a successful television and publishing career spanning 24 years, Jamie has captured our culinary imaginations and increased our appetites in the process. Through his creative, approachable and mouth-watering recipes, his influence has been seen on the dining tables, school lunches and kitchens of thousands of people around the world. 
In order to celebrate Jamie's upcoming talk with Melissa Leong at the Sydney Opera House, we've asked our staff to share the Jamie Oliver recipes that they just can't get enough of.
This aesthetically pleasing pie makes use of fresh blackberries, apples and ginger that'll take you to pastry heaven. Here's what Cara has to say:
"I first made this pie when I was a kid so it holds a lot of fond memories (as food can often do). This hearty pie is clearly easy enough for a kid to make and is the epitome of a cosy, English, rainy-day meal which Jamie Oliver is so good at. One of the best bits – the more rustic it looks, the better"
Cara Mendham, Marketing Associate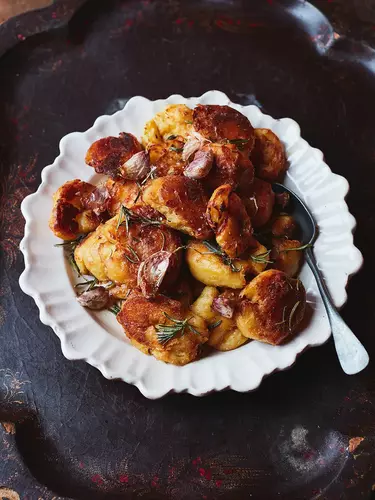 You might think roast potatoes are easy enough. You just… roast them right? Well turns out there's a lot of nuance to the simple dish, which Jamie has perfected with his take. Ashleigh explains how:
"Like happy families, all roast potatoes are alike – or are they? Most people probably reckon they know, more or less, how to make a decent version. After all, it's not that complicated: peel the spuds, cut the spuds, chuck them in the oven, preferably under a lamb or chicken if you're doing one of those, then serve. In fact, until I came across this recipe, I wouldn't have thought you'd really need to consult a recipe at all. But my god, Jamie's version is really something else. At its heart, he's given us two inspired innovations - the vinegar and that instruction to gently mash the potatoes against the surface of the tray. The former ensures a beautifully acidic flavour, especially when combined with a good glug, as Jamie would put it, of salt, garlic and thyme. The latter results in a texture that makes every piece close to perfect. In recent years, I've made this recipe for a fair few people, and every one of them, from judgemental inner-city foodies to my seven-year-old, are always, without exception, blown away by the taste. What more could you want?"
Ashleigh Wilson, Senior Manager Strategic Communication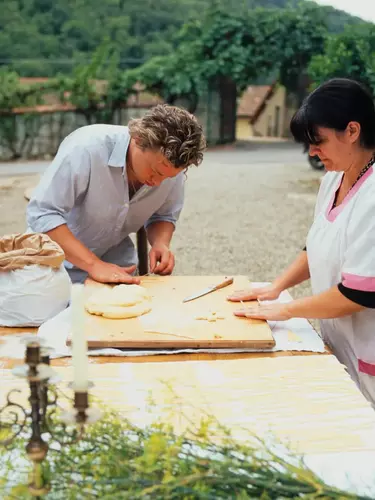 The key to a good pasta dish starts with the pasta itself. Even better is when you make the pasta from scratch. This recipe will have you kneading dough like a pro and shaping it into your favourite styles. Nicola explains why you need to try this recipe:
"My favourite Jamie Oliver recipe is a simple one – but very effective. I use Jamie's method for making fresh egg pasta, and among my friends and family I'm known as a Pasta Queen. With this recipe I have made everything from spinach and ricotta ravioli for one (my lockdown hobby), all the way up to creamy pesto fettuccine for 18 boisterous family members (I needed some helping hands for this one). It hasn't failed me yet. This recipe was recommended to me by my friend's mum who is not only Italian, but an excellent cook who runs her own cafe – so I take her advice very seriously!"
Nicola Rhind, Senior Manager Internal Communications & Projects
If you've ever been stumped about what to cook when hosting lunch, relieve that pressure and get inspired by Emily's suggestion. The recipe is quick and easy, providing a healthy but delicious meal that is sure to impress.
"Recently I had the somewhat daunting task of hosting a long lunch. It was a sunny weekend and I wanted to bring that deliciously slow, indulgent feeling that warm weather evokes into the lunch itself. What better way to do this than with one of Jamie's recipes? With his help, I was sure I could deliver something deliciously sumptuous that was also quick and easy. Jamie, of course, did not disappoint as I whipped up the Smoky Tender Aubergine from Jamie's new book 5 Ingredients Mediterranean. The charred caramelisation of the eggplants was enhanced by the creamy nature of the sauce. Pair with a salad, add in an Aperol Spritz and you have the makings of the ideal, lazy long lunch."
Emily Cook, Communication Manager
As a bonus, here's a delicious pasta recipe from Jamie's latest book 5 Ingredients Mediterranean. The book is another entry in the 5 Ingredient series and features 125 sunshine soaked recipes ready to transport you to countries such as Tunisia, Spain, Greece and many more.
As it says on the cover, this recipe features only 5 ingredients and provides a perfect opportunity to make use of that fresh egg pasta you've just learned about.
Feeling hungry after reading this? Give these delicious recipes a crack - your stomach will thank you. For more food-related goodness be sure to grab a ticket to Jamie Oliver in conversation with Melissa Leong at the Sydney Opera House.
5 Ingredients Mediterranean by Jamie Oliver is published by Penguin Michael Joseph © Jamie Oliver Enterprises Limited (2023 5 Ingredients Mediterranean).
Recipe photography: © David Loftus, 2023.