To celebrate Bell Shakespeare's 30th anniversary we highlight seven of the best John Bell moments on stage with the Bard
Our Joan Sutherland Theatre stage has seen its fair share of drama and stars; way back in 'precedented' times it was usually home to gargantuan sets and orchestral magic accompanying ballerinas, crooners and other divas of note. 
Last weekend John Bell AO took to our digital stage alone to present an excerpt from One Man In His Time, a fascinating look into the enduring power of language and theatre - no singing, no dancing, no mingling.

Jacques' oft-quoted monologue from As You Like It is the perfect proscenium for Bell Shakespeare's founder and national treasure to speak the speech on all things words, wisdom and William Shakespeare:
All the world's a stage,
And all the men and women merely players;
They have their exits and their entrances;
And one man in his time plays many parts,
His acts being seven ages.
Act II, Scene VII 
Bell Shakespeare's 30th anniversary this year marks a milestone in Australian theatre. To celebrate this special presentation we take a look back at seven of the top moments in John Bell's long and powerful history with Shakespeare on the stage.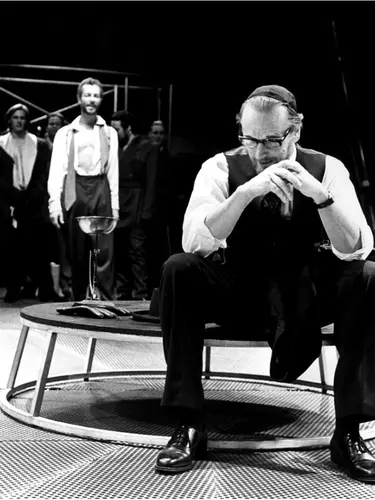 The Merchant of Venice, 1991
Bell Shakespeare's opening season in 1991 featured Hamlet, directed by Bell, and The Merchant of Venice in which he played the Venetian Jewish moneylender Shylock. Merchant's director Carol Woodrow explained that the key theme of her production was, "prejudice and the way in which human beings are marginalised as outsiders by virtue of their race, religion, colour, sex or sexual preference."
John Bell prepared for the role by studying Jewish culture and history extensively, and spending time with Sydney's Jewish community. The character has been the subject of much analysis and discussion since Merchant was first performed, particularly his pleading speech on humanity; 'If you prick us, do we not bleed? If you tickle us, do we not laugh?'.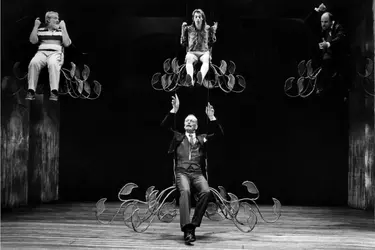 Twelfth Night, 1995
In his book On Shakespeare, Bell says, "Of all Shakespeare's comedies I find Twelfth Night to be the most irresistible in its heart-stopping mix of  lyrical pathos, melancholy and outrageous foolery. It carries echoes of Chekhov's great comedies and the exquisite sadness of Mozart's The Marriage of Figaro and Cosi Fan Tutti."

This memorable production from 1995 was set in a contemporary Australian context. It featured John as the vain and puritanical Malvolio, a name that loosely translates to 'ill will', and Bell's daughter Lucy played the role of Viola.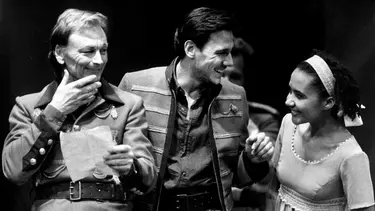 Much Ado About Nothing, 1996
John Bell directed and starred in this production of the audience favourite. It was the first of four times Bell Shakespeare has staged Shakespeare's crowdpleasing comedy - the most recent being James Evans' production in the Playhouse in 2019.
Pictured above are John Bell as the quick-witted Benedick, John Adam as Claudio and Paula Arundell as Hero.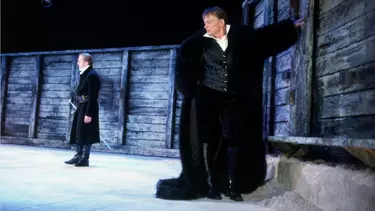 The Winter's Tale, 1997
Shakespeare's romances are less familiar and less regularly performed in Australia than they are in Europe. The Winter's Tale is arguably one of his most uplifting and enlightened. Others include Cymbeline and The Tempest.
In this 1997 production, John Bell played Leontes, a so-called "monster of a role"; a man obsessively convinced his wife Hermione is committing adultery. Bell Shakespeare presented another production in 2014 starring Helen Thomson and Myles Pollard, with a new take setting the entirety of the play in the bedroom of their lonely son Mamillius.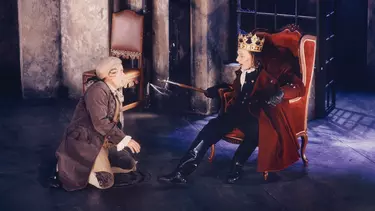 Richard III, 2002
Richard III is one of the most popular and regularly performed of Shakespeare's histories. John Bell himself has played the titular monarch three times, a character who has been described as a "sketch" for Macbeth. 
In 2002, acclaimed Australian playwright Michael Gow directed this co-production between Bell Shakespeare and Queensland Theatre Company, presiding over a world Edgar Allen Poe might have conjured up, full of gothic fascination. Bell's Richard was an insatiable, satanic figure, isolated in his ugliness but armed with a stunning, caustic wit.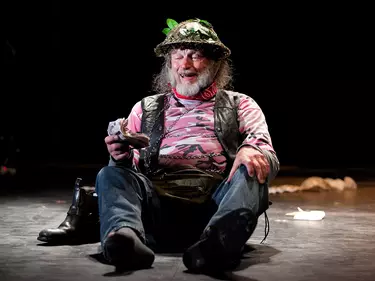 Henry IV, 2013
John Bell and Damien Ryan co-directed this production combining both the Henry plays into one. Bell played the role of Falstaff who he has called one of Shakespeare's histories' "crowning glories".
Bell says, "Falstaff is one of Shakespeare's greatest characters. He's a liar, a thief and a coward. But he's also a great life force, full of wit and humour and a canny pragmatism". He goes on to deliver Falstaff's famous speech on the fraught concept of honour in his digital stage performance. 
He had previously directed it in 1998 for Bell Shakespeare, a production which brought the plays into focus as a comment on contemporary Britain and Australia's attitudes towards monarchy, war and family.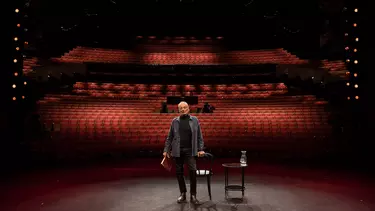 One Man In His Time, 2020
John Bell's most recent appearance with Shakespeare was on the Joan Sutherland Theatre stage, with his excerpt from One Man In His Time. In this exclusive performance he explains the Bard's impact on his life and career, saying:
"I was overwhelmed by Shakespeare's language at an early age and by the time I was 15 I was going to be an actor, and go on stage and speak that language. But it wasn't just the language, there were other things too. I was struck by Shakespeare's humanity, his deep understanding of the workings of the human mind and heart."
Don't miss this walk with two giants of the stage in One Man In His Time, presented in association with Bell Shakespeare. Now streaming on demand as part of Sydney Opera House's digital season, From Our House To Yours.