"My sun in dark places" How theatre saved Hasiba Ebrahimi
Amidst a challenging childhood across three countries, Hasiba Ebrahimi found her calling in theatre and the life-affirming power of storytelling. Now, more than a decade later, Hasiba stars in Dorr-e Dari, a poetic multimedia celebration of love, poetry and classical Persian culture from Afghanistan.
As a ten-year-old, Hasiba Ebrahimi had never heard of theatre before. "I didn't even know what 'theatre' meant. I was like, what is that?" Before she had even turned three, the Taliban had invaded Afghanistan and Hasiba fled her birth country with her family to lay down roots in Pakistan. They stayed for three years, before growing tensions forced them to escape and move again. For 13 years in Iran, she and her family were in a state of refuge, unable to receive ID cards and certify their identities. Stateless, Hasiba was unable to attend public school. 
"I went to a school that was just run by the local people instead, and there were three teachers who taught theatre. Two women and one man. Their names were Naval Sharifi, Gita Salehi and Alireza Askari. They wanted to start a theatre group." They held a casting call and Hasiba was chosen. It was in this group that Hasiba found a sense of connection she didn't know could exist outside of her family.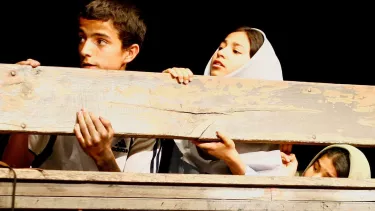 "My family were dealing with so many things at that time and everybody had to work. The children in my family had to work as well. So if we wanted to study, we had to find a way to make it fit in with the work that we had to help with. I was so excited to have the opportunity to learn new things." 
"When the theatre group started rehearsing together, I felt immediately comfortable. I learned a lot from them, like how to stand up for myself and make decisions. I learned that it doesn't matter where you're from, you can find a family with other people. Your language, your colour, your country. It doesn't matter. " 
The story of the play was one that hit close to home. Called My Dad Got Lost in the Paper, Hasiba and four of her peers aged in their teens performed as refugees without ID cards, sharing stories about the problems they dealt with and the lack of opportunities available to them. After a year of developing and rehearsing the play, the group performed on stage in Tehran, Iran, where hundreds of people came to watch them. 
"When we finished we got so much attention. They wrote about us in the news and mentioned our names. So many people were proud of us. It was a big decision for me but I decided then that I would keep pursuing theatre and acting. My mother couldn't come to watch me perform because she was really busy working but she said 'I'm proud of you' and that made me so happy."
The three teachers who introduced Hasiba to acting and storytelling left her with a lasting impact that drives her in her work today. "I'm doing theatre and movies because of them." In 2014, Hasiba made her cinema debut in A Few Cubic Meters of Love, though the transition from performing in theatre to movies wasn't received well by her family at first.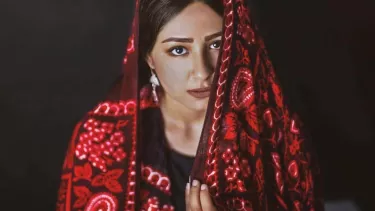 "But the impact of that movie was really really big. It's why I keep fighting against my family, even my society, to keep working in the arts. Because that's the way to show the world how we are living, what we're dealing with, and how we're dealing with it."
Having only arrived in Australia last year in 2021 at the age of 23, Hasiba is passionate that young people need to fight for what they want. "If they think there's something that's right for them, they need to go for it and make their own decisions." 
"What theatre and movies have taught me about borders, about colours, about language – it's not the point. The connection between humans is the best thing. That's what we have to keep and theatre is the best way to keep this connection going. If you're interested in that, you have to keep fighting for that."
Asked what she would say now to those three teachers who introduced her to the arts, Hasiba doesn't miss a beat. 
"You brought me into the world [of theatre] and I immersed myself 100% into it. You taught me to think in a way that looked at humanity. I learned a lot and I'm completely grateful for that. If I didn't have you, the way that I think would be different. The way that I look at the world would be different. The way that I deal with my problems would be different. You are my sun in dark places. I can see the light because of you. That's the impact they had on my life."
"I would also like to give a special thanks to two very important people: Zahra Banasaz and Qasem Hasani. Without them, there wouldn't have been a school for refugee kids where hundreds of kids were able to access education. They helped me to grow up in peace and taught me so many life lessons. I don't know what would've happened to me otherwise. They are my family. I love them."