Lunch, Saturday – Sunday
Dinner, Wednesday – Saturday
On Podium level
Bennelong serves to celebrate the Sydney Opera House and its extraordinary architecture by offering a culturally significant and inspiring menu showcasing a most magnificent production of Australian food and wine.
To quote The New York Times, "Bennelong may be the Holy Grail of Australian restaurants." Named for the Aboriginal interlocutor who had his hut on this historic spot, a place for feasting and celebration for thousands of years, Fink's Bennelong restaurant is housed in the first pavilion that greets visitors. With its spectacular, cathedral-like interior, the Bennelong pavilion is known as the Opera House in miniature, while the menu created by a team headed by one of Australia's most celebrated chefs, Peter Gilmore, is - as one critic put it - "Australia on a plate."
Bennelong is open for reservations Wednesday to Saturday from 5.30pm for à la carte dining in the Restaurant. For pre-theatre dining, please allow a minimum of 1 hour and 45 minutes prior to attending your performance to enjoy Bennelong's three-course menu.
Please note entry to Bennelong is via a single entry point located under the Monumental Steps.
Lunch
Saturday
Reservations from 12pm to 2pm
Sunday
Bennelong Presents Sunday Jazz
Reservations from 12pm to 3.30pm
Dinner
Wednesday to Saturday
Reservations from 5.30pm to 8.45pm
Australian produce and wine take centre stage at Bennelong.
With Peter Gilmore, one of Australia's most celebrated chefs at the helm, Bennelong showcases the flavour, diversity and quality of Australian produce within the shell of one of Australia's most iconic buildings.
View the full menu here
Bennelong offers a fine dining à la carte menu of three courses with sides for $180 per person. You can enjoy an additional course of Australian cheeses for $30.

Please note a 10% surcharge applies on Sundays and a 15% surcharge applies on Public Holidays.
Eat & drink
Bennelong Point has been a place for feasting and celebrating for millennia. So it's only natural that here at the Opera House, the entertainment jumps from the stage and onto the plate.
Australian cuisine reimagined by Peter Gilmore
Peter Gilmore, pictured standing on the right with Bennelong Head Chef Rob Cockerill on his left, is the Executive Chef of Bennelong and its sister restaurant Quay. Quay has received an unprecedented number of Australian and international awards for Peter's creative and original cuisine.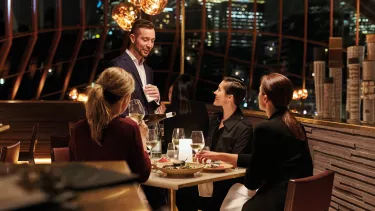 The Restaurant
The lower level of Bennelong, known as The Restaurant, presents Australian cuisine at its finest. Seated in an intimate and upmarket setting, diners can enjoy a three course à la carte menu.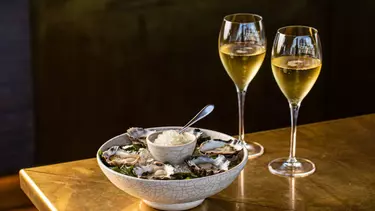 The Bar
Located on the top tier of the restaurant, the Bennelong Bar is the perfect place for a drink before or after a show, or as a nightcap after your meal. Enjoy signature cocktails with our limited snack menu of oysters and cheese.
Bennelong is proud to offer a uniquely Australian wine list with over 200 of the country's favourite small scale labels from an eclectic collection of wine-makers. In keeping the philosophy of Bennelong, Bar Manager Taka Shino has also created a list of showstopping cocktails with a focus on local Australian produce.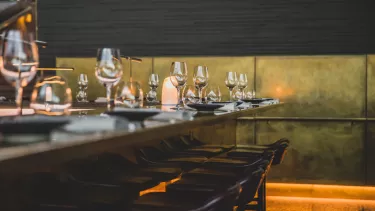 The Counter
Dine at the beautiful golden brass counter on bar-style seating, overlooking the restaurant with stunning views to Circular Quay.
At The Counter, we offer a two-course à la carte menu, with your choice of entrée and main.
A series of extraordinary music experiences
Join us at Bennelong Presents as leading Australian artists perform in the spectacular architectural space of Jorn Utzon's pavilion.
Bennelong Presents invites guests to enjoy a unique way to experience music in the Sydney Opera House with Australia's best musicians taking the stage for Sunday Jazz.
Other information
Bennelong is committed to being a COVID safe environment.
Frequently asked questions
The Sydney Opera House no longer requires patrons to show that they are fully vaccinated against COVID-19. 
Face masks are strongly recommended for all patrons while inside our theatres and foyers, including during a performance and on a tour, and other indoor areas including upon entering the building to access Bennelong Restaurant. Please bring your own mask.
It is vitally important that you stay home if you feel unwell and/or are displaying any symptoms of COVID-19, including a cough, fever, sore throat, and/or runny nose.
In the event of unexpected illness, please contact Bennelong Restaurant via 02 9240 8000.
Cashless payment will be provided to enable guests to remain seated. 
Yes, the restaurant and bar at Bennelong is wheelchair friendly, with lift access into the main dining room and into the bar area. 
The Opera House Wilson car park is open and operating. We encourage patrons and visitors to consider prepay parking options. Where practical, we encourage patrons to use private transport options to minimise crowding on public transport. If you need to use public transport, please follow the travel advice from Transport NSW.
Entry to Bennelong is via a single entry point located under the Monumental Steps.
We ask that you please follow the directions of our staff at all times.

View map
Yes! Our reservations team can assist in booking a time to ensure you make your show.
On the top level of the restaurant, Bennelong Bar is the perfect place to enjoy a drink before a show, or as a night cap after a performance. Walk-ins are welcome, or book a table in the restaurant to avoid disappointment.
On the top level of the restaurant, Bennelong Bar is the perfect place to enjoy an after-work drink, a pre-theatre bite to eat from our bar snacks menu, or a nightcap after your meal. Walk-ins welcome, subject to availability.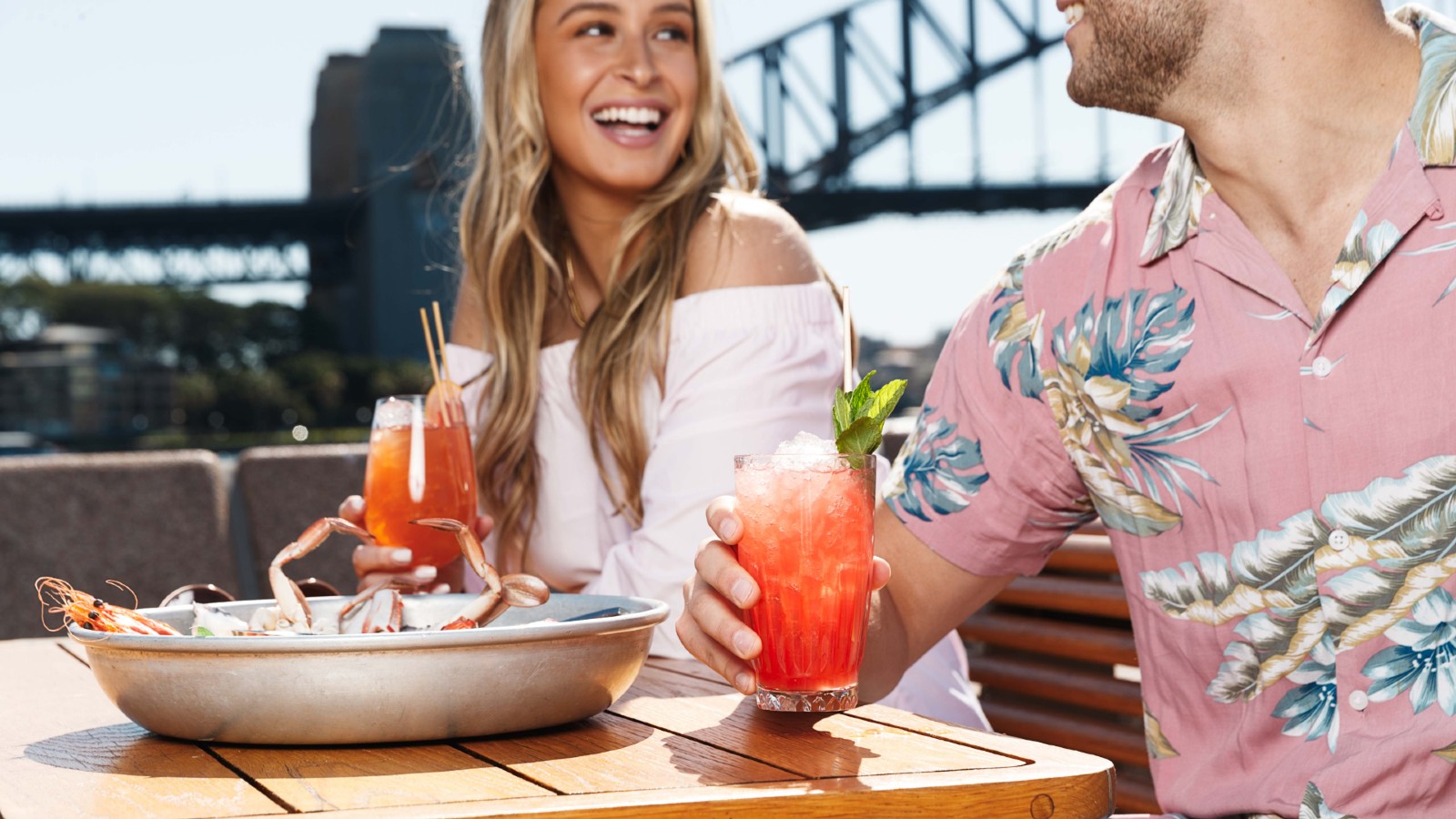 Opera Bar
Inspired by Sydney, Opera Bar's food menu is light, sunny and made for snacking, sharing or savouring solo. Fresh, seasonal and sustainable, the menu showcases Australian suppliers and provenance and seafood is the star.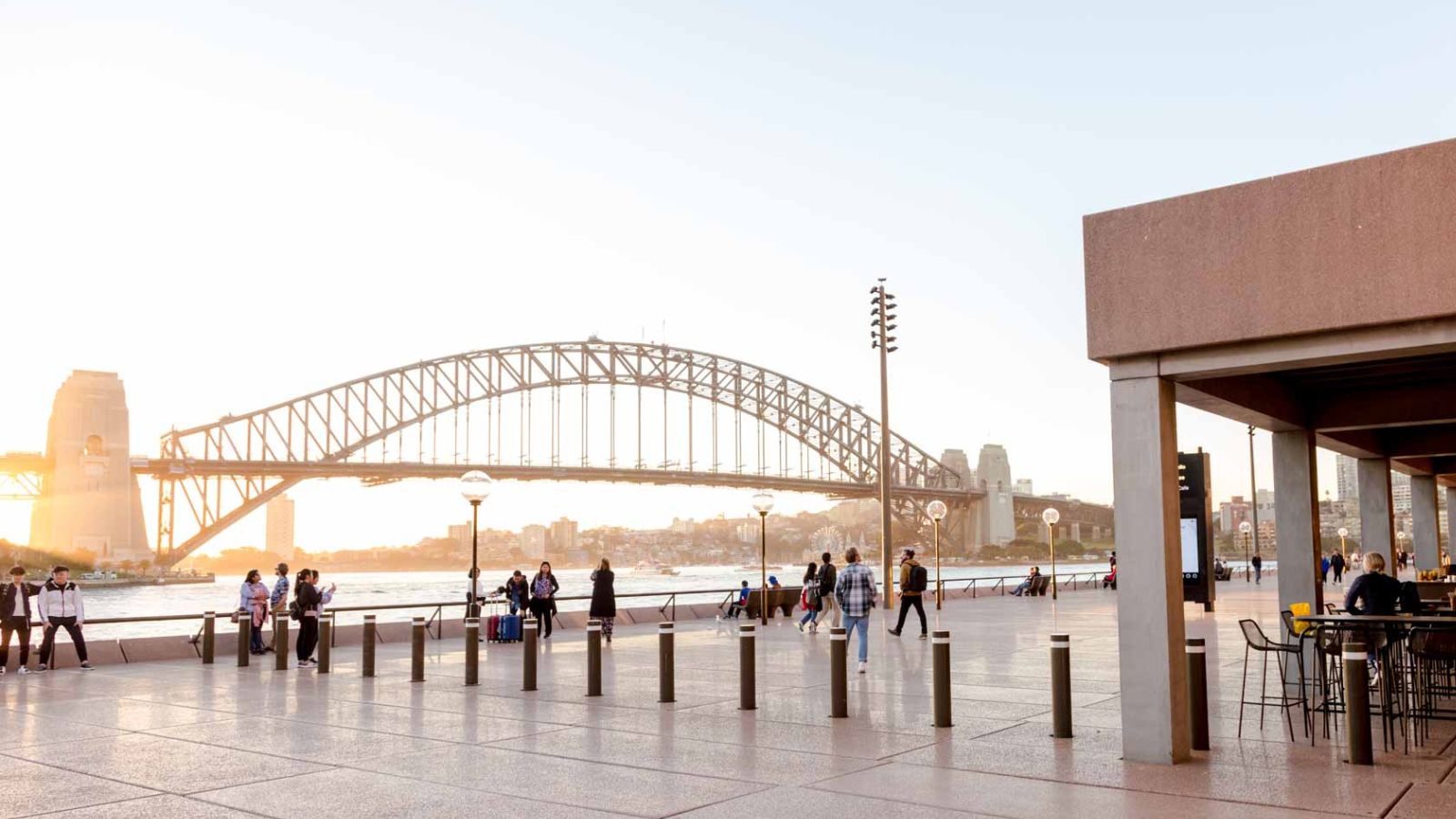 Portside
Escape to a world of tranquillity and indulgence at Portside, tucked away in the iconic Western Foyers under the Colonnade at Sydney Opera House. Redesigned by Opera House architect Jørn Utzon in 2006, the restaurant enjoys uninterrupted views of the Harbour Bridge and bustling Circular Quay.