Five seasonal recipes from Bill Granger
Hungry for everyday meals with a twist?
Set the slow cooker aside and make room for these deliciously fresh and light everyday meals.
Bill Granger recently spoke to Adam Liaw as part of the Opera House's Digital Season, sharing his signature sunny and easygoing approach to food. Now, Granger details his favourite seasonal recipes as spring draws near.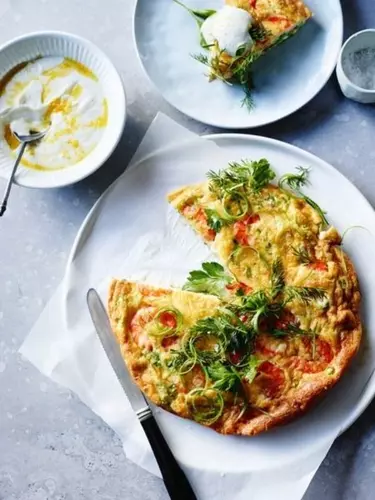 Prawn, pea and dill open-faced omelette
Bill says: 
An omelette with prawns is an unusual combination but I've always been a big fan of Chinese omelettes, cooked in hot oil in a wok, filled with prawns and fresh herbs, and drizzled with oyster sauce. Here I've taken this idea and given it a Scandi twist.
Ingredients: 
1 cup Greek-style yoghurt
1 tablespoon lemon juice, plus extra to garnish
1 teaspoon lemon zest, plus extra to serve
8 eggs
125ml single cream, or milk
1 tablespoon extra virgin olive oil, plus extra to serve
Small handful picked parley, plus extra to serve
Small handful picked mint, plus extra to serve
Small handful picked dill, plus extra to serve
4 spring onions, finely sliced
2 garlic cloves, crushed
100g peas, fresh and blanched or frozen
400g cooked prawns, peeled
Sea salt
Freshly ground black pepper
Method: 
Preheat oven to 180C.
To make the lemony yoghurt to accompany the omelette, place yoghurt, lemon juice, lemon zest, sea salt and freshly ground black pepper in a bowl and stir to combine. Set aside. 
Combine the eggs and cream, or milk, in a large bowl, and add the herbs and stir to combine. Season.
Heat the oil in an ovenproof 20cm non stick frypan. Add the spring onion and garlic and cook for 3-4 minutes until softened. Pour the egg mixture into the pan and sprinkle over the peas and prawns. Cook for 3-4 minutes until the sides are beginning to set then transfer to the oven and bake for 20 minutes until set.
Cut into wedges and top with extra herbs, lemon zest and a drizzle of olive oil. Serve with yoghurt drizzled with a little extra olive oil.
Serves 4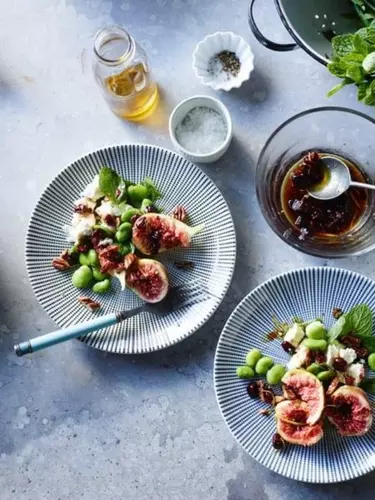 Fig, feta and broadbean salad with toasted pecans  
Bill says: 
I love this dressing, it adds depth to my salads – perfect with room temperature roasted squash or over a bitter green salad to serve with roast pork.
Ingredients:
300g (2 ½ cups) broad beans, frozen or fresh
8 figs, torn
180g marinated feta cheese, crumbled
40g (1/4 cup) dried cranberries
A handful of mint leaves, plus extra to serve
2 tablespoons extra virgin olive oil
2 teaspoons julienned ginger
1 tablespoon pomegranate molasses
1 teaspoon honey
1 tablespoon lime juice
Pinch of chilli flakes
35g (1/3 cup) pecans, toasted in a dry frying pan
Method: 
Blanch the beans in boiling water for around five minutes or until cooked. Drain, refresh under cold water and slip skins off. Set aside.
Arrange the figs, feta, broad beans, cranberries and mint on a serving plate. 
Place the olive oil, ginger, molasses, honey, lime juice, chilli flakes and a pinch of salt in a jar and shake to combine, or whisk together in a bowl. Pour over the salad and sprinkle over the pecans, breaking them up a bit with your fingers as you do this.
Serves 4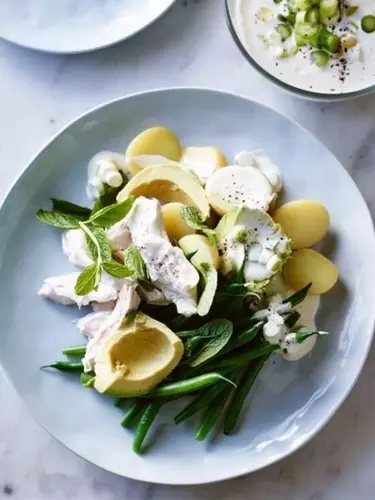 Poached chicken, avocado, green beans and buttermilk dressing
Bill says:
This method is my all time favourite way to cook chicken breast rendering them plump and juicy.
Ingredients:
1 tablespoon black peppercorns
3 thick slices of ginger
2 spring onions, roughly chopped
2 tablespoons sea salt
4 chicken breasts, skin off
3 tablespoons sour cream
3 tablespoons mayonnaise
4 tablespoons buttermilk
1 tablespoon white wine vinegar
1 garlic clove, crushed
1 kg baby potatoes
150g green beans, trimmed
1 avocado
2 spring onions, sliced
1 large handful mint leaves
Method: 
Put the peppercorns, ginger, spring onion and salt in a medium saucepan and almost fill with water. Bring to the boil over high heat. Add the chicken breasts, cover with a tight fitting lid, turn off the heat and leave for one hour. Remove from water and slice or break into pieces.
Meanwhile, to make the dressing, combine sour cream, mayonnaise, buttermilk, vinegar and garlic in a small bowl. Set aside. 
Place potatoes in a medium pot of cold water. Bring to the boil, reduce heat and simmer for 10 minutes or until cooked. Drain and rinse in cold water. Place green beans in a heatproof bowl and pour over boiling water to cover. After 2 minutes, drain and rinse with cold water.
To assemble the salad, arrange potatoes, chicken and beans on a plate.  Halve the avocado and use a spoon to scoop out flesh in chunks on the salad. Sprinkle spring onion and mint leaves over the salad and drizzle with dressing.
Serves 4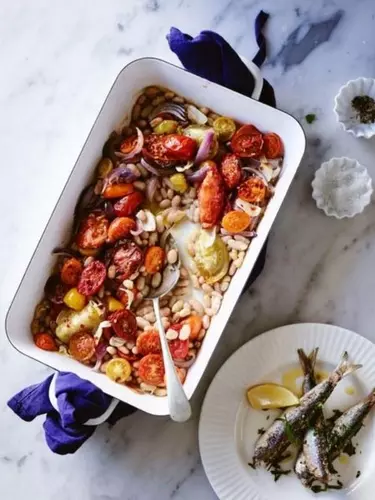 Grilled sardines with a tomato and cannellini bean salad
Bill says: 
A nice change to a regular bean salad. Roasting the beans gives them texture and a little more body, perfect for early spring dinners.
Ingredients: 
3 tablespoons olive oil
2 x 400 g tins cannellini beans, rinsed and drained
2 garlic cloves, sliced
½ teaspoon chilli flakes
1 small red onion, sliced into thin wedges
350 g mixed tomatoes, halved or cut into large pieces depending on size
1 tablespoon red wine vinegar
8 whole sardines, gutted
To serve
Flat leaf parsley, chopped
Method:
Preheat the oven to 200°C. Pour 2 tablespoons of the olive oil, the beans, garlic, chilli flakes, onion and tomatoes into a small baking dish and stir together. Bake for 25-30 minutes or until the onion is tender and the tomatoes start to pucker. Remove from the oven and stir through the red wine vinegar, being careful not to break the beans very much. Set aside.
Heat the remaining oil in a frying pan over medium heat. Sprinkle the sardines with salt and place in the heated pan. Cook for two minutes on each side or until cooked through. Serve with the warm salad and garnish with parsley.
Serves 4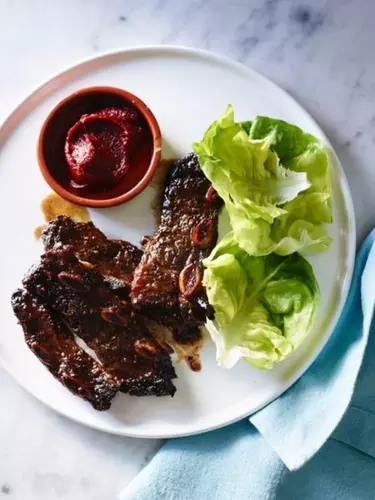 Sticky ribs with lettuce and gochujang
Bill says: 
Perfect for all ages piled high on a platter.
Ingredients:  
2 kg beef short ribs (cut across the bone)
Marinade
125ml(1/2 cup) soy sauce
60ml (1/4 cup) mirin
3 tablespoons brown sugar
4 tablespoons honey
2 tablespoons sesame oil
3 garlic cloves, crushed
½  onion, grated
½ nashi pear, grated
2 cm piece ginger, peeled and grated
To serve
Sesame seeds
Butter lettuce
Gochujang sauce (Korean chilli sauce)
Method:
Mix all marinade ingredients together in a large bowl or baking tray and add 125ml (1/2 cup) water. 
Add the ribs and turn to coat well. Marinate for a few hours or overnight.
Preheat the oven to 150C. Place the ribs and marinade in a deep baking tin (just large enough to fit them). Cover with a sheet of baking paper then cover securely with foil. Bake for 2 and a half hours or until tender. Remove the ribs from the liquid. Heat a barbeque or hot plate to medium-high and cook the ribs for 2-3 minutes each side, brushing several times with the marinade until caramelised. Remove from the barbecue and place on a serving platter, sprinkled with sesame seeds and served with lots of butter, lettuce and gochujang sauce on the side.
Serves 4
Bringing our stages to your sofa, our digital program comes to you weekly from our House to yours. See the program.