#Isobread: the trend we didn't know we kneaded
Home cooking as the ultimate act of self-care
If you've attempted to bake bread from scratch in recent weeks, you're not alone. According to Google Trends, searches for "bread recipes" are at an all time high, flooding Instagram with freshly baked loaves instead of tropical beaches.
With the pandemic affecting food supply across the globe, and the livelihoods of those working in the service industry, many of us are reconsidering our food sources. Home cooking is more important than ever, and the simple act of crafting a loaf of bread has become an act of self-care, or a demonstration of the kindness that we all need in our lives right now. 
A thickly buttered piece of home baked bread is also the perfect complement to your softest pair of tracksuit pants, with the bonus of signalling "I am winning at ISO" on your social media feed. 
From sourdough starters to focaccia art, we're taking a look at #isobread trends across the twittersphere in an ode to the humble carb.
In the beginning there was banana bread
From the moment PM Scott Morrison told Andrew he didn't run the press conference, it seemed as if banana bread was really having a moment. Did we all have a bunch of bananas rotting away in the fruit bowl? Was this what we had been panic buying all that flour for? 
Simple, easy and comforting, even my ten year old baked some as a way of escaping home-schooling. But let's be honest, while it may be named banana bread, this is clearly breakfast cake.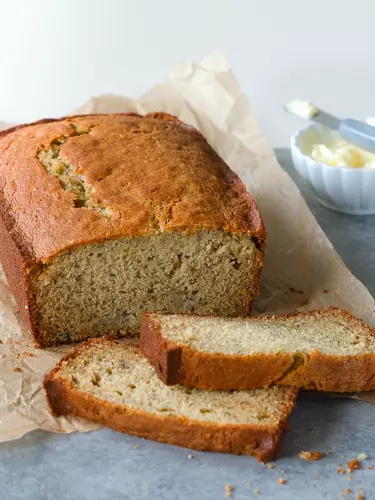 If you start(er) me up, I'll never stop. An ode to sourdough 
There have always been "sourdough people". The ones that were bragging about growing their own starter long before we had ever heard of social distancing. Award-winning writer, humourist and Antidote speaker Benjamin Law was way ahead of the curve back in 2017. But what about the rest of us? How did a jar of festering starter become the ultimate iso-house pet, the COVID-19 version of the fiddle leaf fig? 
Sorry there's been an error :( instagram is not responding
During the "honeymoon period" where it felt new and different to be at home 24-7, each day began to blur into the next. Perhaps sourdough was the answer to an overwhelming need to take control and produce something useful with our very own hands. Or maybe we just wanted something new to post on our home-bound Instagram feeds.  
Suddenly, we had all the time in the world to nurture a loaf of sourdough from its stinky, festering inception to glorious, golden life, nailing some #isogoals in the process. 
If feeding your own starter was all too much, you could still get what you kneaded, whether ordering online from a world-renowned chef or procuring from a friend (at a safe distance) in a back alley in Newtown. Even our very own Kaspar Christensen, executive chef at Portside Sydney, was in on the action, raising money for an incredibly worthy cause with sourdough starter kits.
By the time Jake Gyllenhaal broke the internet by whispering to his starter, it seemed like sourdough was everywhere. Or maybe we just really wanted to turn away from the news. Closer to home, Adam Liaw documented the highs and lows of making your own and our beloved Annabel Crabb finally caved.
Sorry there's been an error :( instagram is not responding
Reaching peak bread with focaccia art
We're a fickle bunch when it comes to bread trends. One minute it's all about the sourdough, the next it's focaccia's turn to hurtle back into the spotlight, time travelling from the 1990s arm in arm with the sun dried tomato. But this time around there's an unexpectedly artistic twist. 
Baker Teri Culletto has sparked a global trend with her series of Vincent van Gogh-inspired loaves, lovingly named Van Dough. Deceptively simple to bake, it turns out focaccia is the perfect canvas for expressing your creativity, and no surprises here, happens to look great on the 'gram.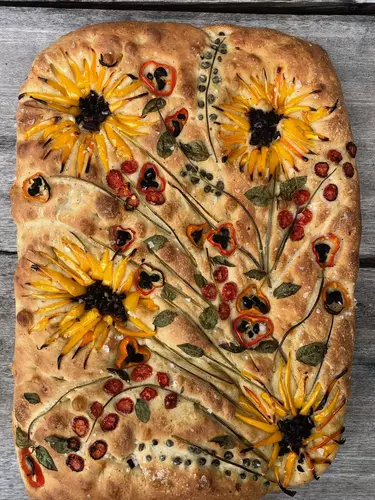 Accepting your limitations
For those of us with limited patience and culinary skills, there are fortunately other options. Now that flour and yeast appear to be back on supermarket shelves, no-knead bread has taken off, the starter-less alternative to sourdough. With restaurants and cafés across the country pivoting swiftly to take away and home delivery, the perfect loaf of bread (professionally cooked by somebody else) is not too far away for baking luddites and those who simply can't be bothered.
The "new normal"
As restrictions begin to ease, is our rekindled love affair with baking from scratch something that we'll take with us into the 'new normal'? Or like Houseparty, will #isobread become a distant memory of this very particular moment in our lives?
No matter which side your bread is buttered on, sometimes we find comfort where we yeast expect it.
Watch Thinking Through a Crisis: Annabel Crabb and Adam Liaw (Live), on demand from Sunday 17 May, 4pm AEST. 
Bringing our stages to your sofa, our new digital program comes to you weekly from our House to yours. See the program.