U
nder the Sails shares the stories of those who say 'I do' and celebrate milestones at the Opera House. 
Andy and Don met in a bar in their early twenties. 25 years later they arrived at the Opera House by water taxi surprising their guests, to be married at sunset, framed by the sails and sweeping harbour views.
How did you meet? 
In plain terms, we met in a bar in our early twenties. 
Both having grown up in Perth, we met on the eve of winter in 1996 at Connections night club in Perth — the southern hemisphere's oldest gay club. We still occasionally pop into the club when in town. 
We had a 20th anniversary party at our local town hall which doubled as a surprise engagement party — however, it was another five years before we wed.
Tell us about the style of your wedding.
We had a small wedding party, but wanted all guests to feel part of proceedings. Don had a best woman and Andy a best man. A Wiradjuri friend offered a very moving Acknowledgement of Gadigal Country in the absence of Gadigal guests. Friends and family offered readings.
Our families are Catholic, and Andy practices his faith. While the ceremony was civil, a priest friend assisted the celebrant and offered blessings. Together, they were able to blend our tradition into the civil ceremony in a very personal and meaningful way.
We wanted the style to be as simple, fresh, elegant and generous as we could offer. With everyone being a bit over the lockdowns of 2019, there was a great feeling of wanting to dress up, celebrate and dance. We didn't want to burden guests with an overly tight dress code, so while it wasn't 'strictly formal', who wouldn't get a bit dressy for a wedding at the Opera House? We did, however, suggest a 'touch of silver' theme, in recognition of the dual celebrations of wedding and silver anniversary — whether in cocktail dress or silver sneakers, our guests sparkled. 
As hosts, we wanted to be both generous and mindful of waste.  Rather than discard flowers after the reception, we asked our florist to make portable table arrangements — several for each table — so guests helped us 'bump out' the venue by taking the flowers and candles. We heard reports of the flowers still going strong after several weeks.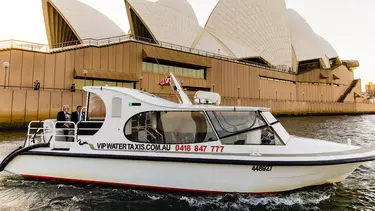 What was it like arriving on a water taxi to your wedding?
A lot of fun, a little glamour and a bit of a surprise! 
We'd asked guests to meet near Man O' War Steps next to the Botanic Gardens, but they weren't sure where we'd be coming from – there are several approaches by land – or where the ceremony was to be held. 
Some may say it is a little silly to take a three minute journey from Commissioner's Steps on west Circular Quay to Man O' War Steps, but it was not much more than a couple of cab fares and the joy and love on the faces of friends and family as we rounded Bennelong Point was priceless.  
Some commented that our party looked like movie stars disembarking onto the steps — maybe movie stars that take cabs rather than yachts.  
What was the most memorable part of the day?
It's hard to pick one of several throughout the evening but the first happened walking down the aisle. 
After a quick group shot of us and our guests on the steps of the Podium, they made their way around to the Northern Boardwalk where the ceremony was to be held. Just as we made our first nervous steps down the aisle, a passing ferry sounded its horn in loud encouragement.
Another was our wedding dance. It was the first opportunity most guests had to dance for over a year so when Aha's 'Take on Me' switched from acoustic to the original fast pace, they literally jumped in.  
The harbour on three sides and the Opera House's sails framing us while the sun set behind the Harbour Bridge all speak for themselves.
Tell us about the experience of having your ceremony at the Opera House.
The harbour on three sides and the Opera House's sails framing us while the sun set behind the Harbour Bridge all speak for themselves. Having our ceremony out in the open shared with family and friends (and the occasional, well-wishing passer-by) offered a very public declaration of our love and commitment to one another. 
Having the ceremony on the Northern Broadwalk also meant the reception could start immediately after formal proceedings without guests having to travel from here to there.
We know that every year on our anniversary we can visit freely to see the sun set over the Rocks.
Why do you choose the Opera House as your wedding venue? 
We chose to have our wedding at sunset on the Northern Broadwalk. We know that every year on our anniversary we can visit freely to see the sun set over the Rocks and perhaps hear a foghorn again. 
On more practical matters, we'd enjoyed the food at Trippas White Group's Portside Sydney on many occasions, so an amazing place everybody loves coupled with first class hospitality and there really was no alternative.   
The size and versatility of the Yallamundi Rooms also meant we had the option that, if increased spacing of guests had been required, our hundred guests could still have been accommodated. Thankfully, government rules let us all, young and old, party like it was 1996.
Whether your looking forward to planning your wedding, birthday or corporate event, treat your guests to a memorable event under the sails.  With a range of spaces to book, our Functions team are here to help.