Ghenoa Gela's powerful, political dance
Through dance, theatre and comedy, the Torres Strait Mainlander breaks stereotypes
This May, Ghenoa Gela's compelling autobiographical performance, My Urrwai will be presented at Sydney Opera House as part of Festival UnWrapped, following a sold out run at Sydney Festival in 2018. My Urrwai invites audiences to come and meet powerhouse little sister, daughter, granddaughter, teacher, fighter, air guitarist, proud Torres Strait Mainlander and walking political statement – all performed by herself. Movement and words flow in this deeply personal work, creating space for audiences to both laugh and reflect on Australia's colonial legacy in equal measure.
No stranger to making her voice heard and connecting people with stories, Gela's career has spanned several genres including dance, circus, television and comedy. Her performances have earned her a reputation for being what the Sydney Morning Herald called a "vivid storyteller with a forceful dramatic presence".
Exploring ancestry through dance
In 2016, Gela was the recipient of both Judges and Audience Choice Awards at the Keir Choreographic Award for her work, Fragments of Malungoka – Women of the Sea. It's an exploration of Gela's female ancestry in the Western Torres Strait. Drawing on the stories of female relatives and recollections of community life, it seamlessly blended traditional movement and influences with technology. Gela created and choreographed the performance installation Mura Buai – Everyone, Everyone with Force Majeure (presented by Performance Space's Liveworks Festival 2015), and also choreographed the final piece in their show Nothing to Lose (Sydney Festival 2015).
Dance theatre as social commentary
As a master of self-expression, through her career Gela has morphed between the roles of choreographer, performer and collaborator. A common thread tying together her creative pursuits is authentic social commentary and the exploration of our shared human experience. Her performance history ranges from Masters of Modern Sound (Sydney Festival 2019), featuring interventions by musicians and dancers within the Art Gallery of NSW's Masters of Modern Art from the Hermitage exhibition; Force Majeure's You Animal, You – an examination of what makes us human in a desensitised age (Dance Massive 2019, Sydney Festival 2017); and The Piper – an immersive theatrical retelling of Rattenfänger von Hameln, or 'The Pied Piper of Hamelin' (My Darling Patricia 2014).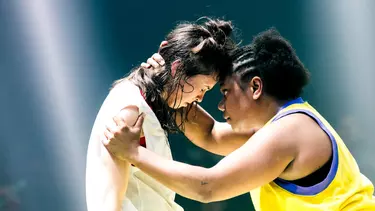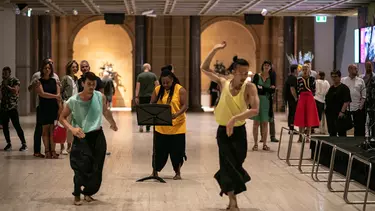 A proud voice in comedy
Over and above her impressive repertoire of dance theatre works, Gela has made a name for herself in the world of stand-up comedy. Winner of the 2017 Melbourne Comedy Festival Deadly Funny National Final, Gela's reenactment of a 'shake a leg' dance had "the audience in stitches," as praised by Arts Review. She returned to the competition's stage in 2018 as MC.
Cabaret that smashes stereotypes
In Hot Brown Honey, Gela defied expectations once again. The show combined theatre, comedy, dance, circus and burlesque to explode preconceptions of women of colour – its run was a multi award-winning international cabaret sensation. As part of an ensemble cast, Gela performed on home soil at the Sydney Opera House as well as on the international stage at Edinburgh Fringe. Isolated Nation called Gela's performance "mischievous and magnetic".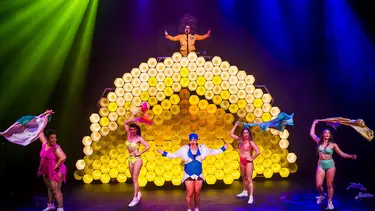 A mentor to young artists
With all that she does, Gela aspires to inspire. Complementing the impact of on-stage works, she is also a mentor for the next generation of upcoming artists, facilitating dance workshops in urban, regional and remote communities. She has also contributed her time and expertise to programs such as Strong Girls (as Force Majeure's Company Artist), Young, Black & Deadly, ARMTour, and Vibe Alive. Recently, Gela travelled to Noumea, New Caledonia with Marrugeku to participate in their intercultural choreographic lab.
See My Urrwai at Festival UnWrapped from 8 - 12 May at the Sydney Opera House.