Deborah Mailman on Rhoda Roberts' "remarkable" 16 years at the Sydney Opera House
This month, Head of First Nations programming Rhoda Roberts finishes her incredible stint at the Opera House. We spoke to actress, Trustee and longtime friend and collaborator Deborah Mailman about Roberts' everlasting impact.
In 1993, Bundjalung woman Rhoda Roberts, then known as the host of SBS' current affairs show Vox Populi, starred in Louis Nowra's Radiance at Belvoir St Theatre, an acclaimed play that seemed to open the floodgates for Indigenous theatre in the mid 90s. Roberts played Nona, one of three estranged half-sisters united for their mother's funeral, a role written specifically for her. Five years later, an unknown young Indigenous actress named Deborah Mailman would play that same role, making her film debut in the big screen adaptation.
"Rhoda's been my role model from well before the Opera House," Mailman explains. "She's been my champion as she's been a champion for so many Indigenous artists."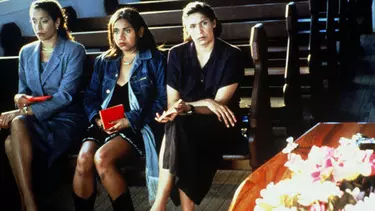 The two would cross paths often over the next three decades, as they both grew in stature in the arts world. They would work together, interview one-another and, eventually, both become critical parts of the Sydney Opera House ecosystem – first with Roberts as a Trustee from 1998 until 2006, before becoming Head of First Nations programming in 2012, then with Mailman joining the Trust herself in 2015.
This month, after a total of 16 years, Roberts ends her tenure with the Opera House.
"What she's achieved at the Opera House is nothing short of remarkable," explains Mailman. "There's always been a purpose to her work. She's an amazing artist in her own right but she's always seen the bigger picture."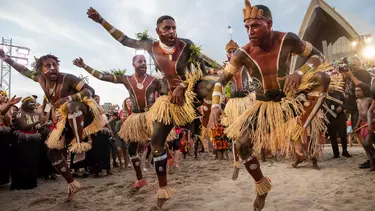 If you've walked onto the Opera House site, chances are you've heard Rhoda Roberts. Hers is the husky voice that greets you as you head onto the land of the Gadigal, now known as Bennelong Point, echoing from the plinth near the escalators. If you've seen the sails lit up against the starry sky you've likely seen the spectacular projections of ancient First Nations stories thanks to Roberts' creative direction of Badu Gili or the Songlines sails projections of Vivid Live 2016.
It is difficult to define Roberts' work by genre as her programming and curatorial portfolio spans across dance, theatre, music, fine art, podcasts, panels, and many, many more artforms. Yet it's all connected by an incessant pursuit of reclamation of culture and language, truth telling, cultural maintenance, healing and solidarity.
"Her ability to change things. Her fierceness in making sure the Opera House doors are open to our mob. Creating those events not just for our mob but for all audiences alike to celebrate First Nations stories."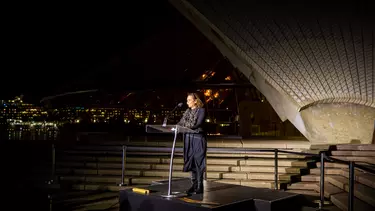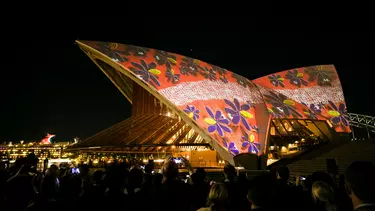 For Mailman, the Badu Gili projections, which have featured work from Indigenous artists all across the country, epitomised everything that made Roberts who she was. 
"Her database, her knowledge, her familiarity with so many communities around the country, not just in Sydney. She's clearly made it her job to know each and every story of the communities that she's worked with in detail," Mailman explains. "Being there on that opening night and seeing the sails light up; seeing the stories unfold. It was breathtaking. That was Rhoda."
The intricate and deep seated connections that Roberts has made in every corner of the country are no more evident than the planning of the seismic Homeground and Australia's annual First Nations dance competition Dance Rites. In an incredible feat, Roberts responded to the challenges presented by 2020 and moved the competition wholly online. In its seventh year, Dance Rites brought together 27 Aboriginal and Torres Strait Islander dance groups with more than 350 performers spanning generations, nations and clan groups. 
"She's become an Auntie to so many of the young kids that come to the Opera House, in particular through the work she's done with Dance Rites and the opportunities she's carved out."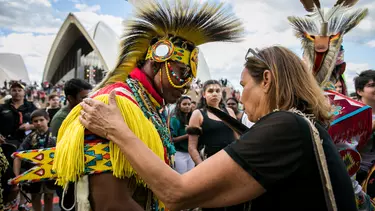 The creative ties that Roberts has made extend far beyond this great southern land as evidenced in her work curating and producing the Tri-Nations Boomerang Concert and founding the Indigenous World Art Orchestra, a global collaboration involving First Nations performers, composers and musicians.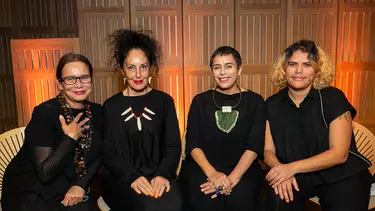 Outside of her artistic endeavours, Roberts has played a fundamental role in bringing a First Nations perspective to the Opera House agenda. She was instrumental in the development of the Opera House Reconciliation Action Plan, making it the first performing arts institution in Australia to do so as well as informing and furthering cultural protocols such as the Welcome/Acknowledgement to country and Calling Country Ceremonies at the House. 
"She's made a significant impact on the arts industry. She's an advocate, she's a lobbyist, she's grown up in the industry in a group of people who really were trying to change the landscape, changing the narrative for First Nations people, how we view Indigenous work, she's opened so many people's minds about contemporary Indigenous work."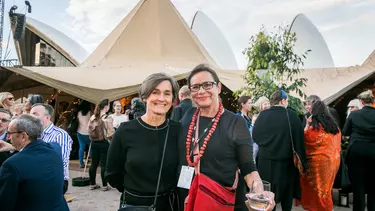 Roberts works tirelessly as a cultural steward for younger generations coming through, all while maintaining a generosity of spirit and a characteristic inclusivity.
With a wicked sense of humour, infectious laugh and zest for a good story, well told, Roberts is a friend to so many at the Opera House and a trailblazer for young and old.
"I think it's wonderful that she's decided to go back home on Country and be with family. It's a really wonderful choice she's made for herself and her family. And we'll miss her… I'll miss her. I just send her love and happiness for the next part of her journey."