When I Was Little: Tim McGarry
When I Was Little is a new series where we interview the theatre-makers and creatives who bring magic to our stages, and wonder to our little ones. 
In the first edition, we chat to actor and director Tim McGarry, who adapted Margaret Wild and Jane Tanner's award-winning picture book There's A Sea In My Bedroom for the stage.
Tell us more about how you've translated ideas for children using storytelling and theatre in There's a Sea in My Bedroom. 
What I love about this picture book is that it captures the very essence of play and imagination. David faces his fear of the sea, and achieves that by diving into his imagination. And we felt the most successful way of portraying this story was through the combined power of music and storytelling. What I love about Paul Stanhope's music is if you close your eyes and just listen to both the music and the minimal words from the actor, you are transported to all the locations and images of the picture book. Paul and I talked a lot about how we would best portray the emotions of David; his fears and his joys. It was from an emotional platform that we dove into the creation of the work, using music and the actor (Jack Richardson) to show emotions physically on stage.
What do you want children to take away from watching the show?
We wanted to create a sophisticated and inspiring piece of theatre for young audiences. We wanted it to be immersive, both musically and theatrically. I always find it hard to predict what children and their parents, grandparents or carers might take away from a work, but I hope they find it an entertaining and stimulating experience. I hope it inspires children to want to learn the violin or the double bass or cello or even become an actor. But mostly I hope it ignites and drives their own creativity and propels them to hound their parents to come back and see more!
What is your earliest memory of watching live performance as a child? Maybe you even visited the Opera House when you were young?
When the Opera House was being built, I was in Cootamundra (in regional NSW) and recall watching Queen Elizabeth open the building on a little black and white TV set. I didn't see a show there until I was much older. I remember my mum taking us to see lots of theatre when I was a teenager but I never really saw any work specifically made for my age group. A show that had the biggest impact on me was a work called Norm and Ahmed by Alex Buzo. It was performed by Toe-Truck Theatre. The company came to my school and set up a very simple stage setting with a park bench and two lights on stands. I remember it vividly. It was simple and fine storytelling at its best and I loved it.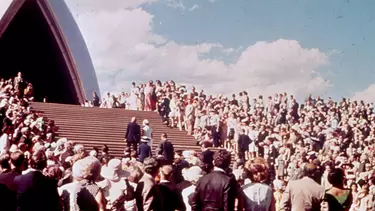 Acting is all about play. The child in us represents the most honest and most authentic person we can possibly be.
Does what you do as an adult allow you to stay true to your childhood dreams?
I often think about those childhood dreams – wanting to be the Pope and then wanting to fly. I don't want to be the Pope anymore – but I still dream about flying. I have lots of flying dreams and for me, it's important to keep the child alive. Acting is all about play. The child in us represents the most honest and most authentic person we can possibly be. When I conduct workshops in schools I always say: "if you want to see the best acting you'll ever see, go home and watch your little brother or sister at play". They believe absolutely 100% in everything they do. Actors spend years training how to bring the child in us back to our work. What we're really looking for is authenticity, simplicity and believability. That's ultimately what we want to achieve as a performer.
I think when you accept that, and stay true to your inner child, you fly!
If you could tell your 5 year old self something, what would you say?
To never be afraid of following your dreams. Aim to be successful, but most of all aim to be happy, however you choose to live your life, whoever you chose to be or whatever you chose to do. Be proud of who you are. Make your life wondrous. Make your life extraordinary. That's what I'd tell my five year old self.
And when I look back at all that I have achieved and all that I still dream of achieving, I think I am mostly listening to my 5 year old self.
Watch There's a Sea in My Bedroom streaming on demand as part of the Sydney Opera House's digital season, From Our House to Yours.
Tim McGarry recently adapted Trent Dalton's blockbuster Australian novel Boy Swallows Universe for the stage. The world premiere season will debut as part of Brisbane Festival 2021.