John Olsen at the Sydney Opera House
The artworks of John Olsen are celebrations of landscape and life, a joyful affirmation of optimism and creativity that remained constant over the many decades he held a brush. A giant of the Australian art world, Olsen's work is held in major collections around the world, and forms part of the fabric of the Sydney Opera House itself.
His seminal mural 'Salute to Slessor's 5 Bells' (1971-73), was commissioned for the Concert Hall Northern Foyer and unveiled when the House opened to the public in 1973. Inspired by Kenneth Slessor's 1939 poem 'Five bells' and designed to be viewed after dark, it is unveiled at night and takes viewers into a dream-like underwater nocturnal space.
Dr John Olsen
Dr John Olsen (1928 - 2023) was one of Australia's most celebrated artists. Central to his painting of the Australian landscape was his propulsive painted line that takes its cue from Paul Klee's idea of 'taking line for a walk', as well as the notion that making art is akin to forming, 'like a plant or a living organism'. Olsen received an Order of Australia (AO) in 2001. In 1977 he was awarded the OBE for services to the Arts and in 1993 he was awarded an Australian Creative Fellowship. He was awarded the Wynne Prize in 1969 and 1985, the Sulman Prize in 1989 and the Archibald Prize in 2005 amongst many other awards throughout his six-decade-long career.
"As an artist coming into his own in the early 1960s after time spent in Spain, Olsen was struck by the dynamism of Sydney Harbour intersecting with the metropolis – pulsing with light and life. From this point on luminosity and water are recurring sources of inspiration. In Sydney Sun (1965), rays of the sun reach out from the glowing circular orb encompassing all life, while in the Sydney Opera House commission Salute to Five Bells (1971-73), we are taken into a dream-like nocturnal space with emblematic images, inspired by Kenneth Slessor's poem Five bells (1939).
When he travelled over time with environmentalists and filmmakers to regional Australia, Olsen discovered fertile habitats such as lily ponds; the inspiration of birds and frogs invigorating his line which seems to leap and fly in tandem with these agile creatures. Subsequent flights that he took over vast areas of the country reveal rivers running, like those pulsing through the Channel Country to Kati Thanda–Lake Eyre, animating his drawn and painted lines afresh and opening into watery expanses.
Olsen's drawings are often as succinct as haiku poems, while his paintings at times inhabit space with swathes of luminous floating colour energised by myriad signs of life. His poetic vision seems made for the idea of Vivid Sydney, enlivening the way we see the world around us and reminding us that art, poetry and environment can coexist quite naturally."
Dr Deborah Hart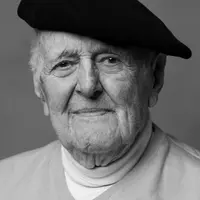 The Five Bells mural - which is my biggest challenge ever - is looking very good after 50 years, it looks so happy there. To see my work extended to the exterior, splashed across the sails, completes my life.

John Olsen, April 2023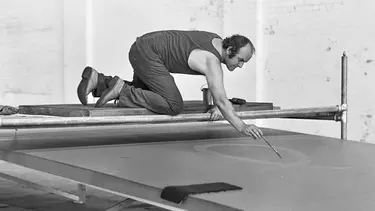 As an adult, Olsen's relationship with the city deepened and widened. He would compare Sydney to a mistress, not the submissive kind but a wilful one with a sharp tongue and some dangerous associates.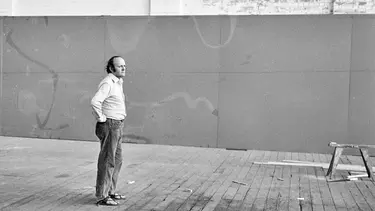 When I went to see Kenneth Slessor, he was working as a journalist, his poetical self long since disappeared, and he told me a story. It was the story of an artist who drowned in Sydney opposite the place where the Opera House now stands.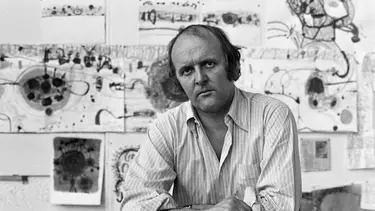 When you meditate carefully upon his paintings you may detect, beyond lines and shapes meandering towards the edges, or slicing each other, flirting eloquently with a prospect of collision, a certain classical calculus that holds the gaze.