Terror. Survival. Hope. Experience this hauntingly beautiful chamber opera, which tells the powerful story of three women's journey at sea in exile from their homeland.
| | |
| --- | --- |
| Date | Time |
| Thursday 11 May | 7pm |
| Friday 12 May | 7pm |
| Saturday 13 May | 2pm, 7pm |
| Ticket | Price |
| --- | --- |
| Standard | $65 |
| Under 30s  | $40 |
*Must provide valid ID
Young people under the age of 15 must be accompanied at all times. Children aged 0 - 23 months at the time of a performance may be seated on a parent's lap free of charge. All children occupying a seat or aged two years and older must hold a valid ticket.
$8.95 booking fee applies per transaction
Prices correct at the time of publication and subject to change without notice. Exact prices will be displayed with seat selection. 
The only authorised ticket agency for this event is Sydney Opera House and The Australian Ballet. For more information about Authorised Agencies, see the frequently asked questions below.
Run time
This performances runs for approximately 85 minutes, with no interval
Event duration is a guide only and may be subject to change.
Age
Suitable for all ages.
Children aged 15 years and under must be accompanied at all times.
Audience Advisory
Trigger Warning: Sensitive Themes
Performance contains strobe lighting 
A dynamic new chamber opera for our times
Three Marys melds music, myth and imagination to create a moving story of exile, survival and hope. 
An international collaboration by award-winning artists composer Andrée Greenwell and librettist Christine Evans, this fully staged chamber opera tells an intergenerational story of a family of women who must flee for their lives. 
Inspired by the French medieval legend of the biblical Three Marys, the tale follows the perilous journey of Maria, Magdalena and Sarah-Marie as they are banished from their homeland and forced out to sea in an oarless boat. 
On their journey they encounter the opera's Teen Chorus, the spirits of refugee children lost at sea – their memories and their names slipping away. Only Marzoug the fisherman is anchored to the land, by his promise to honour the stories of those thrown back by the ocean. He keeps watch. 
Stripped to the raw elements of exile, the ocean, and survival, the women's voices echo across the ages as people from all backgrounds still undertake desperate ocean journeys in search of refuge. 
Presented by Sydney Opera House
A Green Room Music Production
Supporter and Funding Acknowledgements
Restart Investment to Sustain and Expand (RISE) Fund – an Australian Government initiative
Australian Government through the Australia Council, its arts funding and advisory body.
NSW Government through Create NSW
Confederation of Australian International Arts Festivals (CAIAF)
Opera Queensland
Queensland Performing Arts Centre (QPAC)
Australian Cultural Fund (ACF)
Inner West Council
George A. and Eliza Gardner Howard Foundation
UnWrapped
An ongoing series dedicated to uncovering the best independent creators. UnWrapped hands over the stage and introduces audiences to an eclectic panorama of the finest original performances by groundbreaking and unique local artists.
Andrée Greenwell is a multi-award-winning composer with a catalogue of over 100 scores for concert, opera, music theatre, drama, dance, film and installation. She has created music for Australia's leading performing arts organisations including Sydney Theatre Company, Symphony Australia, Australian Dance Theatre, The Sydney Front, Belvoir, Bell Shakespeare, Malthouse and Queensland Music Festival.
Growing up in Melbourne's post-punk era while studying classical flute and composition at the VCA, her music blends classical music traditions, the cinematic score, and popular music subcultures. Her impressive output includes the groundbreaking chamber Sweet Death, commissioned by Chamber Made Opera for Melbourne International Festival of the Arts in 1991. She recently composed and sound designed John Janson-Moore's film installation Contact Trace, narrated by Uncle Jack Charles, awarded Best Experimental Film, Solaris Film Festival, Nice.
As artistic director of Green Room Music, Andrée is a leading creator of independent music theatre in Australia, frequently collaborating with contemporary writers. Her long form works Dreaming Transportation, The Villainelles, Laquiem, Gothic and The Hanging of Jean Lee variously received presentations at Sydney Festival, Riverside Parramatta, the Seymour Centre, Melbourne Arts Centre, Arts House and Sydney Opera House. The Hanging of Jean Lee and Dreaming Transportation were studio-recorded at the ABC studios, Ultimo, for various feature broadcasts.
Andrée holds a Doctorate of Creative Arts from the University of Wollongong.
Originally from Perth, Christine Evans now lives and works on Piscataway and Nacotchtank land in Washington, DC. Her writing spans dramatic genres (plays, opera) and fiction. Her plays are published by Samuel French (Trojan Barbie) and have been developed and produced at venues including Belvoir Street Theater, HERE Arts (NYC), the American Repertory Theater and the Royal Shakespeare Company. Galilee was a finalist for the Lysicrates Award (2018) and premieres at Philadelphia's Azuka Theater in 2023.

Christine's new novel, Nadia, is forthcoming in the US in 2023 from the University of Iowa Press; her novel-in-verse, Cloudless, was published by UWAP (2015). Recent honors include a 2020 Howard Foundation Award, three MacDowell Fellowships and five DC Commission on the Arts and Humanities Fellowships. Christine holds an MFA and PhD from Brown University and currently serves as Professor of Performing Arts at Georgetown University.
www.christineevanswriter.com
Angela is a director, dramaturg, writer and producer. She has directed numerous productions over her forty year career, commissioned many writers and worked with numerous other collaborators.
Angela has been Artistic Director of three theatre companies in Australia - Arena Theatre, Magpie Theatre and Deckchair Theatre. She was also the Executive Director of Ausdance Qld. She is currently a Producer at Queensland Performing Arts Centre. Angela has directed for many of Australia's most significant arts companies including Chamber Made Opera, Belvoir, Sydney Theatre Company, Opera Qld, Black Swan, The State Theatre Company of South Australia, Handspan and Theatre North.
Her works have toured nationally and internationally, and Angela has directed for companies in several other countries including Japan, Venezuela and India. Her achievements have also been recognised with both national and international awards. These include Best New Production – Fringe First Award, Edinburgh Fringe Festival; Best Director – Actors Equity Awards Western Australia and Best New Script – Australian Writers' Guild.
Angela lives on Magandjin the lands of the Yuggera and Turrbal people. Lands that were never ceded.
Anna Tregloan is an artist and designer working with sculptural and live elements, text, image and audience in public spaces, galleries and theatres. She creates innovative and human friendly environments to explore complex ideas in a practice focused on audience driven experience and utilising found objects and actions. She aims to inspire curiosity and empathy and to enable audience to moderate their own experience and eschew top down directorial approaches.
She collaborates extensively with cultural institutions and independent artists in the fields of visual art, contemporary theatre, dance, opera and contemporary museum practice. She has presented work throughout urban and regional Australia and internationally and honoured to have been nominated and awarded state, national and international awards for design and creation including an Australia Council Fellowship (Theatre, 2012). Previously she was Artistic Resident at Malthouse Theatre, is an AsiaLink alumni and is currently a Creative Resident at Powerhouse MAAS.
Damien is a lighting designer working in theatre, opera and dance. He has designed over 300 shows. Damien's career highlights include Neil Armfield's production of THE RING CYCLE for Opera Australia, EXIT THE KING on Broadway starring Geoffrey Rush and Susan Sarandon, Graeme Murphy's SWAN LAKE for the Australian Ballet which was presented in New York, London, Paris and Tokyo, KEATING! THE MUSICAL, Australia's most successful subsidised theatre show ever, and Australian Dance Theatre's BIRDBRAIN which played over 60 venues around the world.
Damien has won three Sydney Theatre Awards for Best Lighting Design and four Green Room awards for Best Lighting Design. He won the Australian Production Designers Guild inaugural Award for Lighting Design for his work on Opera Australia's DER RING DES NIBELUNGEN, and the Showreelfinder Award for Live Performance Lighting Design for THE GLASS MENAGERIE at Belvoir.
Jessica is a performer, composer and new music advocate. She was the recipient of the 2021 APRA/AMCOS Art Music awards for 'Performance of the Year – Notated Composition', a Fellowship from AIM for 'Outstanding Achievements & Services to the Australian Music & Performing Arts Industry' as well as a 2021 Women In Music Mentorship from Australian Independent Records Association.
Jessica appears frequently with Sydney Chamber Opera Company and The Song Company and has featured at major venues and festivals in Australia including Sydney Opera House, Carriageworks, Melbourne Recital Hall, City Recital Hall, Sydney Festival, Vivid Sydney, Dark MOFO, Carols in the Domain, SCG, MCG, as well as multiple international festivals in Europe and Asia. In 2022 Jessica released her second album to critical acclaim "One of the most enrapturing vocal albums of the year. Absolutely breathtaking" - Dario (The Progspace).
Soprano Samantha Hargreaves holds a Master of Music (Opera Performance) from The University of Melbourne. During her studies she sang the title role in The Coronation of Poppea, Pamina in The Magic Flute, Nella in Gianni Schicchi and Beth in Little Women (Adamo). With the Lisa Gasteen National Opera Program in 2022, she performed the principal roles of Hannchen in Die Opernprobe (Lorzing) and Reserl in Der häusliche Krieg (Schubert).
In 2022, she won the John Fulford Prize in the Herald Sun Aria competition and an Acclaim Ambassadorial Scholarship (The Acclaim Awards). In 2021, she received the Bettine McCaughan Memorial Scholarship (ANATS) and the Melbourne Male Welsh Choir named her 'Singer of the Year.'
Samantha is an artist with Melba Opera Trust for a second year. In September, she will begin a two-year Artist Masters (Opera Studies) at the Guildhall School of Music and Drama on full scholarship.
Port Moresby-born operatic soprano Heru Pinkasova was raised in Cairns, then studied in Brisbane and the Czech Rep. A uniquely versatile talent, in 2022, she premiered her autobiographical work Bilum Mamma comprising of traditional PNG music sung in Roro and Motua language through to the classical operatic canon.
In recent years Heru sang in Karna language for The Beginning of Nature with Australian Dance Theatre, joining them for their European & Australian tours. For Adelaide Fringe Festival & Judith Wright Centre, Heru performed with Hot Brown Honey Cabaret. In 2014 Heru played Queenie in Show Boat for The Production Company, Melbourne. She has worked with Opera Queensland for many years in mainstage productions, school residencies, new work developments and is a Young Artist alumni. In 2021 she collaborated with award-winning Queensland beatboxer Dr Rhythm creating Songs My Aunties Taught Me in a convention-busting blend of opera and contemporary beats.
Playing the role of Wotan in Melbourne Opera's production of Wagner's Das Rhinegold was the highlight of Eddie Muliaumaseali'i' 35 year career in Opera, Music Theatre, Television and Drama. He has sung roles in NZ, Australia, Asia, Europe and the USA.
A member of the Tiroler Landestheatre, Innsbruck, Austria, after being chosen by the Intendantin, Brigitte Fassbender, enabled him to achieve his goal of being an operatic soloist in Europe.
Versatility in the arts has seen him play roles in music theatre culminating in a Helpmann award nomination for playing the role of Joe in Showboat singing the famous song, Old Man River. He has recently sung with The Toshi Clinch Big Band in Duke Ellington's Sacred Works.
From Porgy to Mephistopheles to Sarastro and Lepperello, to Beggar, Devil, High Priest to servant, Eddie Muliaumaseali'i' bass voice has enjoyed an adventurous journey on the stage.
Cast
Sarah Marie
Samantha Hargreaves
Magdalena
Jessica O'Donoghue
Maria
Heru Pinkasova
Marzoug
Eddie Muliaumaseali'i
Featured Choral Vocalist
Charbel Moussa
Teen Chorus
NSW Public Schools Singers, The Arts Unit
Creatives
Composer
Andrée Greenwell
Librettist
Christine Evans
Director/Dramaturg
Angela Chaplin
Conductor
Simon Kenway
Choral Director
Elizabeth Scott
Set and Costume Designer
Anna Tregloan
Lighting Designer
Damien Cooper
Production
Producers
Robert Love and Sean Moloney
Production Manager
Neil Simpson
Executive Producer
Andrée Greenwell
A Green Room Music production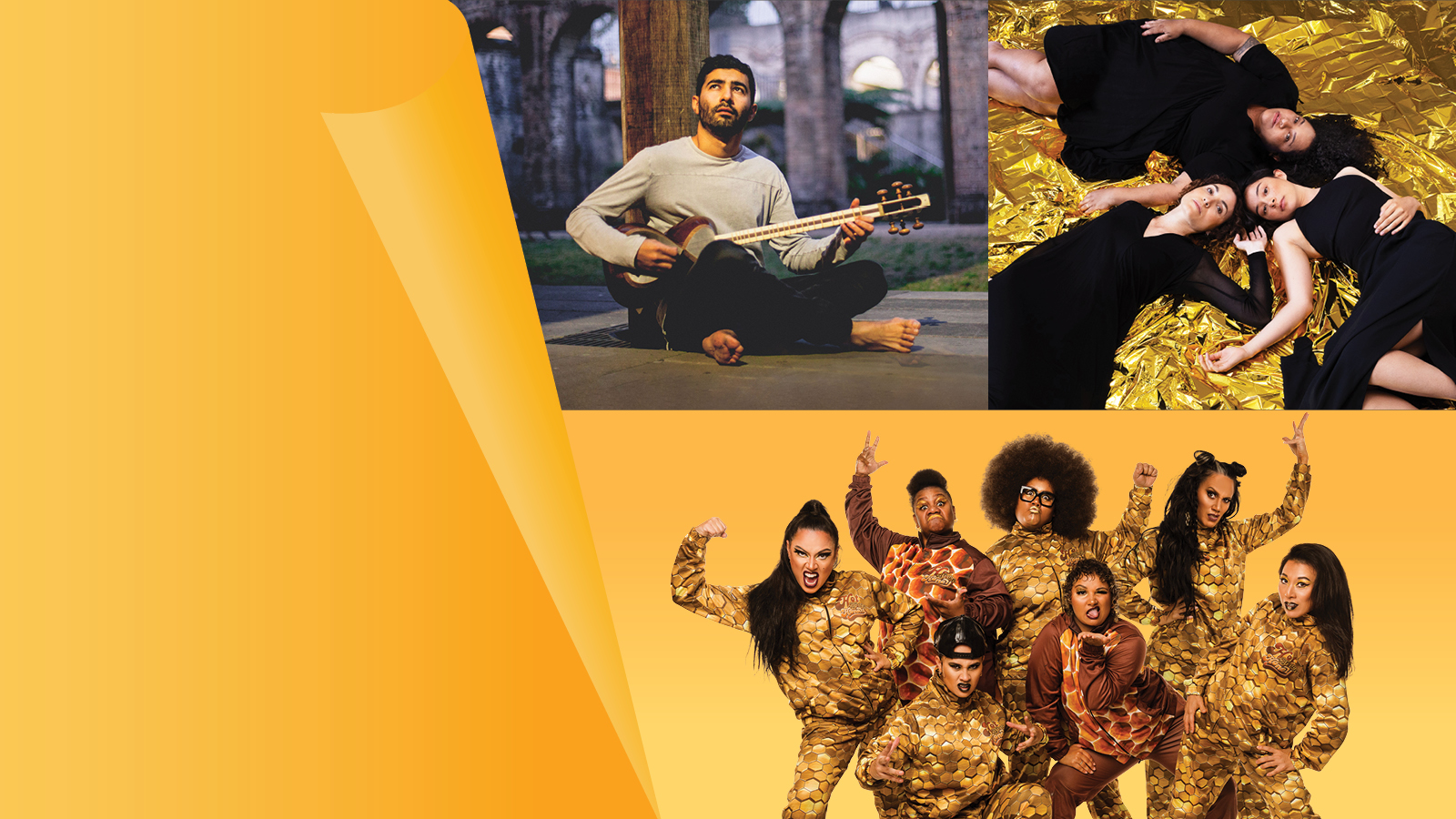 Unwrapping the latest performances by the independent artists of UnWrapped 2023.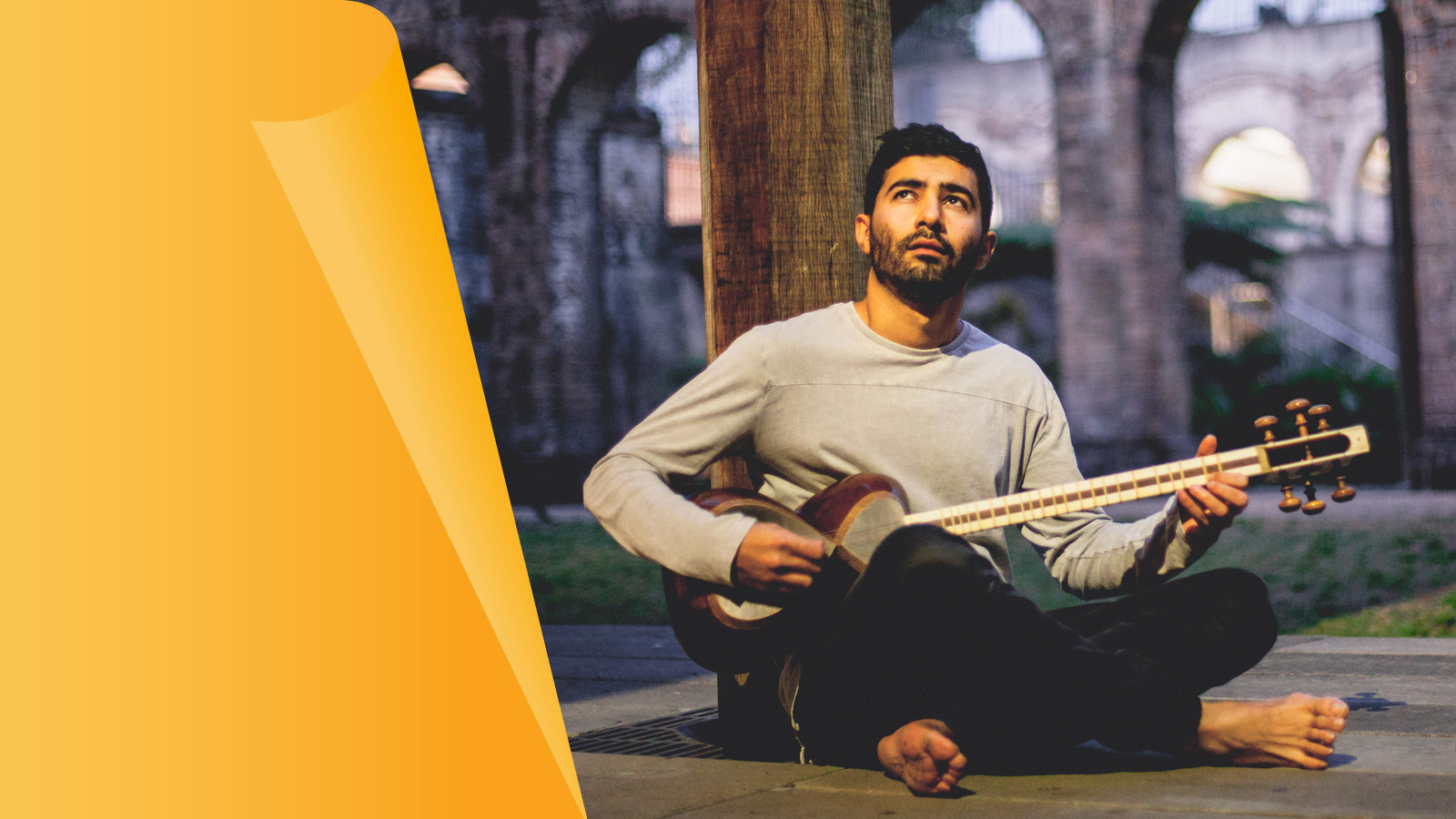 Multi-ARIA award nominee composer and Tar (Iranian lute) virtuoso, Hamed Sadeghi brings together 6 world-class musicians for Empty Voices. Influenced by Persian Sufism philosophy, this spellbinding work explores the notion of love.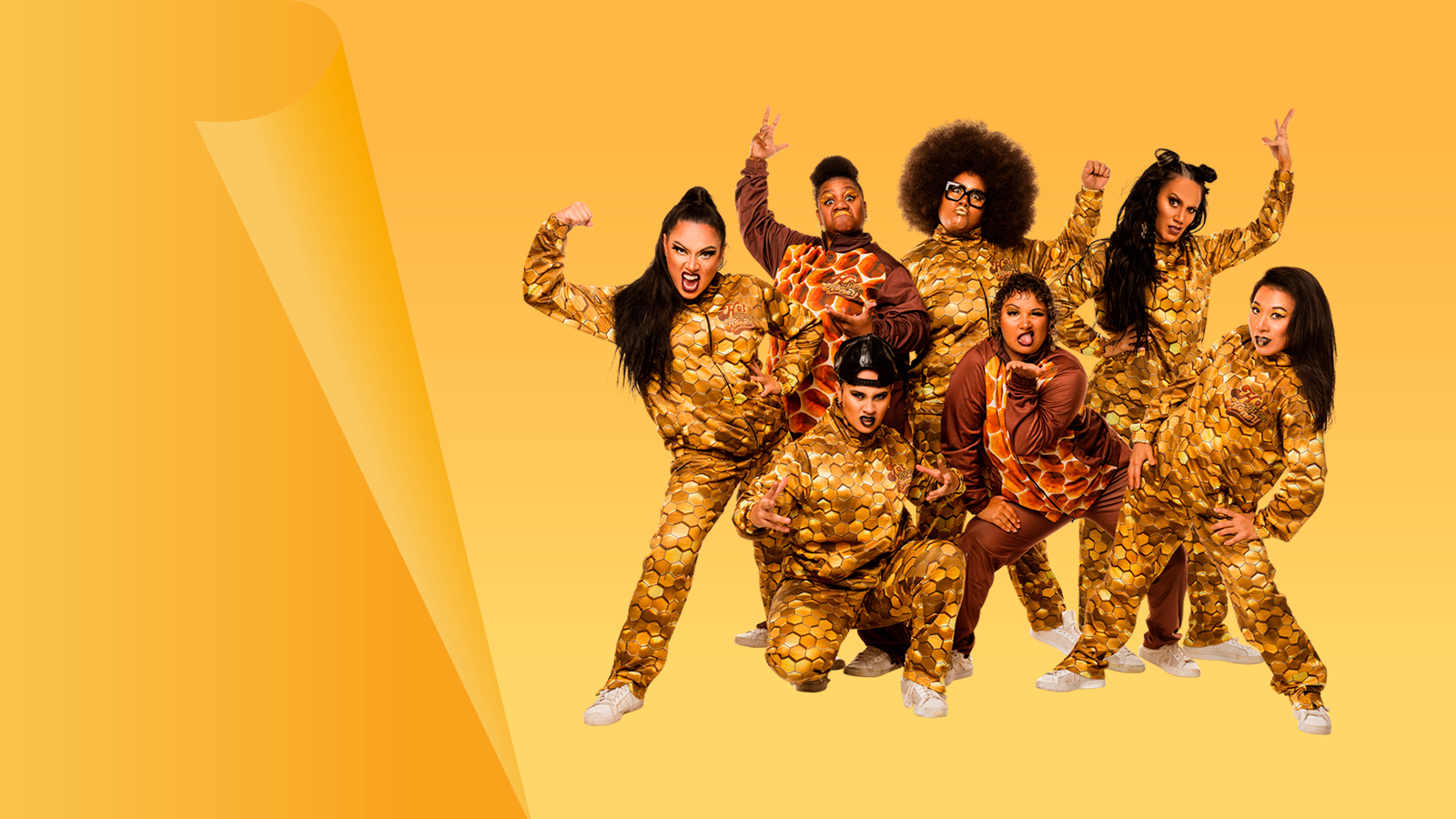 Rise and Shine Motherlovers! Hot Brown Honey are back with THE REMIX - Fierce! Femme! Global First Nations! Everything you love about the smash hit show, with extra sweet treats of radical fierce love and joyous rage - Centrestage.