Tubowgule was a point located at the end of a long, wide ridge and surrounded by rocky shoals that mostly covered at high tide. With its proximity to the harbour, cove, a freshwater creek and mud flats, the area was rich in resources. This included oysters, mussels, fish, possums, wallabies, kangaroos and many edible plants. Shells and animal bones discarded by the Aboriginal people formed 'middens' located around Sydney Harbour.
The British who arrived in 1788 to colonise the area used Tubowgule to confine their cattle and horses, and renamed it as Cattle Point. The colonists also needed lime to bind together bricks and stones into buildings, so they crushed the middens from around the Harbour, including Tubowgule, and mixed the remnants with water to make a lime slurry. The promontory thus became known as Limeburners' Point.
Tubowgule's present name of Bennelong Point honours Woollarawarre Bennelong, a member of the Wangal people at the time of the colonists' arrival. Bennelong was kidnapped by the first Governor of New South Wales, Arthur Phillip, and served as an interlocutor between the Eora and the British, telling Governor Phillip the names of the clans around Sydney, as well as the name for Parramatta, which Phillip had initially called Rose Hill.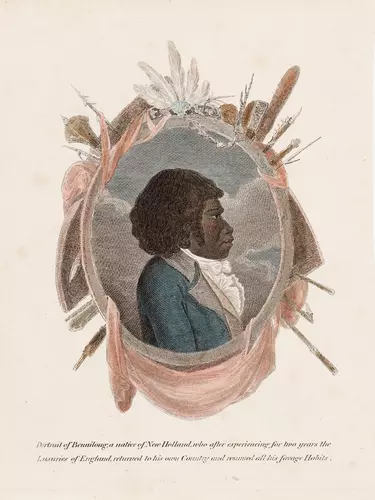 In 1790, Governor Phillip built a brick hut for Bennelong at his request, on what then became known as Bennelong Point. Bennelong, along with Yemmerrawanne, a member of the Wangal people, became one of the first Aboriginal people to travel to London in 1792. He spent more than a year in the British capital and attended museums, the theatre at Covent Garden, and Houses of Parliament before returning to Sydney in 1795. Bennelong did not return to Tubowgule, instead living at Kissing Point with his third wife, Boorong. His hut was demolished and the bricks reused elsewhere.
In 1817, Governor Lachlan Macquarie ordered a fort to be built on Bennelong Point under the direction of architect and former convict Francis Greenway. Fort Macquarie was a square construction with circular bastions at each corner and a castellated square tower. The channel that at high tide separated the tidal island from the mainland was filled with rocks. The fort was completed in 1821.
In 1879, a precursor to the Opera House – a 900-seat theatre for comic opera and vaudeville – opened in a warehouse on the corner of King and York streets. It was condemned in 1900. Two years later, Fort Macquarie was also demolished and replaced by a tram shed.
This history is revealed through excavations on site. Archaeologists have uncovered seawalls, retaining walls, cuts, pick marks and drill marks – evidence of how this rocky outcrop has been shaped to meet the changing needs of the people who inhabit Sydney Cove.