First Nations presented by Sydney Opera House
Celebrating the richness of the world's oldest living cultures
The Opera House's First Nations program continues the traditions of Bennelong Point, formerly known as Tubowgule, which has a long history as a place of gathering, feasting, singing, dancing and storytelling for the local Gadigal people.
The Opera House's First Nations Program was launched in 2012 by trailblazing arts curator and cultural knowledge-keeper Rhoda Roberts AO. Head of First Nations Programming, Beau James curates a program that celebrates the richness of national and international First Nations culture by presenting works that span contemporary issues, retell forgotten stories and revitalise ancient cultural practices. The program collaborates with all the Sydney Opera House Presents programs to embed First Nations' dance, music and theatre works in all areas that showcase the relevancy, vibrancy and vitality of these living cultures.
In addition to the annual national First Nations dance competition, Dance Rites, past First Nations performances have included the world premiere of First Nations cabaret Natives Go Wild, written and conceived by Rhoda Roberts AO; Marrugeku's one-woman powerhouse performance Gudirr Gudirr; landmark dance theatre work Djuki Mala and Native Owned an evening of culture with Native American and Canadian collective Indigenous Enterprise. 
We reconnected kids back to their mobs and families... the transformation is just amazing — it's given these young fellas and young women their identity back.

Leanne Ruska, Nunukul Yuggera (Winners Dance Rites 2018)
Dance Rites
Since its inception in 2015, more than 1500 people have participated in the hallmark First Nations event, Dance Rites, that helps to revitalise Indigenous leadership, safeguard vanishing cultural practices, and showcase the richness and diversity of First Nations culture. The national event is open to all Aboriginal and Torres Strait Islander dance groups.
In its sixth year, as a result of nationwide measures to limit the spread of COVID-19, the 2020 festival was presented as a digital event, broadcast on the Opera House's social media channels in November.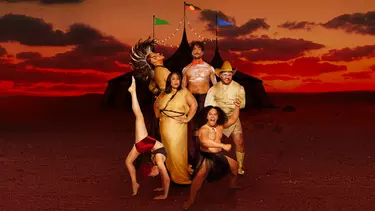 Natives Go Wild
Sydney Opera House was proud to host the world premiere of Natives Go Wild, a provocative new First Nations cabaret that flips the lid on historical fiction and celebrates the global voice of First Nations people. This unmissable production, conceived and written by Head of First Nations Programming, Rhoda Roberts AO, shook the Studio from 19 - 27 October 2019.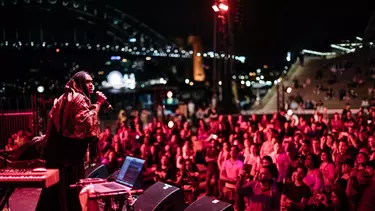 Homeground
From 2015 - 2017,  Homeground continued the rich history of the land on which we stand, formerly known as Tubowgule, by bringing the best First Nations artists from Australia and the world to the Opera House for two big days of music, dance, workshops and markets. Celebrating the power of contemporary artists and ancient customs under the sun and stars, framed by the sails of the Opera House. 
In 2017, more than 25,000 people attended Homeground which was held on the Forecourt for the first time. The highlights included Yothu Yindi and the Treaty Project, Mau Power, Electric Fields, Airileke Ingram and Sorong Samarai, Irish Mythen, Tenzin Choegyal and dance artists Muggera, Rako Pasefika and Malu Kiai Mura Buai Dance troupe and for the first time the Winda Indigenous Short Film Festival. 
Head of First Nations Programming
Leading First Nations curator, producer and performer Beau James, from the Mununjali clan of the Yugambeh Nation from South East Queensland with links to Stradbroke Island, is Sydney Opera House's Head of First Nations Programming. Beau will lead a national and international cultural agenda, advancing and championing First Nations peoples, cultures, places, knowledge and narratives.
The Opera House's First Nations Program was launched in 2012 by trailblazing arts curator and cultural knowledge-keeper Rhoda Roberts AO. Under Beau's leadership, the Opera House's year-round First Nations program will continue to celebrate the richness, diversity and vibrancy of First Nations culture.
Beau has worked as a company director, circus artist, physical theatre and cabaret performer and was the co-founder and director of their own circus company, Circus Minimus, in Brisbane for 10 years. Circus Minimus worked with Queensland based community organisations such as Mununjali Jymbi housing, Access Arts, Flipside Circus and developed shows Outside the Square and Behind Closed Bars with the youth at risk through Sisters Inside. 
They have written and produced for Adelaide Fringe Festival, Brisbane Festival, International Magdalena Festival and Sydney Gay and Lesbian Mardi Gras. In 2019 they performed in the sell-out season of Natives Go Wild at the Opera House, which was conceived and written by Rhoda Roberts.
For the last seven years Beau has worked as the Manager and Head of Indigenous Programs at the Australian National Maritime Museum. Working collaboratively with communities, artists and art centres throughout Australia and internationally, they have curated innovative exhibitions and programs and sourced exciting new works intertwining the traditional with the contemporary to explore First Nations culture. Their exhibition Gapu-Monuk Saltwater; Journey to Sea Country, has been a major award-winner including; International Museums and Heritage Award for International Project of the Year in 2019, Museums and Galleries National Award for Indigenous project or Keeping Place in 2018, and the International Design and Communications Award for Best Scenography for a Temporary Exhibition in 2018.
Beau James commenced in the position on Monday 7 June.